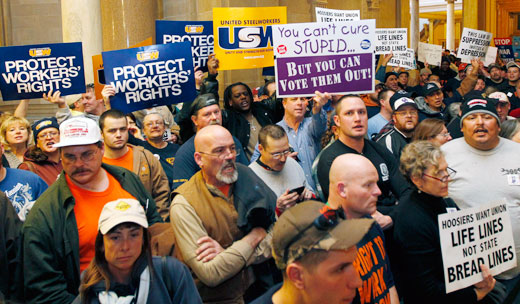 The struggle for workers' collective bargaining rights suffered a blow in Indiana, but the fight is not over yet.
Despite months of protests by unionists and legislative tactics by Indiana House Democrats, Republican Gov. Mitch Daniels and Republican lawmakers are "ramming through a right to work for less bill," according the AFL-CIO news blog. But House Democrats countered with another filibuster by leaving the state.
For months thousands of Indiana unionists have been protesting the possibility of this legislation at mass rallies and sit-ins at the Indiana Statehouse.
The right-to-work (for less) law the GOP is pushing is similar to ones in place in 22 other states. Those laws prohibit union contracts from requiring workers to pay union dues but require unions to represent everyone at the workplace, including those who do not pay dues.
On Tuesday night Gov. Daniels delivered his State of the State speech to a General Assembly where at least a third of the seats were empty due to boycotting Democrats. And Daniels faced a gauntlet of booing protesters in the Statehouse hallways.
A formal reply to Daniels' State of the State address was organized by unionists to deal specifically with anti-worker legislation.
South Bend teacher Jennifer Peck was quoted as saying:
On his first day in office, Gov. Daniels took away the collective bargaining rights of public workers, and then he further restricted the collective bargaining rights of teachers like me. Now he's going after everyone else. As a teacher, I'm already paying the price for these partisan politics; however I am here tonight because I know that a 'right to work' law would make things so much worse for Hoosiers.
Indiana Republicans claim that the "right to work" bill would attract businesses to Indiana for its lower labor costs and then at some time in the future this might increase workers' wages.
University of Notre Dame labor economist Marty Wolfson disputes that argument.
"The Indiana Chamber of Commerce report on Right to Work (RTW) states that higher incomes will come about from more businesses relocating to Indiana due to lower labor costs. This is the logic of the RTW argument, but it is a rather uncomfortable and contradictory argument to make – that we need to lower the wages of workers in Indiana in order to improve incomes," says Wolfson, associate professor of economics and director of Notre Dame's Higgins Labor Studies Program.
Photo: Protesters rally outside of the House Chamber at the Statehouse in Indianapolis, Jan. 5. (Michael Conroy/AP)