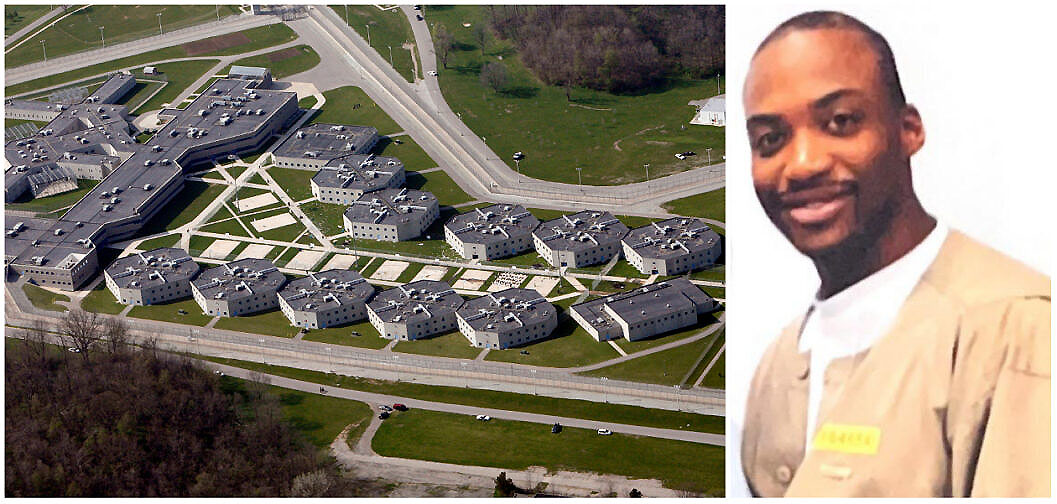 NEW CASTLE, Ind.—Bryan Jones was just 25 years old when he was sentenced to prison for 50 years in Indiana's Department of Corrections. "The judge had no intention of leaving me room to have another chance to change my life and the opportunity to make the most of that life in society," Jones told People's World in a recent interview. Sentencing laws in Indiana, Jones says, must be changed.
Indiana incarcerates more people per capita than the United States as a whole. According to Prison Policy Initiative, Indiana has an overall incarceration rate of 765 per 100,000 people. That rate jumps to 2,814 per 100,000 people for Black Hoosiers.
Additionally, the state's jails and prisons do not provide safe environments for the incarcerated; healthcare and mental health services are insufficient. There have been several reports of physical assault by corrections staff.
The American Civil Liberties Union has filed 27 lawsuits against Miami Correctional Facility for inhumane treatment. "To better address crime at its roots, we desperately need to pivot funding from policies involving incarceration and invest in communities, the ACLU says of the situation.
Bryan's story tells the tale of sentencing laws and incarceration in the state of Indiana. He begins: "In the summer of 2004, I was 19 years old, and about to begin my junior year of college at Anderson University." He majored in business management and played the drums for the gospel choir in both school and his church.
But also around that time, Jones started dealing with a crack cocaine addiction. He was first arrested in November 2004. "From then until June 2007," he continued, "my life went back and forth between jail, addiction in the streets, and treatment facilities."
Adequate health care vs. prison profits
To fully understand the environment created inside of Indiana's DOC, one must know how the incarcerated are treated. According to The Sentencing Project, over 15% of Indiana's prisons are privately owned. New Castle Correctional Facility, where Jones is incarcerated, is owned by the Geo Group Inc.
Jones said that lack of health care is a pressing issue. He described the low importance prison staff place on filling requests for care. "Medical staff WILL NOT see you without doing this," he said. "Regardless of the severity of the situation—outside of having a heart attack or being unconscious—it takes anywhere from one to two weeks for them to even see you."
In addition, he said, even patients who are seen often receive inadequate treatment. "They will do everything in their power to avoid providing additional services, such as x-rays and surgeries." He went on, "In the last year in just my unit, I have seen one man break his arm and one man break his shoulder and the facility doctor would not recommend surgery." Neither injury has healed properly.
"The Department of Corrections in Indiana and in any other state has a responsibility and an obligation to not just house its inmates, but to take care of us." Jones said that the funds the prisons receive to house people are not being spent to properly take care of them because that would cut into their profit margin. "We are nothing more than property and a job to them, not human beings."
Jones also described the mental change that alienation from his family and community caused. "Prison became my world and my life, and I literally lost myself in it," he said. "I was very emotionally detached, unable to feel or even really think." He called for expanded mental health access for the incarcerated to both cope with their situation and to maintain healthy connections with the outside world.
Mutual aid behind bars
To counteract the negative effects of incarceration, Jones tried to get more involved in helping others. A year ago, he became the co-facilitator for the re-entry support program for inmates who are between six months and one year from their release date.
"The program is entirely inmate-run and is the only such program that provides any type of preparation for inmates who are soon to be released," he said. Jones has helped with mock job interviews, training on applications and resumes, and given instructions on how to apply for social assistance.
The program also discusses thinking, behavior, and lifestyle changes individuals must make to be successful when re-entering society. "All the tools are provided by the head facilitator" not by the prison, Jones said. "An incarcerated man named Virgil Hall has been running the program for six years." He stressed that one of the best solutions to combat recidivism was a path to quality employment.
Jones holds elected representatives responsible for incarcerating people of color disproportionately and keeping them incarcerated longer. "The laws have changed to make us serve more time while simultaneously offering us fewer opportunities for time cuts," he said.
"People must now serve 75-85% of their time and as of January 1, 2022, a new Case Plan Credit Time (CPCT) was introduced, which effectively makes the benefits of programs obsolete." Before the implementation of the CPCT, time cut programs allowed a specified number of days to be removed from one's sentence upon completion. "So instead of four years, inmates under the law (as of 2014) are now only eligible for two years in time cuts."
The practice of requiring hefty bail charges for those charged with an offense but awaiting trial is another matter crying out for reform. In May, The Bail Project filed a lawsuit against the state of Indiana to nullify a new law limiting whom charitable bail organizations can assist with bail costs. Other restrictive laws have been passed which mandate cash bail—a measure that weighs most heavily of course on the poor.
But Jones believes it is the sentencing processes in Indiana that are in most desperate need of an overhaul. "Sentencing has many variables," he said, "such as what county the case is in, the level of crime, and, of course, race."
"I was 25 years old and given 50 to do 25"—meaning sentenced to 50 years with 25 years actually executed. When asked if the judicial system overreacted in his sentencing, "That's not for me to decide," Jones responded, "but I certainly feel I was over-sentenced."
According to Prison Policy Initiative, 34% of Indiana's Incarcerated are Black, despite African Americans only making up 9% of the state's population. Jones described the racial discrepancy in Indiana's sentencing. "Two people in the same county with the same charges, but one person is white and the other Black. Guess who gets prison time and who gets probation or house arrest?"
Abolition eventually, reform until then
Jason Jones (no relation to Bryan), a licensed clinical social worker who works with the formerly incarcerated in Indianapolis, told People's World: "By establishing community control of our police, prisons, and sentencing, we can reduce the harm caused by the hands of the state disproportionality aimed at working-class communities of color."
Bryan Jones agrees. He says community control of judicial systems would create accountability for judges and prosecutors. "If judges and prosecutors really did as much research on the person as they did on the case, that would decrease the time people are sentenced. If they looked at every situation objectively, they wouldn't always be so quick to throw the key away on someone who should be given another chance, especially in cases where addiction is involved."
Jones is currently raising funds for legal representation to obtain a sentence modification. Upon his release, he plans to spend his life "serving God by sharing his testimony and the gospel music he writes with the world and becoming a youth and addiction counselor." For those interested in supporting or learning more about his fight for freedom, please visit his Spotfund.
"The U.S. prison system, with more than two million incarcerated, makes a lie and a mockery of the U.S. 'justice' system," Eric Brooks, chair of the Indiana District of the Communist Party USA told People's World.
"There is no justice in a racist, anti-worker system that enslaves millions and, once incarcerated, continues to resist and repress the natural demands for dignity and humane treatment that respects the personhood of all. The system must be abolished."
In the meantime, Brooks says that those currently incarcerated must be "treated with care and respect until this system can be ended."
Those interested in working with the Young Communist League or the Communist Party of Indiana, CPUSA, on the struggle for community control can contact info@indianacpusa.org.