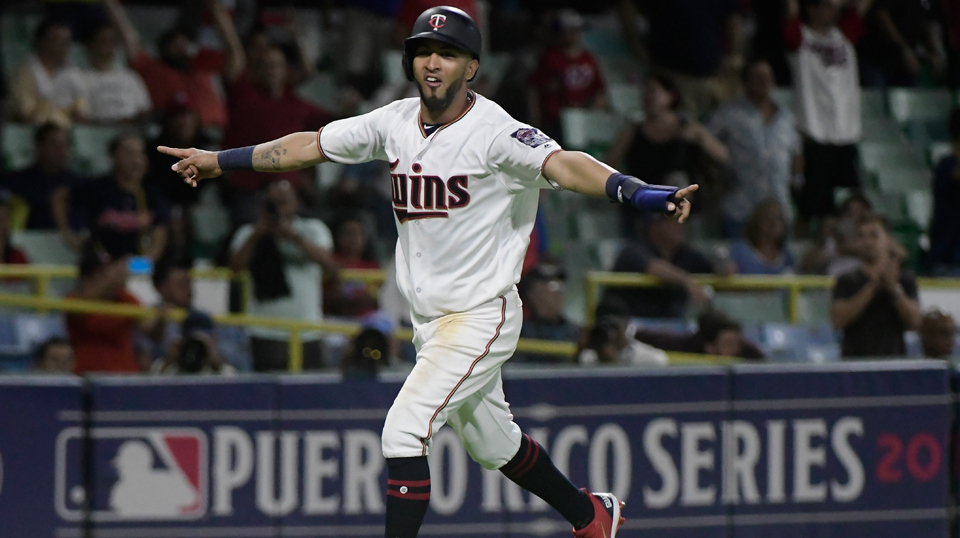 Sitting down to watch game two of the Indians-Twins series in Puerto Rico Wednesday night, I had a hard time concentrating on the game play. My thoughts would wander during every commercial break, and I found myself thinking about my cousin Chris and his family out there.
They made it through hurricane Maria's devastation of the island, spent time stateside while recovery efforts took place, and now cheered loudly as Puerto Rico's favorite pastime played on—despite an island-wide power outage.
It took more than a day to get the lights back on for 1.4 million customers. According to officials, the blackout occurred after an excavator accidentally downed a transmission line.
Puerto Rico has experienced several power outages in recent months, but Wednesday was the first time since hurricane Maria hit Sept. 20 that the entire island went dark. It is estimated that least 41,000 people, however, have never gotten their power back since the storm.
Officials said getting power up for hospital, airports, banking centers, and water pumping systems was top priority. Following would be businesses and then homes.
What about baseball stadiums?
Mayor Carmen Yulín Cruz of San Juan said that the outage would not disrupt the last game of the series, being played at Hiram Bithorn stadium.
"All the emergency systems have been tested at Hiram Bithorn. The blackout will not hold up the game. Tonight, we'll be playing in Bithorn," read Cruz's tweet.
Director of operations for the Puerto Rico series, John Blakeman, also confirmed to ESPN Wednesday that the game's broadcast would not be interrupted.
"This has not taken us by surprise," Blakeman said. "We are fully prepared. Every area of Hiram Bithorn Stadium can run on generators that have a capacity to run for 48 hours. The main building runs on two generators, one of 400 kilowatts and another one of 200 for a total of 600 kilowatts. Each light tower operates with independent generators of 200 kilowatts. The game will not be affected at all."
At this point, you may be asking: Why is a two-game baseball series that important? Why are officials making extra efforts for the game?
Because for the hurricane devastated island, baseball is not just a hobby…it is a way of life.
And this two-game series was a tiny miracle.
Since 1940, Puerto Rico's premier amateur team, the Cayey Toritos of the Liga de Béisbol Superior Dole A, has played every season without interruption, and after last year's destruction, players vowed that this season would be no different.
Puerto Rican players are not millionaires. They don't work out with the finest equipment or best trainers. They are cooks, teachers, construction workers, sales reps, bus drivers…union members.
They take the field with pride for a game that is woven in Puerto Rico's culture.
They play with fierce determination, despite the odds and a reduction in players' stipends this year for lodging and extra spending cash. Not that it was much to begin with, down to $100 from an original $300, especially for the handful of players with professional experience in the Majors who were sent back down the roster.
The Cayey Toritos current manager, Edgardo Lebron, 35, was a former Minnesota Twins minor league player, and their pitching ace, Fernando Cabrera, 36, pitched for the Baltimore Orioles and Cleveland Indians.
"It'll be a tougher season: doubleheaders, under the sun, the lower pay, the traveling," said Richard González, 29, the Toritos second baseman, to The New York Times. "But at the end of the day, we're doing what we love to do, which is to play baseball and for the people of Cayey."
Keep up with the latest in sports and politics with Al Neal's column—In the Red Zone.
The Indians-Twins series was the first MLB game played on the island since 2010.
In the first game Tuesday night, a 6-1 Indians victory was underlined with a fifth-inning home run by Francisco Lindor, a Puerto Rican native, that drew an overwhelming emotional reaction from the crowd of nearly 20,000.
Wednesday night, after a little over five hours' game play, Eddie Rosario, Puerto Rican native and left-fielder for the Twins, scored the winning run at the bottom of the 16th. Rosario came around home plate thanks to a split hit by Ryan LaMarre.
Final score: Cleveland 1—2 Minnesota.
"It was unforgettable—this was one of the best nights of my life," said Rosario through an interpreter. "Being able to spend time here in Puerto Rico with my family and my friends, and them being able to watch me wear a Major League uniform."
I spoke to my cousin early Thursday. They were still without power, but feeling the hype from the game.
His last text to me that morning read: "Yeah…this is all frustrating…at least the game went on."