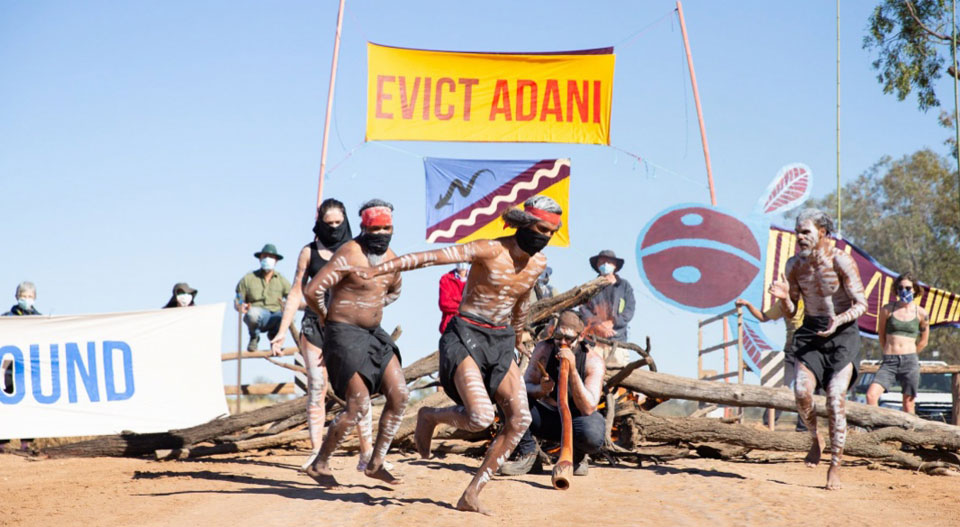 The Indigenous people of two tribes in the Australian state of Queensland protected their homes Monday, Aug. 24, by blocking a multinational mining corporation from tearing up their land. Warriors from the Wangan and Jagalingou tribes and some of their supporters, numbering around 20 in total, set up a roadblock in the morning, preventing the Adani Group and its contractors from accessing the Carmichael mining site.
"We're taking back control of our land," said Adrian Burragubba, a Wangan and Jagalingou elder and activist with the Indigenous group Standing Our Ground.
"The state government gave our land away. And the federal government gave our land to a foreign company. We've been here for 10 years dealing with Adani and it's time for Adani to leave, and get out of our country."
Burragubba said, "We have been fighting colonization on Wangan and Jagalingou territory since 1860. We have never ceded our sovereignty. We're not going anywhere until Adani moves, packs up, and doesn't come back to our land. We are warriors … and we will stand our ground."
Today's action follows an eviction notice sent from the traditional owners of the land in the state's Galilee Basin to the Adani Group's Brisbane office last week. "We demand that you, immediately, cease and desist all mining and extractive activities on our country," the eviction notice reads.
"Your actions desecrate our country. Your actions threaten our heritage and harm our health and well-being. You have ignored our concerns. You have co-opted the state and federal government. You have created sham agreements."
The letter to Adani concluded, "And now, you must go. This is your first and final notice of eviction."
Morning Star