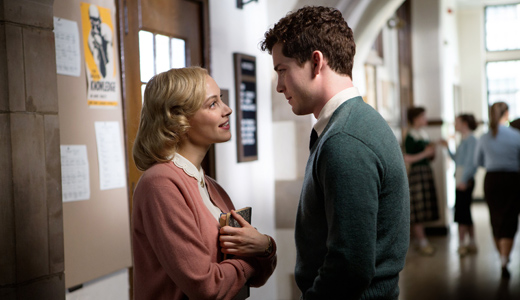 Dressed up as a coming of age love story, "Indignation" is a small tale well told of individuals pushing up against the social, economic, and cultural limits of their time. Faced with political threats from outside and cultural changes from within, the doyens of post-World War II America imposed social order. Those that pushed back did so at their jeopardy.
Mark Messner (Logan Lerman – "Fury," "3:10 to Yuma") is a smart, hard working young man. He labors in his father's butcher shop, minds his mother's advice, studies hard, captains his high school baseball team, and wins admission to Winesburg College, the first of his working class family to attend college.
Mark is dutiful and focused. He is quite self conscious about his humble origins. He's proud of his academic accomplishments, but is a modern, free thinker who abandons Judaism for atheism. He bristles that Winesburg, like virtually all of the elite Eastern schools of the time, limited Jewish admissions by imposing strict quotas.
He was especially indignant that regardless of either his tradition or his chosen philosophy, he would be required to attend Christian services or be faced with dismissal from school.
Paradoxes and perils abound.
Should Mark fight the compulsory chapel attendance rules? Or should he do as so many other students, accommodate by hiring a substitute attendee to forge his name to the roll? Should he ghettoize himself by continuing to live in the Jews-only room the college has assigned him, join the Jewish fraternity, or strike out on his own?
Most importantly, should he pursue a relationship with the attractive, sexually available WASPy co-ed Olivia Hutton (Sarah Gadon – "Maps to the Stars," "The Amazing Spiderman"), whose past may be problematic or promising. Is Olivia obsession love or rebellion, a different path, or forsaking his past?
The film's central tensions are brilliantly played out in two encounters between Mark and Winesburg's Dean Caudwell, played by Tracy Letts ("August: Osage County," "Killer Joe"). The always engaging Letts' completely surrounds his character, ranging from straw man adversary to truth bearing teacher – setting up as foil, father, friend, and foe to beleaguered Mark. If the Dean represents the larger culture with which Mark is to engage, clearly there are ways to work around his conflicts. But does Mark want to accommodate the larger wishes of the Dean, his mother, his college? Or does he want to confront their demands to try to change his life?
Writer/Director James Schamus ("Crouching Tiger, Hidden Dragon," "Brokeback Mountain") has adapted Philip Roth's book into a moral tale which confronts coming of age in an uncertain time. "Indignation" provides the prescient run up to the campus rebellions of the Sixties, a well developed snapshot of how indignation at contradictions fed the righteous anger that led to social change – a time very much like the one in which we now live.
Directed by James Schamus
Based on the novel by Phillip Roth
Photo: Sarah Gadon and Logan Lerman, Indignation website