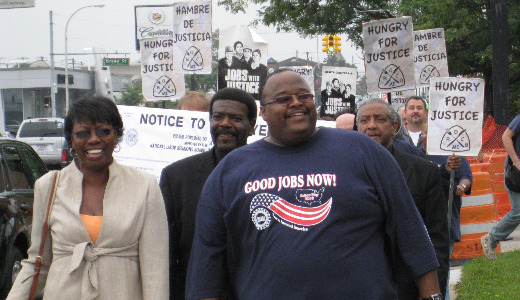 DEARBORN, Mich. – Cooler weather is coming but the heat is growing on Dearborn's Andiamo restaurant.
For the past 10 months, the Restaurant Opportunities Center of Michigan (ROC-Michigan) and the Andiamo workers it represents, have picketed the restaurant weekly.
Now they have the full backing of the United Auto Workers which last Thursday called for a boycott of the restaurant. "We are asking the public to stay away from Andiamo until they treat their employees fairly," said Rory Gamble, director of UAW Region IA. "We believe anyone that patronizes this restaurant is indirectly contributing to the mistreatment and injustice of the workers."
Gamble made his remarks to the media outside the entrance to Andiamo. He, along with Saundra Williams, president of the Metropolitan Detroit AFL-CIO and Pastor John Pitts Jr., president of Interfaith Workers for Justice, had come to the restaurant to express their concerns about how workers were being treated.
The union's call for a boycott follows last month's National Labor Relations Board ruling that found the restaurant had illegally cut the hours of, intimidated, and retaliated against servers and other restaurant workers in an effort to keep them from participating in a lawsuit and protest against workplace violations.
The lawsuit seeks $125,000 in unpaid wages and asks for penalties for racial, nationality and gender discrimination. The theft of workers' wages was carried out through minimum wage violations, unpaid overtime, forcing workers to work "off the clock," and improper wage deductions.
Asked why labor unions are supporting the non-union Andiamo workers, Gamble said, "As you have heard many times, an injustice to one is an injustice to all. Wherever there is injustice we need to unite and stand together and make sure that workers in this state and country are treated fairly. To us that's the American way. That's part of the American dream and the American promise."
Williams recalled the treatment of an Andiamo worker, a mother with young children, who was fired for her support of ROC. While protests forced the restaurant to bring her back, it was with a shortened workweek which did not allow her to support her family.
"We want them to be fairly treated," Williams said of the workers. "We are going to make sure when people work overtime, they are paid the overtime pay they are supposed to have."
Like Williams, Pastor Pitts has been on the picket lines for almost a year. "We have prayed, we have marched in the snow and rain, we have picketed," he said. "We are not going away until these workers receive the justice that they deserve."
"We went in today and we were given the blanket promise they [the management] would speak to us," Pitts said. "At this point no one has come out. It is our prayer and our desire that they don't lie down and sleep comfortably tonight until they address these issues."
But no representatives from the restaurant management appeared.
ROC Michigan coordinator Minsu Longiaru said, "It means so much to have UAW support. The UAW made a very strong statement today that they are a union that organizes and fights for justice for all workers. As restaurant workers at ROC-Michigan, we are very grateful to have the backing of the union and for calling a boycott of the restaurant."
Photo: Metro Detroit AFL-CIO's Saundra Williams, Pastor John Pitts and UAW's Rory Gamble lead the delegation to Anidamo restaurant, Sept. 16 in Dearborn, Mich. (PW/John Rummel)