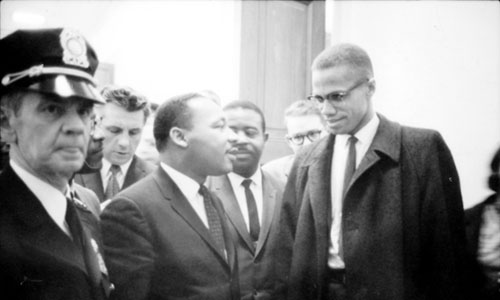 Prof. Jamie Wilson likes to think of himself as a bottom up historian. "That's what Black history is all about," says the Salem State University (MA) teacher, the story of people shaping their own destiny.
Wilson will be the featured guest on the People's World National Teleconference Tues. Feb. 19 celebrating African American History Month, where he will look at the lessons of the Black Power Movement between 1966-74.
You can join the discussion at 8pm Eastern (7pm Central, 6pm Mountain, 5pm Pacific) by calling: Call 605-475-4850, dial 1053538# at the prompt.
"Too often we think of the Black Power Movement not in parallel with the Civil Rights Movement or as its violent step child. I want to demythologize this," said Wilson. "It was an attempt by African Americans at self-determination and improvement in communities that had become predominately African American enclaves by the late sixties. It was an experiment with democracy."
Wilson said the idea was if African Americans were the majority in an area, they should have the ability to exert political power, determine who was elected and what laws were passed. This has many lessons for the ongoing struggle for equality.
"The Civil Rights movement in general and Black Power movement in particular and the African American freedom struggle that began in 1619 when 20 Blacks landed on the shores of the Chesapeake leads me to think this thing we call America is an ongoing democratic experiment," said Wilson. "Black people have always sought to find their place in the movement whether it be through legislation, protest, writing or religion."
According to Wilson, those fighting for equality need to be well versed in African American History because "if we study the strategies for freedom of Black people it will reveal to us the most basic ideas and strategies that we can use to make this an anti-racist society."
When asked what were the key experiences that shaped his thinking, Wilson laughed and replied, "that is a long story."
"My ancestors have been here since this nation was founded. I'm an American plain and simple. What does it mean to be a slave in Virginia in early 19 th century, a free person of color in Eastern shore of Virginia as my great-great grandfather was or a participant in the Great Migration as my great-grandfather was or a working class individual trying to raise a family as my grandfather did or to be like my father with 12 children working on the line everyday."
"I'm here because so many people have made this a better world," said Wilson. "We need to welcome their lives. We fight against racism not because we think it will go away tomorrow, but because people have resisted it for generations. That's what I have inherited and the stories I like to tell."
Wilson teaches a survey of American history and African American history pre and post-1865, a course on Black arts and culture and Black images in film. He's the author of two books including "Building a Healthy Black Harlem" and a reference book entitled "Civil Rights Movement" published in January. His next project is a biography of the late Gil Scott Heron.
Join the teleconference on Feb. 19 to learn more!
Top photo: Library of Congress
Bottom photo: Prof. Jamie Wilson