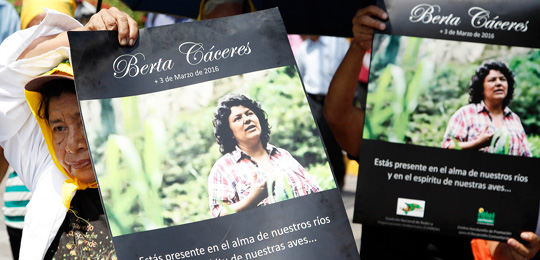 European investors announced late last month they have pulled funding from the contested Agua Zarca hydroelectric project in western Honduras.
Finnish and Dutch development finance companies, FinnFund and FMO respectively, had suspended activities in Honduras following the March assassination of Berta Cáceres, an Indigenous Lenca woman and founder of the Civic Council of Popular and Indigenous Organizations of Honduras (Consejo Cívico de Organizaciones Populares e Indígenas de Honduras: COPINH).
COPINH has been at the forefront of a multi-year campaign to stop the Agua Zarca project on Río Gualcarque, which they consider sacred and vital to Lenca survival. In 2015, Cáceres was awarded the Goldman Environmental Prize for leading that struggle.
Early in May, five men were arrested for Cáceres' murder. Two had direct ties to DESA, the Honduran development firm behind the hydroelectric project: Sergio Rodríguez, DESA's social issues manager, and Douglas Bustillo, retired military officer and DESA's former deputy chief of security. Two other military officers, one active and one retired, also were arrested, along with a gang member accused of being the hit man hired for $2,200.
While acknowledging that indictments were not the same as convictions, upon learning of DESA's connection with Cáceres' assassination FinnFund and FMO nonetheless sent representatives to Honduras to negotiate an end to their involvement with Agua Zarca (though not other Honduran energy projects). FMO had $15 million (USD) invested, FinnFund $5 million (USD).
Berta Cáceres, 44, was assassinated March 3 in her home in La Esperanza, Intibucá, Honduras. Also shot, and left for dead, was Mexican environmental activist Gustavo Castro Soto, who was in the country to discuss energy alternatives to the DESA project.
Local police detained Castro Soto and attempted to cast blame for the shootings on local COPINH leaders, whom they repeatedly interrogated while failing to interview DESA employees who had made threats against Cáceres.
Due to intense international condemnation of Cáceres' murder, the case was transferred to the national criminal investigation unit, bolstered by an attorney and a retired police investigator from the U.S., which subsequently had the five suspects arrested.
Following the indictments, COPINH and Cáceres' family issued statements saying the arrests confirmed their belief that DESA had instigated the assassination, but expressing doubts that the "intellectual authors" of the crime would ever be brought to light. They have repeatedly called for an independent assassination investigation conducted by the Inter-American Commission on Human Rights, a demand the Honduran government has thus far resisted.
Given the country's high degree of impunity, such doubts are well founded. Honduras has long been ruled by an oligarchy known to take drastic, sometimes violent, actions in response to threats to their control, the 2009 coup overturning the democratically elected President Manuel Zelaya being a case in point. Zelaya had raised the minimum wage 60 percent and pledged to mediate land disputes between campesinos and the corporations that had acquired control of vast swaths of prime Honduran real estate.
Since the coup, more than 200 campesinos have been murdered in the northeast Aguan Valley in response to their attempts to reoccupy traditional land holdings appropriated for giant African palm and sugar cane plantations.
Though FinnFund and FMO have withdrawn their investments, the Agua Zarca hydro plant may yet be built. The Atala family, which controls the DESA board of directors, also owns Ficosah, one of Honduras' largest banks.
Until recently, DESA's financial details – who its investors were and who sat on its board of directors – were a closely held secret. In early May, Honduran investigative journalist Felix Molina published this information on his Facebook page, including the facts that a close family member of Honduran Secretary of Security Pacheco Tinoco serves as secretary of the DESA board, and that DESA's president is West Point graduate and former counterintelligence officer Roberto David Castillo Mejía, whose uncle is a long-serving congressman from the ruling National Party.
Following these revelations, Molina survived an assassination attempt with multiple gunshot wounds.
In response to such flagrant attempts to silence critics and activists, Honduran human rights defenders this week journeyed to Geneva, Switzerland, where their government is to appear before the U.N. Human Rights Council for a periodic policy review. Fifty-four organizations have compiled a report that counters the official, sanitized version being presented to the U.N. Committee on Economic, Social and Cultural Rights.
Released through FIAN, an international human rights organization, the report claims the Honduran government blocked participation of civil society groups in preparation of the official report. It goes on to detail violation of Indigenous rights to "free, prior and informed consent" before development or resource extraction proceeds on their ancestral lands; violence against women and discrimination against LGBT individuals; and displacement of campesino communities, among other state crimes.
The alternative report sets these violations in the context of widespread poverty, inequality and violence in Honduras, noting that approximately 20 percent of the richest Hondurans earn 60 percent of national income, while the poorest 20 percent earn only 2.02 percent. In the meantime, defense expenditures since the coup have risen 161 percent, while those for education have increased a mere 11 percent and for health, 29 percent.
Photo: Women protest killing of Berta Cáceres. | Fernando Antonio/AP