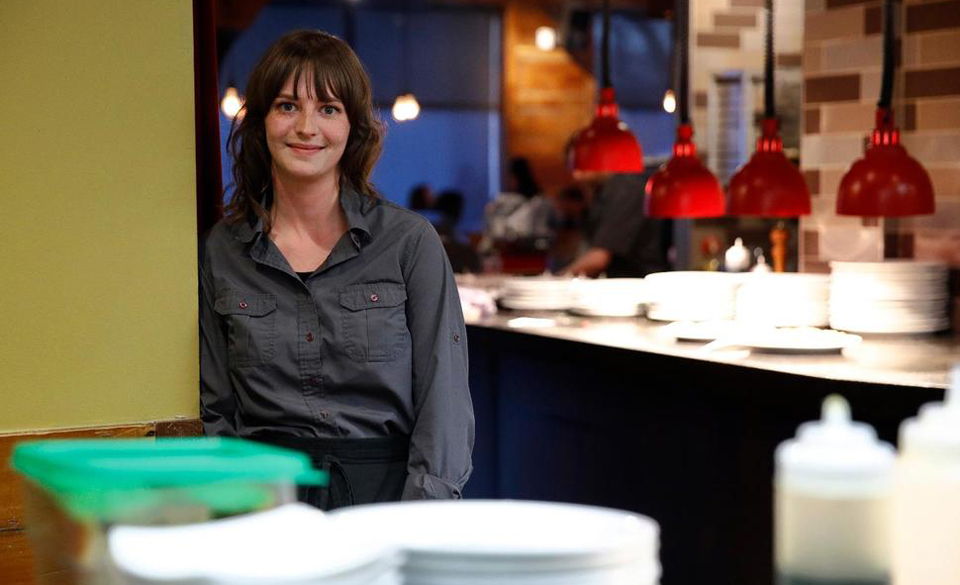 DES MOINES, Iowa – Harold Lanning is a retired factory worker. He's supporting Joe Biden for the Democratic nomination, but he was attending an Elizabeth Warren rally when People's World caught up with him.  "There are so darn many good candidates it's hard to lock in on one particular one. I'm open to listening to all of them," said the UAW member. "Anyone of them I could support if they were the nominee."
David Wilson, a Marshalltown resident like Lanning, agreed: "We have to get rid of Trump," he said. "Really, anybody will work." Buttigieg and Warren are high on Wilson's list. He says wealth inequality and raising the minimum wage are the most burning issues.
Over two dozen voters across the state shared their views for this story. Two things come through clearly. Voters grasp the enormous stakes in November and their weighty responsibility in the nation's first primary contest in the Iowa Caucus on Feb. 3. And they are overwhelmingly happy with the remaining Democratic candidates and say they will vote for the ultimate nominee, whoever that is.
In the meantime, voters are wrestling with how candidates are addressing their priority issues and who they think can beat Trump. Some express their uncertainty over whether the country is ready to elect a woman, an LGBTQ man, a Jewish democratic socialist, or someone who doesn't much inspire youth.
"I'm concerned about war. I'm concerned about health care. I want to see who has the best plan for that and who can carry us forward in a positive way." said Lyneen Richardson.
Richardson, who works at a local university, was eating breakfast at the Drake Diner in Des Moines with a co-worker. She is one of the many Democratic voters who continue to weigh many issues and factors before they settle on their top choices.
And she has plenty of company. The latest Des Moines Register/CNN poll shows mostly a four-way race. Sen. Bernie Sanders is leading, followed closely by Sen. Elizabeth Warren, former South Bend, Indiana mayor Pete Buttigieg, and former Vice President Joe Biden.
Caucus rules require a candidate to meet a 15% threshold for the votes of their supporters to count. Otherwise, their supporters have to throw their votes to their second choice.
But the poll also showed that approximately 30% of caucus-goers were either undecided or supporting a candidate unlikely to make the 15% voter threshold. As many as 45% were open to changing their minds about their preferred candidate. The race is fluid:  anyone can win depending on second candidate choices and late momentum.
Many voters are searching for the candidate who they feel can best unite the country and reverse the damage of the Trump presidency, even if that means they support a candidate they don't agree with totally on the issues.
"Just call me Mary," said the waitress at the Drake Diner. Mary is the essence of "Iowa nice," friendly, engaging, and welcoming of visitors. In between pouring coffee and tending to other customers, Mary said, for her, it's come down to two candidates: Biden and Sen. Amy Klobuchar. She's torn between voting for who she really wants and who she thinks can beat Trump.
"My faith and hope are weary even though I may think one might be better than the other I don't know if that's the best way to vote," she worries. "And that's just being honest. I never in a million years thought we'd be here. Last time around, I thought it was going to be an easy in for Hillary, especially with all the things right before the election, and it didn't happen."
"Obama was a great president for me, and so I know Biden, I trust him, I feel like he would be an easy win against our current president, but there again after the last election I don't know," said Mary. "I almost wish I knew who their running mate was going to be, and that would maybe help me decide a little more."
Iowa's population is 90% white, and Mary, who is also white, is deeply troubled by race relations. "It's a big deal for me and how we get along and operate together. I feel it's been lost, there's a huge gap between race all the way across the board," she said while citing economic inequality, education, and health care as critical issues.
Barbara Town, an African American and retired health care worker from Newton, was attending the Warren rally in Marshalltown. She was mulling a choice between Biden and Warren.
"I'll make my decision based on a combination of everything, on the issues and ability to bring people together," she said. "And I think as Elizabeth Warren, being a woman and a thinker, and she can get this done, get everybody on track. But again, I'm hoping maybe Joe Biden can get things on track. But I think Elizabeth Warren can out-think (Trump) and get everything turned around. "
Finding a candidate who is authentic and honest is highly important to many voters. Many are drawn to Sanders for that reason, citing his long history of fighting for working people, his consistency on the issues, and a feeling he is incorruptible.
"I decided last week I'm caucusing for Bernie Sanders, and Elizabeth Warren is my close second," said Marlu Abarca, a librarian, and chair of Des Moines Neighbors, an umbrella organization for neighborhood associations. Racial justice, immigration, and climate change are her top concerns.
"Bernie's been at it for a long time. I agree with his stance on the Green New Deal and how important it is to act on climate change and global warming. Bernie said early in the 2016 primary that climate change was the number one issue. Everyone is talking about it now."
Dustin Manke of Manley echoed that sentiment. Manke, who was attending a Buttigieg rally in Des Moines, said, "I'm a Bernie supporter 100%, but I still feel we need to come hear what the other candidates have to say."
"I wish (Buttigieg) wasn't taking the (PAC) money. I feel like he's got a good message, and he seems really heartfelt, and that's why I come back to Bernie. He hasn't switched on any of his policies or stances for 40 years," he said.
"This is my first time caucusing or voting for anything," said an excited Zoey Card, a high school senior from Pela who was attending a debate watch party in Des Moines. She says she's pleased about all the candidates: "It's nice to see we have so many choices," she says, but her first choice is Warren. "I kind of like her style so far." Card cites education, gun control, and climate change as the main things that concern her generation. "I think Warren has shown her plans, and the fact that she is a woman also makes me happy."
Attending a recent Bernie Sanders rally in Davenport was a group of young people from the Illinois side of the Mississippi River. Stacy Casinera from Rock Island said her biggest attraction to Sanders was his view toward LGBTQ people and especially LGBTQ people of color along with immigrants. "Coming from someone who identifies with those causes, I like hearing his stances on that," she said.
Her friend Emily Castro from East Moline agreed. "I've honestly just registered to vote this year, so this is like a push forward. Bernie just has a really good message. It's very inspirational as a queer youth, especially to hear his views and everything he believes in for us. It means a lot," she said
Kathy Byrnes manages an urban farm in Des Moines, and Ed Fallon directs an environmental group called Bold Iowa. They are committed to Tom Steyer. Fallon's second choice is Sanders, while Byrnes is wavering between Sanders and Warren, depending on whether she declares a climate emergency on day one of her presidency.  Even though Byrnes laughs, "It took us dressing up as penguins a number of times in front of her to get her attention. But Kathy adds approvingly, now Warren uses climate as her number one example of why we need to tackle corporate corruption.
Olivia Habinck of Cedar Falls is planning to participate in caucuses but is still undecided about her candidate. She's sorry Cory Booker dropped out. "I liked his message: 'I see you, I love you.'" She says she would like to see a candidate who inspires young people who have never voted before, to drag p. "I really care about climate change."  If we don't act on it, it could be very detrimental to her future, she says, and make the other issues "obsolete."
As you would expect, rural issues are important to voters here. Angela Haverl is from Carrol, a small town northwest of Des Moines. She still wants to see a little more before deciding on her candidate. She's looking for someone who understands the issues rural communities face. She cites rural "food deserts" created when stores close, and communities no longer have access to the food they need.  "I know someone who has to drive a half-hour to the closest grocery store," she said.
Because of what's happened to family farms, Ann Zenk, who will co-chair a neighborhood caucus, is supporting a Biden-Klobuchar ticket. Many farmers in Iowa are pissed off at Trump, she says. "He keeps reneging on what he says." According to Zenk, there were more farm bankruptcies in Iowa last year than in the previous 20 years. In nearby Wisconsin, 819 dairy farms went out of business in 2019, she says.
Jenn Statler is a retired pre-school teacher from Ankeny, a suburb of Des Moines. Statler was an independent and caucused as a Republican in 2016. However, that year, she said, she couldn't bring herself to support Trump and voted for Hillary Clinton. She may be typical of the suburban white women GOP right-wing extremism is alienating.
This year Statler is participating in the Democratic caucus and favors Buttigieg, who she calls "moderate but still progressive." She thinks changes should be made over a period of time and "a little more moderate than some of the candidates propose."
Statler is a member of Save The Children Action Network, a non-partisan group that engages candidates to talk about children's issues. "I'm concerned about the children at the border, and that's not just a child issue, it's a humanitarian issue."
"I feel that Mayor Pete has been very calm, very clear thinking, very concise," said Statler, who was impressed with the way Buttigieg handled a disruption at his Des Moines rally. "He got down on his knee and was addressing (the protesters), and I was so impressed by that. That's what I'm looking for in a president."
Statler also likes Warren. "She's a little more progressive, but we'll see. She has a lot of energy and a plan for that. I've started saying she should call that, a Warren-tee," said Statler.
The Smokey Row Café in Des Moines is a hip gathering spot. Patrons are glued to their laptops and cell phones as they sip coffee and tea. An intense card game is going on in the back. Vanessa Lopez, a student from Urbandale, was doing her homework. She said she isn't planning on caucusing, but will vote in November. At this point, she's undecided on the candidates, but whoever it is, she'll support them over Trump.
"I'm Hispanic, so (I'd prefer) someone willing to help immigrants and keep DACA for the students who are illegal here. Education is essential, and we should all have an opportunity for an education, whether you are legal or not," said Lopez. Iowa has a rapidly growing Latino population, including many undocumented workers toiling in the meatpacking and agriculture industries.
"Who knows if (Trump) will be re-elected. If we have someone else in the office, changes will have to be step by step, it'll be tough to get back to how it used to be before Trump was elected," said Lopez. "I am fortunate to be legal, but I have family and friends who can't vote because they're not legal, and it's important for the people who can vote so they can make a difference not just for them but for their families."
The extremism and turmoil surrounding the Trump presidency, including the House impeachment and trial in the U.S. Senate, is causing some Republican voters to have second thoughts. "Typically, I've voted Republican in the past, and my whole family is Republican," said Rem Jaques, an IT consultant who was working remotely and drinking coffee at the Smokey Row Café.
"I'm not super happy with our current leadership, so it will likely be the first time I vote Democrat. A lot is going into that," he said.
One of the biggest challenges, according to Jaques, is getting unbiased information to make an informed decision. But that will be a considerable challenge given the massive disinformation from domestic and foreign sources that marred the 2016 election. Disinformation and ugly attacks will be even worse this time.
Jaques decried the hyper-political polarization in the country. "I've found the past few years politically from both parties to be exhausting, and it's caused me to pull away entirely," he said. "But it's not the right answer to not to be involved."
Raised a very traditional Catholic, Jaques said this often goes hand in hand with being a conservative. "I have things I'm wrestling with, the Catholic Church, namely. I would naturally say I'm pro-life, but I don't think I have the ability or privilege to push that on other people, especially if they're not religious, and what they do with their body is their thing."
We'll find out shortly who voters in Iowa think has made the best case to take on Trump in November.