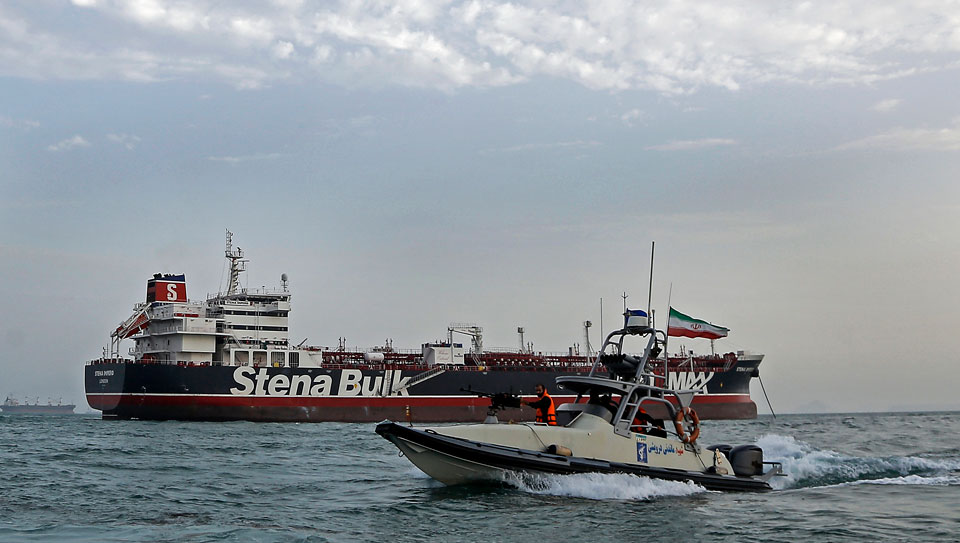 The ongoing standoff in the Persian Gulf witnessed a significant escalation this weekend after Iran's Revolutionary Guards targeted two vessels in the area around the Strait of Hormuz.
The events come five days after the MT Riah, a Panamanian-flagged and UAE-based tanker, was detained after straying into Iranian waters. It has transpired that the vessel was carrying one million liters of smuggled oil.
Panama's maritime authority has since begun the process of deregistering the tanker, saying it had "deliberately violated international regulations" and condemning "the use of Panamanian-flagged ships for illicit activities."
In Friday's incidents, which reportedly took place roughly half an hour apart from each other, the Islamic Revolutionary Guard Corps (IRGC) boarded the British-flagged Stena Impero as it entered the Strait of Hormuz—citing its alleged collision with an Iranian fishing boat and its entering the strait at an exit point on the south as opposed to the requirement that all entries be made via the northern pass—before diverting the vessel into Iranian waters off the southern province of Hormozgan for further "legal procedures and investigations."
The IRGC then boarded the Liberian-flagged MV Mesdar before disembarking its forces and allowing the tanker to continue its course later that day.
These incidents have further inflamed tensions in an already incendiary arena. British Foreign Secretary Jeremy Hunt warned Iran of "serious consequences" and said Britain's response would be "considered but robust."
Hunt is expected to use a House of Commons statement Monday to declare a raft of economic measures including possible asset freezes. Following an emergency meeting, Hunt spoke at length with his Iranian counterpart Mohammad Javad Zarif before confirming that the Iranian actions seemed to be a tit-for-tat response to Britain's seizure—at the behest of the U.S.—of an Iranian supertanker in the Strait of Gibraltar earlier this month.
Former British minister Malcolm Rifkind last night advocated the dispatch of military convoys to accompany shipping in the Persian Gulf—a measure that would essentially see the completion of the imperialist militarization of that waterway and presenting a real threat to Iran's sovereignty over its southern maritime frontier.
Tudeh Party of Iran international secretary Navid Shomali warned: "Both the British and Iranian governments have an overriding responsibility to desist from the dialogue of fire and to take steps to de-escalate the current standoff, to resolve their grievances through the channels of diplomacy, and to refer outstanding issues for address by the United Nations.
"The heightening of tensions and threat of a new war in the Persian Gulf can only exacerbate the dire conditions under which most Iranian people live.
"Iranian progressives call for an end to all sanctions, which have badly impacted the Iranian economy. The struggle for human and democratic rights will be seriously undermined in the event of a war. Iranian people call instead for a genuine peace."
Morning Star