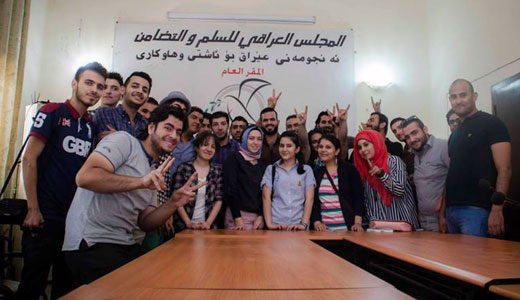 The first Iraqi Social Forum, which opens Thursday in Baghdad, could be an eye-opener for Americans, who will be able to participate online. Running from Sept. 26-28, the grassroots event is expected to involve more than 150 organizations and more than 1,000 participants. "Iraq is not only violence," the organizers say. "Iraq does not surrender to violence." Their vision is to "bring back, through this event, the image of civic peace and activism in a city that once upon a time was known as Dar Al-Salam (City of Peace)." The forum, they say, will be "an expression of the desire of the Iraqi people for a civil, democratic society and State, based on respect for different cultures."
In a public statement, the organizers, from a range of Iraqi organizations including labor, women's and youth groups, point to the tragic results of the U.S. war and occupation:
"The loss of the lives of over one million people, the destruction of infrastructure, fatal and debilitating effects of depleted uranium and chemical weaponry used by the occupation forces cannot be forgotten, neither by the Iraqi people nor by the international movements who have been mobilizing against the war and the occupation," they say.
"The withdrawal of the US and occupation troops has opened the way to complete the struggle of Iraqi people for democracy and social justice. But heavy military spending by the State and the actual security policies are making Iraqi people more vulnerable rather than safer."
They continue:
"We believe another Iraq is possible! Our vision is to support civil society in shaping alternatives and rebuilding Iraq into a nation that respects people of all religious, sectarian, ethnic and national affiliations, a nation that promotes equal rights for all its citizens. To demonstrate our commitment to making the struggle against corruption a reality and not a mere slogan, we organized ourselves with full transparency and shared all information concerning the creation of the Forum, the first of its kind in Iraq. We believe that social services to create employment opportunities and eradicate poverty are powerful means for social transformation."
The event is part of the World Social Forum movement, which began in 2001 with the theme "Another world is possible."
At this week's Iraq Social Forum, workshops, panels and tele-exchanges will focus on:
• Building a civic, democratic country
• International solidarity campaigns, including the Freedom of Speech campaign, the Save the Tigris and the Iraqi Marshes campaign, and campaigns to control private military companies
• Challenges faced by minorities
• Equitable distribution of wealth and social justice
• Labor unions, trade unions and peasant associations
• The rights of women, youth and children
• Economic, social, and cultural issues
• Nonviolence as a way of social, cultural, and economic change in Iraq
The forum will be kicked off by a Sports Against Violence event on the opening day at Baghdad University. There will also be arts performances. The events will be held in a historic cultural center in the heart of Baghdad
It has not been easy to organize this event. Activists had to struggle to get government approval. And organizing in the midst of a new wave of violence has been a challenge. Nevertheless, some 130 young volunteers have stepped up to help organize the forum. Training sessions were held for them on organizing skills, including use of social media and translation to and from a variety of languages.
On Sept. 21, more than a thousand people gathered in a public park in Baghdad for a celebration of World Peace Day organized by the forum
Americans have a unique opportunity to watch and participate in the Iraqi Social Forum over the next few days, either by Skype or via live-streaming online.
To connect with Iraqi activists at the forum through Skype, contact: isf.extensionteam
For live-streaming online, look for the streaming window at the Iraqi Social Forum website.
More information is available here.
Photo: Iraqi youth volunteers get ready to host the Sept. 26-28 Iraqi Social Forum. IraqCivilSociety.org