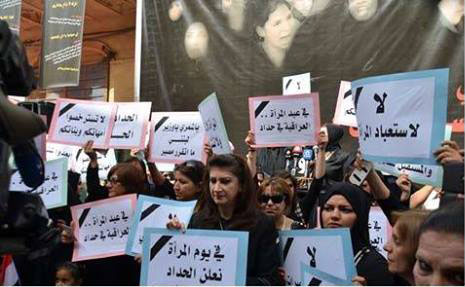 BAGHDAD – Iraqi women demonstrated Saturday in Baghdad against a draft law approved by the Iraqi cabinet that would permit the marriage of nine-year-old girls and automatically give child custody to fathers.
The protest, held on Mar. 8, International Women's Day, came a week after the cabinet voted for the legislation, based on Shi'ite Islamic jurisprudence, allowing clergy to preside over marriages, divorces and inheritances. The draft now goes to parliament.
"On this day of women, women of Iraq are in mourning," the protesters shouted. "We believe that this is a crime against humanity," said Hanaa Edwar, a prominent Iraqi human rights activist. "It would deprive a girl of her right to live a normal childhood."
The United Nations representative to Iraq, Nickolay Mladenov, also condemned the legislation. Mladenov wrote on Twitter the bill "risks constitutionally protected rights for women and international commitment".
The legislation goes to the heart of the divisions in Iraq since the overthrow of Saddam Hussein in 2003, as Shi'ite Islamists have come to lead the government and seek to impose their religious values on society at large. The bill would institutionalize the Shia clerical establishment and give it a larger say in the state legal system.
It describes girls as reaching puberty at nine, making them fit for marriage, makes the father sole guardian of his children at age two and condones a husband's right to insist on sexual intercourse with his wife whenever he wishes.
The legislation is referred to as the Ja'afari Law, named after the sixth Shi'ite imam Ja'afar al-Sadiq, who founded his own school of jurisprudence in the 8th century.
The draft was put forward by Justice Minister Hassan al-Shimari, a member of the Shi'ite Islamist Fadila party, and approved by the cabinet on Feb. 25 with 21 of 29 cabinet ministers voting for it.
It must now be reviewed by parliament, but the draft could get stalled, with national elections scheduled for April 30, and vocal opposition among secularists.
Shi'ite religious parties first attempted to pass a version of the law in 2003 under U.S. occupation, angering secular Iraqis and prompting protests. Policies adopted by the U.S. occupation authority led to the empowering of Shi'ite Islamists and largely excluded Shi'ite secularists from the new government that emerged.
It was widely believed that the Bush administration promoted Shia Islamists as part of a strategy to create a kind of "Islamic democracy" as a counter to extremists but also to blunt left and progressive forces. As a result, an article in Al-Ahram notes, "Shia religious groups have controlled the government and dominated the national political space, pushing leftists, nationalists, liberals and secularists to the sidelines."
The struggle between Iraq's secularists and Islamists continues.
The announced of the bill in the run-up to the Apr. 30 elections, is seen by some as an attempt by the leading Shia political groups to play on the sectarian sentiments of sympathetic Shia voters.
Iraq's current personal status law 188 (enacted in 1959) enshrines women's rights regarding marriage, inheritance, and child custody, and has often been held up as the most progressive in the Middle East.
It established at least partial equality between women and men in a number of areas, restricted polygamy, created a judicial procedure for divorce and required marriage to be performed only in state-run courts. The law, which was later amended several times, also set an 18-year minimum age for marriage. A later amendment allowed marriage for persons over the age of 15 but under that of 18 in very strict cases and only by authorization of a state judge.
Photo: Iraqi women protest the draft of the "Jafaari" personal status law in Mutanabi Street in central Baghdad, on Friday, March 7, 2014. Mutanabi Street, famous for its book stalls, is a focal point for cultural events and peaceful protests on Fridays, which are a holiday in Iraq. Tareeq al-Shaab