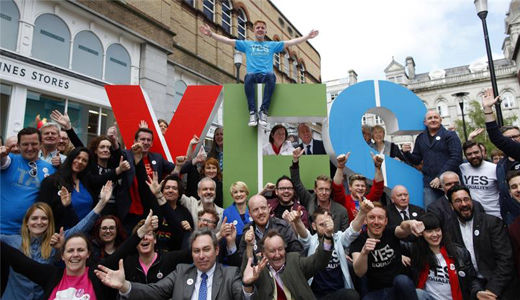 Same-sex couples could be married in Ireland by the end of the year after a referendum described as a "social revolution" solidly backed equal rights.
A referendum on the issue saw 1.2 million people vote in favour on Saturday, with almost two million votes cast. Turnout was 61 per cent.
Taoiseach Enda Kenny praised the courageous step by Irish voters, including the actions of tens of thousands of people who registered for the first time and many who travelled home specifically to cast their ballots.
"The decision makes every citizen equal and will strengthen the institution of marriage for all existing and future marriages. All people now have an equal future to look forward to," he said.
Tainaste (deputy prime minister) Joan Burton said: "The children in every town, village and schoolyard who will now grow up knowing their country accepts them – whoever it is they one day grow to be, and whoever it is they one day grow to love."
Ireland's parliament, the Dail, will pass new laws paving the way for same-sex marriage within weeks, ministers said.
Dublin Archbishop Diarmuid Martin said the "overwhelming vote" meant that Roman Catholic clergymen, who opposed the Yes vote, needed to reconnect with Ireland's youth.
"It's a social revolution. The church needs to do a reality check right across the board," said Rev Martin.
"Have we drifted completely away from young people?" he asked. "Most of those people who voted Yes are products of our Catholic schools for 12 years."
Anglican Church of Ireland bishops urged a spirit of public generosity from both winners and losers in the debate.
The huge majority for gay marriage also raised questions about whether same-sex marriage would be legalised in Northern Ireland – as it is in the rest of the UK.
Communist Party of Ireland chairwoman Lynda Walker said: "For once the Republic is ahead of the North on these issues. We hope this will be a wake-up call for people in the North."
Ms Walker cautioned that changes to legislation did not equate to a change in people's attitudes, but welcomed the result of the referendum as "very helpful."
This article was reposted from Morning Star