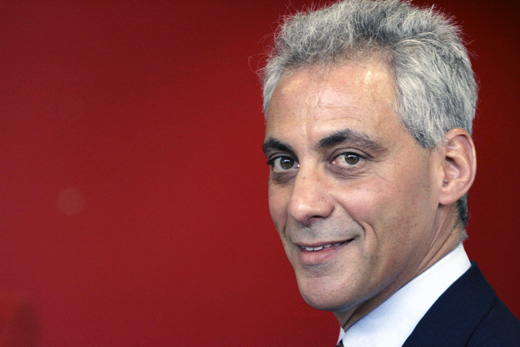 CHICAGO – In the end a decision by the Illinois Supreme Court to keep Rahm Emanuel on or off the mayoral ballot for this city's Feb. 22 election, will be a "political decision," say longtime independent activists.
In a whirlwind of events here this week, the state's Supreme Court granted a reprieve to Emanuel's attorneys Tuesday, to keep his name on the mayoral ballot for now.
Meanwhile the seven-member state Supreme Court will decide whether his name should stay there permanently. A decision could come fairly quickly, which will be the final word, experts note.
On Monday, the Appellate Court issued a stunning ruling booting Emanuel off the ballot.
However the state's high court chose to intervene in a case that has challenged Emanuel's residency requirement. Emanuel decided to run for mayor after leaving the Obama administration in October where he served as the president's chief of staff.
He was immediately challenged on whether he met the one-year city residency requirement to run for mayor and he eventually won at both the Chicago Board of Election Commissioners' office and at the Cook County Circuit Court.
Then Emanuel suffered a major setback with the Appellate Court's ruling earlier this week, which stated he did not meet the requirement.
"It was always going to end up in the Supreme Court," said Don Rose, an independent political consultant and longtime Chicago activist. "There's a case on either side," he said. "It was two political judges that voted against him," in the Appellate Court, "but they don't define the law."
Rose notes there are seven different justices on the state's Supreme Court and "their decision will be political too." He added, "It's going to be a political decision made by political judges and ultimately the politics will define this."
One of the high court justices' is Anne Burke, wife of Chicago Alderman Edward Burke who belongs to one of the most powerfully connected machine families in the state. Mr. Burke chaired the committee that "slated" the two judges who voted against Emanuel being on the ballot in the Appellate Court. Mr. Burke has openly supported one of Emanuel's leading opponents, Gery Chico, for mayor and Anne Burke is refusing to recuse herself from the Emanuel case on the high court.
Many say this is all just an intriguing refresher course for how the game of politics is played in the Windy City and in Illinois where judges are elected.
If Emanuel wins his case he will likely become Chicago's next mayor. He would replace Richard M. Daley, who recently announced his retirement after becoming the longest serving mayor here since 1989.
Emanuel's lawyers say he should be exempted from the residency challenge because he was living in Washington in service to the country. Emanuel is leading in the polls by double digits and in campaign fund-raising. He would become Chicago's first Jewish mayor. Emanuel says becoming mayor should be up to the voters and they deserve the right to decide.
Rose notes whether or not Emanuel ends up on the ballot, it's not a question of democracy or fairness. "Should he be on the ballot," asked Rose. "Unequivocally, yes," he said. "Is he the right man for Chicago, well I have very serious doubts about that. Defending his right to be on the ballot has nothing to do with my opinion about his politics," said Rose.
But others think it's not very democratic that Emanuel has 100 times more money than the other community-based candidates. The Supreme Court justices are ultimately making a choice about what section of the Democratic machine is going to end up on top, independent activists claim. They note the irony of a residency ordeal that has actually helped Emanuel's campaign gain momentum, making him appear as a sympathetic figure.
"What's decided in the courts won't really be a game changer because Emanuel has enough money to argue his case and keep his name on the ballot," said Rudy Lozano Jr., an educator and community organizer (and this author's brother).
Lozano came within some 400 votes of an upset victory in a 2010 Illinois Democratic primary for state representative against incumbent Daniel Burke, Edward Burke's brother.
"From the start Emanuel's campaign has been one based on bullying, intimidation and abuse of financial resources," said Lozano. "We need to elect a new kind of mayor that truly represents the working people and minority communities of Chicago." Emanuel on the other hand has major contributions from some of the wealthiest sectors of society, which do not adequately represent Chicago's diverse and majority residents, he said.
Photo: Rahm Emanuel smiles during a Jan. 4th news conference in Chicago. (AP Photo/M. Spencer Green)