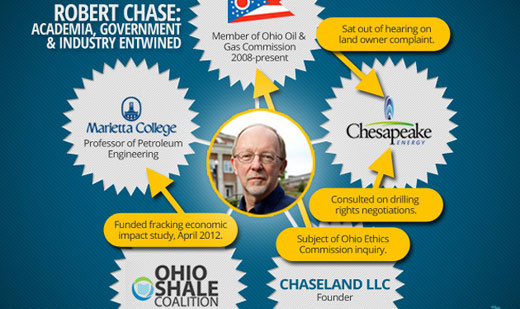 The University of Texas in Austin plans to organize an independent group of experts to review a February report on fracking – the controversial gas extraction method – after learning that the professor who wrote it is in the pocket of the natural gas industry.
Authored and presented by Charles Groat, associate director of the university's Energy Institute and former director of the U.S. Geological Survey, the report claimed that a new study showed that there is no proof whatsoever that fracking causes groundwater contamination – something environmentalists and many scientists dispute, and to which there is evidence to the contrary.
Feeling uneasy after reading what was essentially a pro-fracking report, the Energy Institute soon learned that Groat has been on the board of the Plains Exploration & Production Company since 2007 – something he neglected to mention in his study.
Buffalo, New York nonprofit watchdog group, The Public Accountability Initiative, released a report this week on the Groat study, noting that fracking industry ties are playing a role in falsified or misleading reports written by so-called "experts" who are paid off to do so.
University executive president Steven Leslie remarked, "Groat has been reminded of his obligations to report all outside employment, per university policy. If the university had known about Groat's board involvement, the Energy Institute would have included that information in the report."
Over in Ohio, meanwhile, the U.S. Chamber of Commerce launched a media campaign called "Shale Works for US," and offers information on how oil and gas drilling are supposedly going to create jobs and transform the economy. What it failed to mention is that the optimistic employment statistics it provided were derived from an April report written by three major Ohio university professors whose study – predictably – was supported and funded by the natural gas industry.
One of the report's co-authors, Robert Chase, came under the scrutiny of the Ohio Ethics Commission for having conflicts of interest and being a participant in industry-funded studies that, environmental watchdogs conclude, rely on poor disclosure and misinformation.
Chase also worked as a consultant for big oil and gas developers including Halliburton, Cabot, and EQT. Chase called for increased fracking in Ohio newspaper columns, and praised gas extraction further during the February 27 Subcommittee on Energy and Mineral Resources at the Eastern Gateway Community College.
When it comes to fracking studies, said Ohio oil/gas lease attorney Mark F. Okey, "It's hard to find someone who's truly independent and doesn't have at least one iron in the fire. It's a good ol' boys network and they like to take care of their own."
"There's a clear and present danger of industry and university being way too cozy," explained Ohio Environmental Council member Jack Shaner. Chase "is clearly a poster child for the need for a clear bright line between industry and academia."
Thomas McGarity, a University of Texas law professor and author of Bending Science: How Special Interests Corrupt Public Health Research, said it's hard to find fracking reports free of pro-industry bias. That's because the industry, he said, "is trying to buy the prestige of the university. And the universities are happy to sell their prestige, I suppose."
Photo: This photo demonstrates how 'experts' like Robert Chase seem to be right in the pocket of the natural gas industry. ClimateDesk.org