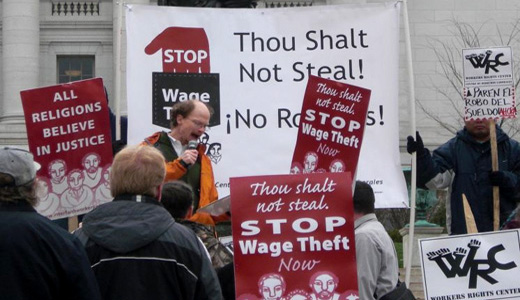 The U.S. Department of Labor recently announced the launch of an application for smart-phones – a timesheet to help employees independently track the hours they work and determine the wages they are owed. It lets an employee punch in start times, end times, breaks, and lunch periods. Links provided to the department's Wage and Hour Division make contact info and materials regarding wage laws easily accessible.
Launched on May 9, the app is available in English and Spanish, and compatible with iPhone and iPod Touch. It may eventually work with other platforms, like Android and BlackBerry. Creators also hope to provide features not currently available, like tips, commissions, bonuses, deductions, holiday pay, weekend pay, and shift differentials.
For workers without a smart-phone, the Wage and Hour Division has a printable work hour's calendar that includes easy-to-understand information about workers' rights and how to file a wage violation complaint.
Labor Secretary Hilda L. Solis welcomes the app, telling CNS News, "This app will empower workers to understand and stand up for their rights when employers have denied their hard-earned pay."
This app is the logical next step forward in a progressive move to highlight the importance of carefully drafted employer wage policies and practices.
Over the past few years, federal courts nationwide have experienced a surge in lawsuits alleging wage and hour violations by employers. And in many of the cases, employees were not paid for all of their activities including those that are considered "compensable work" under federal regulations.
Last year the Department of Labor made a move to recover almost $1 million in back wages for New York construction workers, and forced a company in Georgia to compensate for inappropriate investment of union pension funds.
"Wage theft is a national epidemic that robs millions of workers of billions of dollars they've worked for but never see," said Kim Bobo, executive director of Interfaith Workers Justice (IWJ). Bobo notes wage theft is "the crime wave no one talks about. It's really all around us."
IWJ, which in November 2010 ran a National Day of Action Against Wage Theft, released a study, that found 60 percent of nursing home workers, 100 percent of poultry plant workers and 90 percent of restaurant workers are denied their fair pay at some point.
"This app underscores the need for employers to maintain accurate time records for their workers," said Paul DeCamp, former administrator of the Department's Wage and Hour. "The last thing an employer wants is to be blindsided by years' worth of detailed daily time records showing much more time worked than was actually paid. It's in everyone's interest for workers to be paid correctly and for any disagreement regarding hours worked to be resolved in real time rather than months or years after the fact."
The app can be downloaded from the Wage and Hour Division's website.
Photo: Courtesy of Interfaith Workers Justice.