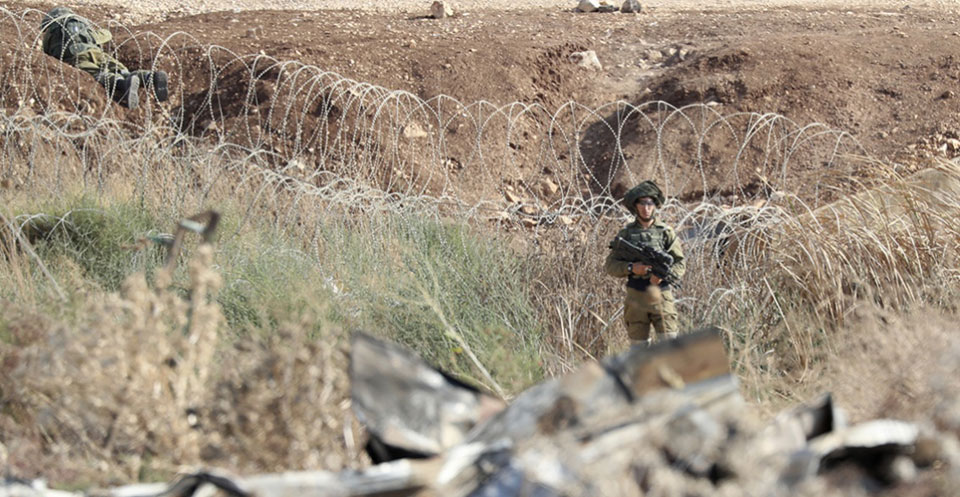 Israel targeted Palestinian resistance sites in series of airstrikes in Gaza for the third consecutive day today.
It is accused by Palestinian groups of carrying out "collective punishment" for last week's jailbreak in which six prisoners escaped from Gilboa prison.
Missiles struck an outpost in southern Gaza, to the east of the city of Rafah, according to reports from the Palestinian Shehab news agency.
Explosions reverberated across the besieged Palestinian territory, causing electricity blackouts in Rafah, locals said.
Drones and aircraft have been conducting extensive overflights of the territory in what Palestinian sources say is an attempt to "strike fear" into Gaza's civilian population.
Tel Aviv claims to be justified in carrying out airstrikes, insisting that it is responding to incendiary balloons launched from Gaza.
But its aggressive measures have escalated since last Sunday's jailbreak, which was seen as a humiliation for the apartheid regime.
Israeli security forces have recaptured four of the escapees, with a mass search operation underway as they hunt for the remaining pair: Ayham Kamamji and Munadel Infeiat.
Minister of Public Security Omar Barlev said that he believes the men have separated and that attention was being focused on the northern Israeli town of Yokne'am and the West Bank city of Jenin.
Jibreil Zubeidi, the brother of Zakaria Zubeidi, one of the prisoners that was caught by Israeli agents, spoke out against his brutal treatment in custody today.
"My brother is undergoing most the brutal torture. They are electrocuting and beating him. They broke his leg, and he is not getting any sleep.
"They are forcing him into stress positions over his broken leg and cursing at him," Mr. Zubeidi said.
The other detainees, Mahmoud and Mohammad Ardah and Yacoub Qadri, are also allegedly being tortured and have been denied access to their lawyers.
An Israeli court ruled against overturning the ban today, denying an application from their legal teams.
Palestinian prisoners are planning protest action over the punitive measures introduced at jails following the escape.
The measures involved prison authorities placing tens of detainees into solitary confinement, preventing inmates from going to the prison yard, banning prisoners from meeting their families, and closing the canteens.
The Palestinian Authority's detainees affairs commission and the Palestinian Prisoners Society said that the prisoners would boycott the Israel Prison Service and its rules and start a gradual hunger strike, with more inmates expected to join the action every day.
This article was reposted from Morning Star.