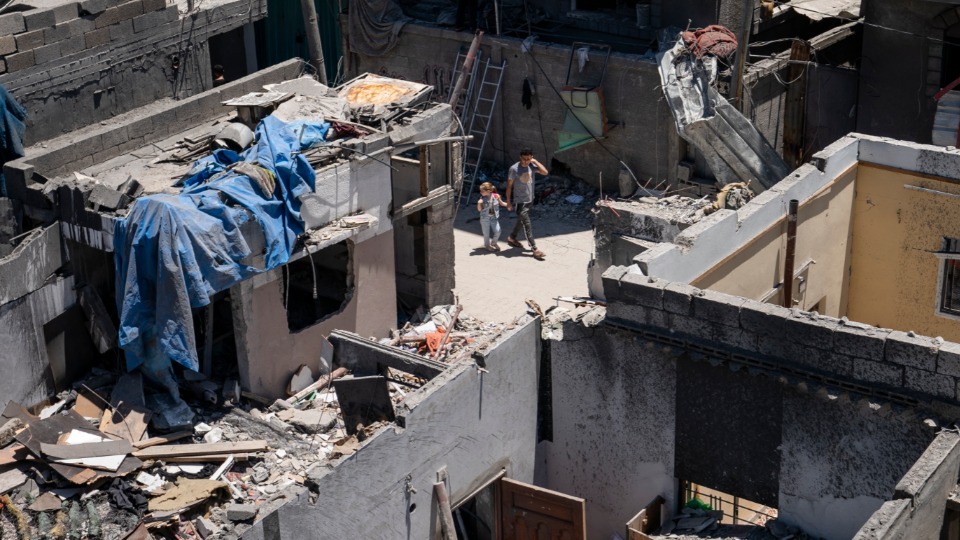 WASHINGTON—Even though its bombardment was stopped by an Egyptian-brokered and U.S.-pressured ceasefire, the Israeli government-ordered 11-day offensive against the Palestinians in Gaza has built momentum for restrictions on U.S. foreign aid to Israel.
But though a mainstream lawmaker, Rep. Betty McCollum, DFL-Minn., has lined up 22 cosponsors for her legislation, HR2590, it still faces an uphill battle on Capitol Hill.
McCollum introduced the bill in mid-April and it's currently languishing in the House Foreign Affairs Committee, whose chair, Rep. Gregory Meeks, D-N.Y., is a down-the-line supporter of Israel.
And the American Israel Public Affairs Committee, the biggest U.S. backer of right-wing Israeli Prime Minister Benjamin Netanyahu, is already lobbying against it.
McCullom's "bill will create new rules and restrictions just for Israel, weaken Israel's security, undermine the U.S.-Israel relationship, and reinforce Palestinian resistance to direct talks," says the influential and sometimes notorious lobby.
HR2590 builds upon legislation McCollum introduced in the last two Congresses "to promote the human rights and safety of Palestinian children," she said. Those bills, too, went nowhere. A fact sheet from her office shows she's been working on the issue since 2015.
Her bill bans Israel "from using U.S. taxpayer dollars in the Occupied West Bank and East Jerusalem for: Military detention, abuse, or ill-treatment of Palestinian children, seizing and destroying Palestinian property and homes in violation of international humanitarian law," or to aid or support "Israel's unilateral annexation of Palestinian territory in violation of international humanitarian law."
U.S. aid to Israel totals $3.8 billion in the current fiscal year, which ends Sept. 30. That doesn't count arms sales, such as the $735 million deal other lawmakers, including Sen. Bernie Sanders, Ind-Vt., and Rep. Alexandria Ocasio-Cortez, D-N.Y., are trying to derail.
"U.S. assistance intended for Israel's security must never be used to violate the human rights of Palestinian children, demolish the homes of Palestinian families, or to permanently annex Palestinian lands," McCollum said when she unveiled it.
"Peace can only be achieved by respecting human rights, especially the rights of children, and this includes the U.S. taking responsibility for how taxpayer-funded aid is used by recipient countries, Israel included. Congress must stop ignoring the unjust and blatantly cruel mistreatment of Palestinian children and families living under Israeli military occupation."
Under strong pressure and blunt talk from Democratic President Joe Biden, and with Egypt serving as the go-between between Israel and Hamas, the Islamist militant group which rules Gaza, the two sides reached a cease-fire on May 21. That stopped a confrontation which saw Israel launch sustained air attacks and Hamas lob more than 2,000 rockets at Israel, killing a dozen Israelis. Israel's "Iron Dome" anti-rocket defense reportedly stopped 90% of the rockets.
Hamas said it started firing rockets after provocations from the Israeli right and Israeli police, including evictions in East Jerusalem and police letting right-wing Israelis onto the Temple Mount on a Friday, the Muslim sabbath, and fired tear gas at protesting Palestinians.
The Israeli retaliation killed 246 Palestinians, injured hundreds more, and destroyed homes, businesses, and a multi-story building that housed the Gaza bureaus of both al-Jazeera and the Associated Press. That prompted the News Guild, which represents AP staffers, to vigorously protest what seemed to be a deliberate attempt at censorship.
The U.S. refuses to talk with Hamas, which it has labeled a terrorist organization. On his current trip to the region, Biden's Secretary of State, Antony Blinken, met with Netanyahu and with Mahmoud Abbas, president of the Palestinian Authority, which controls the West Bank, but not Gaza. They discussed reconstruction aid, channeled through the PA, for Gaza.
McCollum's cosponsors include the now-expanded eight-member "Squad" of progressive lawmakers of color, plus Reps. Bobby Rush, Danny Davis, Marie Newman, and Jesus "Chuy" Garcia, all D-Ill., among others. But 300 other lawmakers signed a down-the-line pro-Israel letter to Biden.
Two labor-oriented groups supporting HR2590 so far are the Working Families Party and the National Lawyers Guild. Other institutional supporters include J Street, Americans for Peace Now, the Institute for Policy Studies' Middle Eastern section, and United We Dream.
"It is unconscionable and irresponsible for elected leaders in the United States to respond with empty words, false equivalencies, and feigned ignorance of Israel's disproportionate use of power" in the conflict, the WFP said in one of a series of Facebook posts of its statement.
WFP also pointed out the Gaza airstrikes had set off the most violent internal conflicts within Israel between right-wingers, including right-wing settlers, and Israeli Arabs, who comprise approximately 20% of its population. That raises "the specter of ethnic cleansing and other atrocities in an already volatile crisis," the organization said.
"The underlying conflict between Israelis and Palestinians has no military solution," J Street said separately. "The only way out of this decades-long conflict is a political solution that ends the occupation and guarantees the civil and political rights, safety, and self-determination of both Israelis and Palestinians. We believe that ultimately means a diplomatic agreement that results in two states.
"The time has come for bold, public American opposition to destructive Israeli and Palestinian policies and for intensive leadership to stop the unchecked slide toward one state and permanent occupation."
The Black Lives Matter movement also is speaking out against the bombardment, as is the first BLM activist elected to Congress, Rep. Cori Bush, D-Mo., a "Squad" member who signed on to HR2590.
And 500 former staffers from Democratic President Joe Biden's campaign signed a letter to him demanding he go beyond just forcing the ceasefire.
Rep. Mark Pocan, D-Wis., a Painter and former co-chair of the Progressive Caucus, and current chair Rep. Pramilla Jayapal, D-Wash., back HR2590. Like McCollum, Pocan is a member of the House Appropriations Committee, which actually helps dole out foreign aid funds.
McCollum emphasized her bill's aim is "to stand with Israelis and Palestinians" who want peace.
"I strongly believe there is a growing consensus among the American people the Palestinian people deserve justice, equality, human rights, and the right to self-determination," she said.
"The unprecedented endorsement of this bill by human rights organizations as well as Christian, Jewish, and Muslim organizations is indicative of an energized movement in support of human rights for Palestinians. It is time for Americans, especially members of Congress, to stand with Palestinians and Israelis who seek a future of peace and justice."
"Congress knows systemic persecution and human rights abuses are being perpetrated by Israel against the Palestinian people," she said. Referring to the pro-Israel letter from the 300 lawmakers, McCollum added: "This letter says: 'We do not care, and in fact, we will continue to look the other way!'
The former Biden staffers want the president to go even farther than he did in solving the mess in the Middle East.
They asked Biden to "work to end the underlying conditions of occupation, blockade, and settlement expansion that led to this exceptionally destructive period in a 73-year history of dispossession and ethnic cleansing."
Meanwhile, the National Lawyers Guild joined media groups in demanding Meeks's House Foreign Affairs Committee vote on Ocasio-Cortez's move to halt the $735 million arms deal. They cited the Israeli bombing of the Gaza building that housed AP and al-Jazeera.
"The U.S. government should not be selling weapons to a government that has shown repeatedly it will use them to attack media outlets and journalists," their statement said.