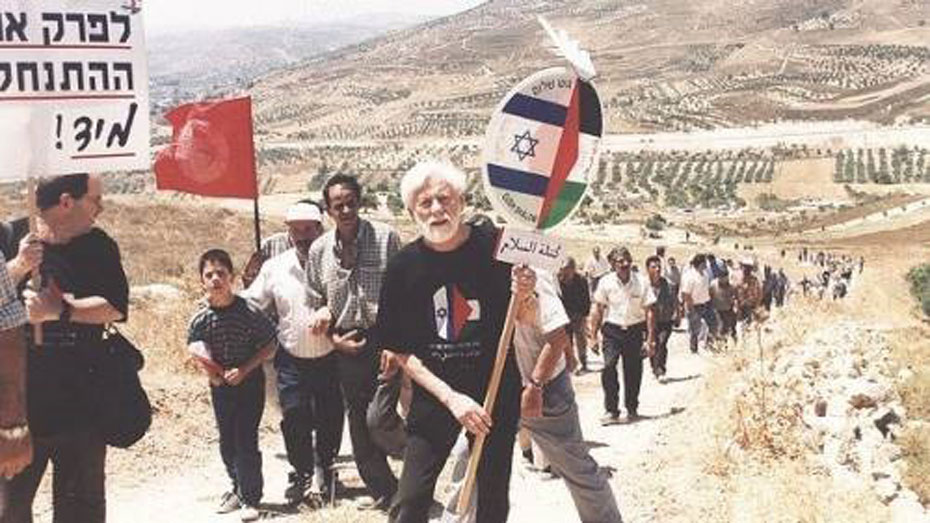 This Monday, August 20, the Palestinian cause lost one of its greatest defenders. Uri Avnery–a journalist, intellectual, former member of parliament, a man of the left and of peace–died at the age of 94, ten days after suffering a stroke, in a hospital in Tel Aviv.
As a Jew in Nazi Germany, he had to flee in 1933 to Palestine, then a British colony. He saw Israel born, and, at the dawn of a mad youth, he was a Zionist guerrilla against the Arabs and fought with the Israeli army. However, his whole subsequent life was spent trying to create a stable territory in the Middle East and he strongly advocated the two-state solution within his own country.
"There were less than a hundred of us in the world who defended this idea in 1949," he said in 2011, referring to the proposal to create a Palestinian state that would coexist with Israel, "but today the whole world supports it, as do the majority of Israelis."
"No fear, no prejudice." With this slogan and from the strength of his journalism, Avnery broke the taboos of Israeli society with his weekly Haolam Hazeh (This World), in which he defended peaceful coexistence with Palestinians and Arabs.
For his country's own government, its writings were "public enemy number one," as the Shin Bet, Israel's internal security service, put it. The newsroom suffered several attacks with firebombs and explosives, and was the victim of censorship and personal attacks.
In 1965 he established the left-wing political movement Haolam Hazeh-Koah Hadash, known as Meri, with whom he became a member of the Knesset (Parliament) from 1969; and in 1979 he regained a seat as a founding member of the left-wing Sheli party.
His political activities defended religious freedom in the Jewish state, civil marriage, appealed for the denuclearization of the Middle East and the rights of homosexuals, who were then forced to conceal their identity. He advocated a formal constitution.
Then, with the Oslo Peace Accords, he created Gush Shalom (Peace Bloc) in 1993, which distinguished itself from other Israeli peace movements by demanding the return of Palestinians expelled during the creation of Israel in 1948.
As a politician and journalist he was a person who took risks. Accordingly, in these days when many remember him, Uri Avnery will be particularly remembered for his interview with Palestinian leader Yasser Arafat, in 1982, in Lebanon, during the Israeli siege of Beirut.
Avnery broke ranks with his own people to talk with Arafat for about two hours. They would also meet on other occasions. It would be a clear sign that peace knows no ethnicity, religion or nationality. Avnery would defend Arafat as a friend, saying he would even be willing to give his life for him. In 2003, he did not hesitate to protect Arafat together with another compatriot as a human shield in the face of the imminent danger of an attack on the Palestinian leader.
His struggle, that of the man of letters and strength, was the struggle of a discontent with injustice and, above all, of a convinced "optimist," the title he would give to his autobiography. He published a dozen books and received many international awards. He was also beaten up by his own country, which he criticized with the conviction of one who believed in "the capacity of these people to change course."
He laid the foundations for critical journalism in Israel, for political dissent, the Tel Aviv press has had to acknowledge. "Ideological rivalries are disappearing in the face of his will to build a free and strong society," said Israeli President Reuven Rivlin of the conservative Likud party of Prime Minister Benjamin Netanyahu. Ayman Odeh, leader of the Joint Arab List party in Israel, honored the memory of "a man who dedicated his life to peace and the creation of a Palestinian state."
His death occurs in dark moments of heavy repression in Gaza and the West Bank, of apartheid and extermination. It may seem like goodbye, but Uri Avnery was an eternal optimist and his struggle continues on both sides of the wall.
The original publication can be seen here. The CubaNews translation, edited by Walter Lippmann, is here, slightly edited for format in People's World.