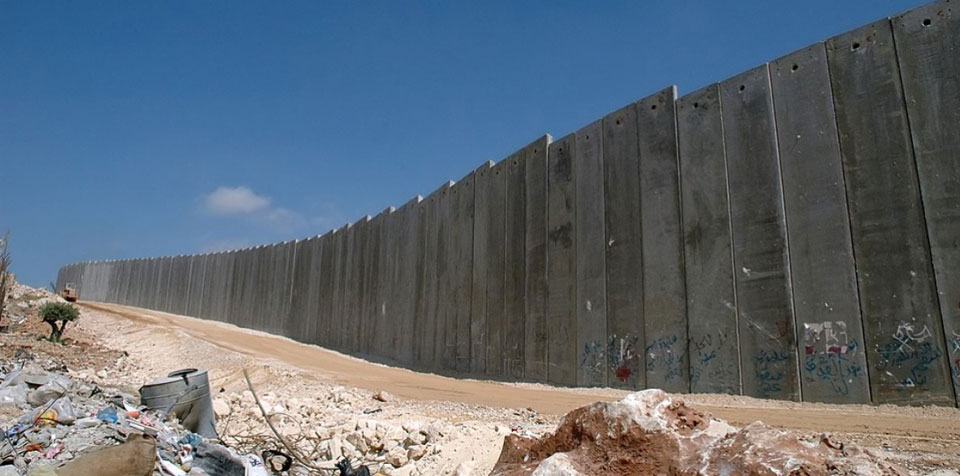 Israel's apartheid wall is still standing, 15 years after it was deemed illegal by the United Nations.
And rights groups warned yesterday that the structure has formed "the matrix of control" of Palestinians in the occupied territories.
A 2004 International Court of Justice (ICJ) advisory opinion found the wall was illegal. The UN judiciary body demanded an end to construction of the wall and said that it violated international law. It ruled that reparations should be paid to Palestinians.
Judges warned the wall—deemed a security barrier by Israel—would be tantamount to de-facto annexation of Palestinian territory.
But Israel ignored the non-binding decision and continued with construction of the 470-mile separation wall in the occupied Palestinian West Bank.
Then-Israeli Prime Minister Ehud Barak approved the project in 2000, with work starting in 2002 during the second intifada. Its continued extension violates the "green line" agreed after the 1967 Six-Day War.
Human Rights Watch director Omar Shakir said: "The wall itself is part of the matrix of control and rights abuses that are part of the daily Palestinian experience."
Palestinian rights group al-Haq spokesman Isam Abdeen said: "The issue is not with the ICJ ruling or international law or [UN] general assembly resolutions but with the continuing culture of impunity that exempts Israel, an occupying power, from punishment."
More than 6,200 people were displaced from their homes between 2006 and the end of 2018, with Israel demolishing at least 1,401 Palestinian residential units in the West Bank, excluding East Jerusalem.
A 10% increase of Israeli demolition of Palestinian structures in the annexed territory was reported in 2018 by the UN office for the co-ordination of humanitarian affairs.
About 500,000 Israelis live in the occupied West Bank and East Jerusalem, home to more than 2.6 million Palestinians.
The completion of the wall will amount to the annexation of about 46% of the West Bank.
Morning Star