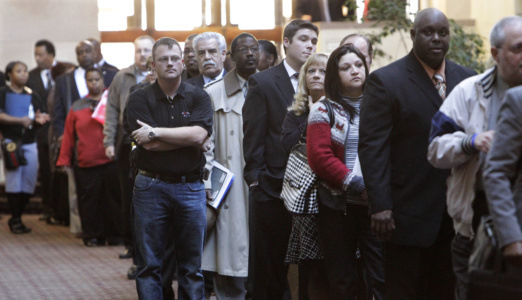 WASHINGTON (PAI) – Unemployment dropped in January by .4 percent to 9 percent, the Bureau of Labor Statistics reported. It was the second straight .4 percent monthly decline in the official rate.
That was the only good news in the government report. The not-so-good news was a separate survey of 400,000 businesses that showed firms created only 36,000 jobs.
BLS reported 14 million were unemployed in January, but said that could not be compared to December's 14.5 million jobless due to annual changes in its household survey to take account of changing U.S. demographics.
The January figures were far above the jobless rate (4 percent) and number (6 million) of January 2001, when former GOP President George Bush took over. The second Bush crash, from late 2007 through mid-2009, left Democratic President Barack Obama battling an 8 percent-and-rising jobless rate.
And Economic Policy Institute analyst Heidi Shierholz, in a telephone press conference just before the numbers came out, pointed out another factor that skews the numbers: The overall workforce is now smaller than it was precisely a decade ago.
Just to keep up with population growth, the labor force should have grown by up to 11 million people. "We've never seen a pool of missing workers this big, so it's really difficult to forecast what will happen going forward," she added.
BLS reported 85.5 million people were not in the labor force in January, compared to 85.2 million in December, with the same caveat about population changes. It also said the January jobless rate for adult men was 8.8 percent, above the 7.9 percent for adult women. Both rates were also below December's figures.
And the number of long-term jobless – six months or more – was 44 percent of all jobless, at 6 million, meaning they've exhausted their initial federal jobless benefits.
Besides the jobless, another 26.3 million people were working part-time, with 8.4 million of them doing so for economic reasons i.e. because that's all they could find. Some 3.8 million were "marginally attached" to the workforce, including those who dropped out and those who stopped seeking jobs.
Factories added 49,000 jobs from December to January, with more than 40 percent of them (20,400) in cars and parts, reflecting increased sales and profits by the "Detroit 3" automakers – who have recalled some laid-off workers. Factories actually added more jobs than private industry's service sector did (32,000). Construction, however, lost another 32,000 jobs. The jobless rate in that sector was 22.5 percent.
Photo: Job seekers line up for a job fair in Dallas, Jan. 26. (LM Otero/AP)