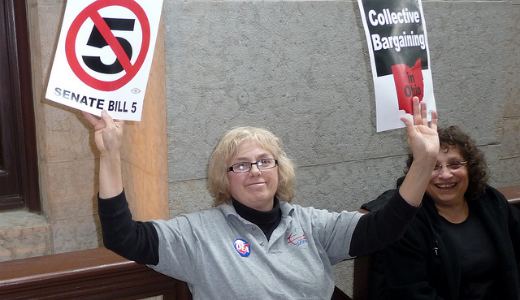 COLUMBUS, Ohio – More that 600 union leaders from throughout Ohio stood and cheered Thursday as state AFL-CIO President Tim Burga announced that the measure to repeal union-busting Senate Bill 5 had just been certified for the Nov. 8 ballot.
"Labor is more energized than I have seen it before," Burga said, referring to the record 1.3 million signatures collected by over 10,000 volunteers to place the measure on the ballot. Secretary of State John Husted determined that over 915,000 signaturewere valid – four times the number needed. In addition, the requirement that at least 3 percent of voters sign in half of Ohio's counties was reached in all 88 counties.
"This is an unprecedented achievement," Burga told the meeting, convened at the Plumbers and Pipefitters Hall here to kick off the next phase of the fight to repeal SB 5. The law, passed in March, strips public employees of the right to bargain collectively.
It was a standing-room-only crowd gathered in sweltering heat to hear Burga, national AFL-CIO President Richard Trumka and other officials rally the troops and map plans to mobilize 1.7 million voters in union households as well as all of labor's allies for a successful grassroots campaign.
The crowd was buoyed by a Quinnipac poll released the previous day showing the effort is gaining momentum. According to the survey, voters back repeal of SB 5 by a margin of 56 percent to 32 percent and disapprove of Republican Gov. John Kasich 50 percent to 35 percent.
"You will take this fight over the finish line," Trumka said. "You will restore the rights of 365,000 public employees!"
"The corporations bought politicians. They thought they could knock us down and knock us out. They gave us their best shot and we're still standing," he said. "Now it's our turn."
"This will affect the entire labor movement across America," Trumka said. "Either way, the outcome of this fight will be a game-changer. The right wing sees this as an opportunity to defeat all working people and you are going to put an end to it right here."
Warning of a massive "anti-union ad blitz," funded by ultra-right groups tied to Karl Rove and the billionaire Koch brothers, Trumka said "every member must be educated and mobilized to answer their lies."
"We must educate every last voter and show how this affects our families and children," he said. "Voters in Ohio are furious now. Politicians were elected promising to create jobs and they turned on working people."
Twenty-five million are desperately looking for work, Trumka said. "We can and must do better. We must create a future of long-term broadly shared prosperity. We need a future where CEOs aren't the only ones to make ends meet."
Evidence of the growing fightback was demonstrated that evening as 70,000 Ohioans took part in a telephone town hall meeting with Trumka, Burga, Alliance of Retired Americans President Barbara Easterling and former state AFL-CIO President Joe Rugola. For over an hour the leaders took calls from rank-and-file workers and retirees discussing the threat of SB 5 to education, public safety and community services and how to win the repeal campaign in November.
"The time has come to stop these right-wingers in their tracks," said Don Stiltner, a retired sheet metal worker.
"We are going to canvass labor-to-labor and labor-to-neighbor," Trumka responded. "We are going to distribute worksite leaflets, make phone calls, run radio and TV ads. We are going to reach out to our allies in the religious community, to the NAACP, to students and retirees.
"We are going to stop these right-wing extremists who are scapegoating workers and public employees and doing nothing to create jobs."
Photo: ProgressOhio // CC 2.0