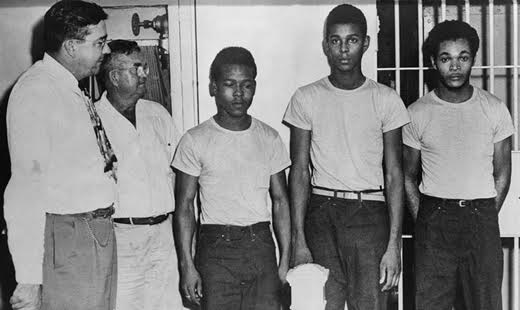 As a native Floridian and lifelong resident, I have often heard people say "Florida isn't really the South." Oddly enough, this statement usually comes from those new to Florida who are unaware of the state's Jim Crow past and terrifying racist history. But the story of the Groveland Four and the murder of Harry and Harriette Moore, tell another side of the Sunshine State.
For many soldiers returning from World War II, their homecoming was the beginning of new era in American life, with access to good union jobs and housing opportunities for them and their families. But for black soldiers, coming home after taking part in changing world history for the better was a return to a home that had not changed for them. And in rural areas like Groveland, Florida, (45 minutes west of Orlando) the citrus industry was king and the black residents were expected to work in the fields, particularly at harvest time.
Lake County Sheriff Willis McCall
Despite Groveland becoming a beacon of light and culture for black residents of Lake County, local law enforcement, headed by Lake County Sheriff Willis McCall, had become known for their brutality toward the black community. It should also be mentioned that Sheriff McCall's main job in Lake County was to run off union organizers and terrorize locals if they showed any support for the fruit pickers, all to keep a steady supply of workers who would work for 1940's poverty wages. And this is the Groveland that Sammy Shepherd and Walter Irvin, two of the Groveland Four, returned to after serving in the U.S. Army.
Upon their return, Irvin and Shepherd immediately caught the eye of Sheriff McCall by continuing to don their Army uniforms and their refusal to work in the citrus fields. Also, the parents of both men had been exercising independence from the white community and white-owned orange groves, with Shepherd's father Henry owning his own family farm and becoming a local icon for black independence and empowerment. Their success was seen as threat to the local power structure and a symbol of what could happen if black residents continued to prosper and not be willing to work for whites in the citrus groves.
At the same time, Harry T. Moore (Executive Director of the Florida NAACP) was on a mission to register black voters in Florida and endorse political candidates, forming the Progressive Voters League. By 1950, Harry T. Moore and the Progressive Voters League had more than doubled the number of black voters in Florida to 116,000.
On the early morning of July 16, 1949, that progress was brought to an abrupt halt. Two young white residents of Groveland, Willie and Norma Padgett (according the story they told police) experienced car trouble on their way home from a local social and ended up stranded on the side of the road. Now, what happened next varies according to who tells the story. According to the Padgetts, four young black men, Irvin, Shepherd, Charles Greenlee and Ernest Thomas, had attacked Willie leaving him in a ditch and left with Norma Padgett in their car. Norma Padgett later reported to the police that she had been raped by the four men and within a few hours, Irvin, Shepherd and Greenlee were arrested and in jail. Ernest Thomas however, quickly fled Lake County only to be shot and killed by a posse headed up by Sheriff McCall 200 miles north.
After hearing of the arrests, a crowd of around 600 gathered at the county jail demanding that Sheriff McCall hand over the three young men so "justice could be done." A writer from the Orlando Morning Sentinel reported that McCall had hid the suspects in an adjacent orange grove, telling the crowd that they had been moved to the state prison and tried to persuade the angry mob to let the law handle the incident.
Racist mob, rigged trial
Ignoring Sheriff McCalls' advice, the mob turned their attention to the black community of Groveland, shooting into homes and setting them on fire. Luckily, many of the black residents were warned of the coming mob and fled for their own safety. Many black owned homes were severely damaged and the home of Henry Shepherd was completely destroyed. The mob continued their terror by setting up road blocks in the highways to intercept returning black residents and on July 18, then Florida Governor Fuller Warren called in the National Guard at the request of the NAACP, restoring order.
The Orlando president of the NAACP requested legal assistance, and NAACP attorney Franklin Williams came to represent the three young men. As Williams began gathering details about the case, it became clear that the evidence was extremely dubious. When meeting with the three men, Williams noted they were covered in bruises and cuts. According to a statement given by Walter Irvin, the three were beaten by deputies to force confessions: strung from pipes, their feet on broken glass, clubbed to submission.
NAACP attorney Williams had initial doubts that the rape had even occurred. A local white restaurant owner who gave Norma Padgett a ride after the purported rape stated that Norma did not seem upset nor mention the rape. Only after talking with her husband Willie did Norma claim to have been raped. Willie Padgett had previously been warned by Norma's parents against abusing her, leading attorney Williams to suspect Willie Padgett of beating his wife and concocting the story of his attack and Norma's rape to cover up his abuse.
Shepherd, Irvin and Greenlee were quickly indicted by a grand jury and despite a request for a change of venue, the trial went forward. Disregarding evidence that both Irvin and Shepherd were out of town in Orlando and Greenlee was nineteen miles away at the time of the alleged incident, the jury convicted the young men within ninety minutes with Shepherd and Irvin given the death penalty and Greenlee, only 16 years old, sentenced to prison.
NAACP organizes support, Shepherd and Irvin shot
The NAACP pushed forward after the conviction, gaining nationwide support, and published a pamphlet named "Groveland USA" which helped in raising funds for the defense of the young men and greatly publicizing the Groveland Four. Soon, U.S. Attorney General J. Howard McGrath ordered an investigation and the assignment was given to U.S. District Attorney Herbert Phillips of Tampa, FL. In spite of McGrath's good intentions on wanting a just investigation, Phillips was known for his regressive stance on race and his views about the guilt of the Groveland Four were not far from the Groveland mob that burned black homes and terrorized a community. U.S. District Attorney Phillips' refusal to acknowledge conflicting evidence and to hear key witnesses, lead the Florida Supreme Court to uphold the convictions.
Citing a cartoon published in the Orlando Morning Sentinel picturing three electric chairs, the United States Supreme Court unanimously overturned the sentences of Irvin and Shepherd. Charles Greenlee, who did not appeal, remained in prison until 1960.
Shepherd and Irvin were picked up at Raiford State Prison by Lake County Sheriff McCall to be transported back to Lake County for a retrial. Yet again, what happened next varies as to who tells the story. Sheriff McCall stated that he had stopped his car to check a low tire and the two young men had attempted to escape and he had no choice but to shoot the two men. Samuel Shepherd was killed at the scene, but Walter Irvin survived the incident though being shot twice. Walter Irvin, having lived through the ordeal, went on to tell a very different account.
Irvin told an account of Sheriff McCall stopping his car on the side of the road in the darkness of night, then ordering the two young men to exit the car, then shooting both in the chest. Fearing for his life, Irvin said that he remained still pretending to be dead. He then overheard the Sheriff say "I got rid of them; killed the sons of bitches," on the police radio. An arriving Deputy discovered that Irvin was still alive and attempted to shoot him again. The Deputy's pistol jammed and after looking over his gun, fired again striking Irvin in the neck. Walter Irvin survived the second shooting and received medical care upon returning to Lake County.
NAACP's Harry Moore began calling for McCall's suspension and indictment for murder. Only six weeks later, on Christmas Day 1951, Moore himself was killed when a bomb was placed beneath the floor joists directly under his bed. Moore died on the way to the hospital; his wife, Harriette, died nine days later.
The protests over the Moores' deaths rocked the nation, with dozens of rallies and memorial meetings around the country. President Truman and Florida Governor Fuller Warren were inundated with telegrams and protest letters.
For Walter Irvin's second trial, the future U.S. Supreme Court Justice Thurgood Marshall was brought in to replace NAACP attorney Franklin Williams. A change of venue was allowed for the second trial, moving it to nearby Marion County, which like Lake County was known for its fair treatment of black residents. Attracting more national and international attention, the second trial became known around the globe and Irvin even found support from activists in the U.S.S.R., and other countries in Europe, Africa and Latin America. Papers in the Soviet Union reported on the trial heavily and helped to boost international solidarity with Irvin's fight for justice.
Yet again, despite new evidence that shined doubt on the case against Irvin, a jury found him guilty after only ninety minutes of deliberation. In 1954, his case was appealed and the U.S. Supreme Court refused to hear Irvin's appeal. Walter Irvin then appealed for clemency and was denied by then Governor Charlie Johns with the Governor then scheduling Irvin's execution. During the Florida Governor's election of 1954, Irvin was given a stay of execution. Governor Elect LeRoy Collins, a moderate politician by Florida standards, reviewed Irvin's case and citing inconsistencies in evidence, removed Irvin from death row and sentencing him to life in prison. Many citizens of Lake County immediately rebuked the actions of Governor Collins and criticisms of Collins by U. S. Attorney General McGrath were published across the state of Florida.
Charles Greenlee, having been in state prison since the age of 16, was paroled in 1962 when he then moved to Tennessee, never returning home to Florida. Walter Irvin moved to Miami after his release in 1968, but on a visit back to Lake County in 1970, he passed away from a heart attack.
In spite of continuing instances of abuse and charges of corruption, Sheriff Willis McCall continued to get re-elected by Lake County voters. Then Governor Reubin Askew removed McCall from office after a black prisoner in Sheriff custody was kicked to death, forcing McCall to resign in 1973.
Unsealed FBI files raise new possibilities for justice
But the story continues. FBI files that were unsealed in 2012 could clear the four men of the charges they faced. The released documents include an interview with the doctor who examined Norma Padgett immediately after the alleged incident showing that the doctor found no evidence of a sexual assault.
After the release of the FBI files, a new movement has begun among Florida State Legislators to clear the names of the Groveland Four. Several Representatives have filed and supported such a resolution that would exonerate the four men and give a public to their families. The resolution specifically requests that Gov. Scott and his Cabinet pardon the men.
A citizen lead petition to Gov. Scott to exonerate the Groveland Four has been initiated by Josh Venkataraman, a student of the University of Florida, and Carol Greenlee, daughter of Charles Greenlee, and you can sign it here. Please take a minute to tell Gov. Scott it's time to exonerate the Groveland Four.
An excellent book on this case is the 2013 Pulitzer Prize winner, "Devil in the Grove: Thurgood Marshall, the Groveland Boys, and the Dawn of a New America," by Gilbert King.
Photo: From left to right: Lake County Sheriff Willis McCall, Jailer Reuben Hatcher, Samuel Shepherd, Walter Irvin, Charles Greenlee. (As shown on petition sight.)