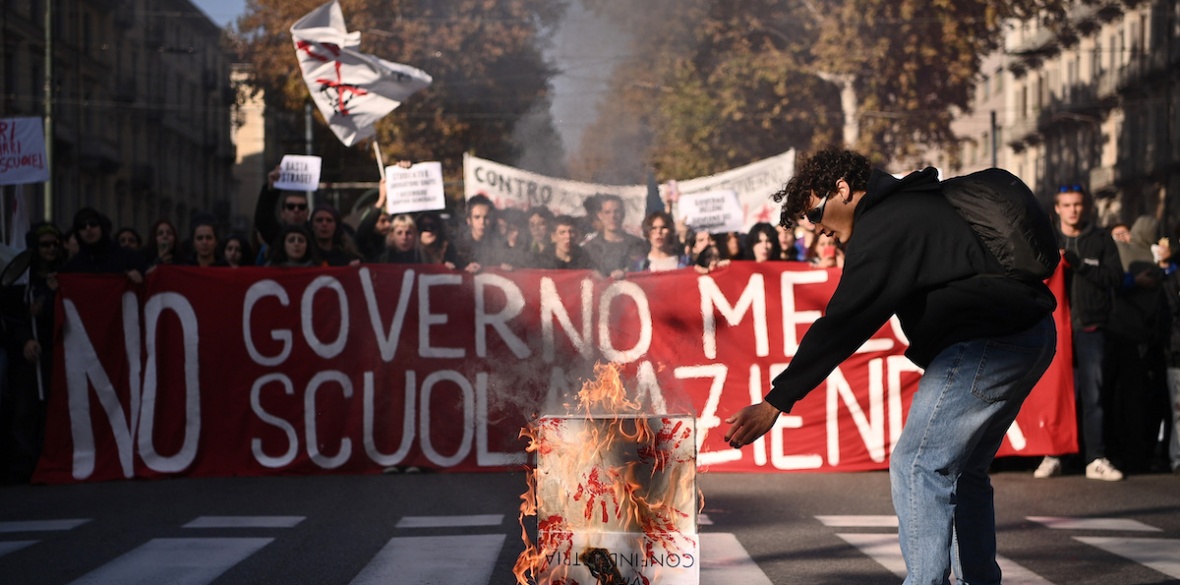 ROME—Thousands of Italian students declared Friday to be "No Meloni Day," rejecting the country's far-right government.
Students from across Italy took to the streets to protest against new Prime Minister Giorgia Meloni's plans for education.
The students claim that the policy ideas of the far-right leader and her Brothers of Italy Party will discriminate against students.
After taking power in September, Meloni announced the Italian Education Ministry would be renamed the Ministry of Education and Merit, leading critics, including many students, to express concern that the government will not serve the needs of all students.
The Brothers of Italy traces its roots directly to the Italian Social Movement (MSI) party, founded in 1946 by members of dead dictator Benito Mussolini's then-outlawed National Fascist Party. Allied with Adolf Hitler's Nazi regime during the 1930s and '40s, Italy's fascists fought alongside Germany in WWII and instituted their own anti-Jewish laws and policies forbidding independent trade unions and progressive political groups.
Meloni's party is widely seen as the descendant of Mussolini's fascist politics.
Organizers of No Meloni Day said 100,000 students took to the streets in cities including Rome and Milan, with the main demonstration in Rome including a march from Circo Massimo to the Ministry of Education and Merit in Trastevere.
Students painted their hands red and held banners reading: "Against the Meloni government and merit school," "Merit is only propaganda," and "This is the demo of the discriminated."
Union of Students communications manager Alice Beccari said they are fighting for five key demands: "The right to study, integrated education instead of school-work alternation, psychological wellbeing, more representation, and more rights for students."
Organizers also denounced alleged police brutality at a student protest at Sapienza University in Rome last month, where demonstrators had chanted: "Fascists, get out of Sapienza," while representatives from the Brothers of Italy spoke at an event.
The police hit students with batons and video footage showed one protester being "dragged and slammed into the ground," according to Euronews.
"We have asked this new government to abandon the rhetoric of meritocracy and to try to think about a clear investment in the future of education in this country," organizers told Wanted in Rome.
Morning Star