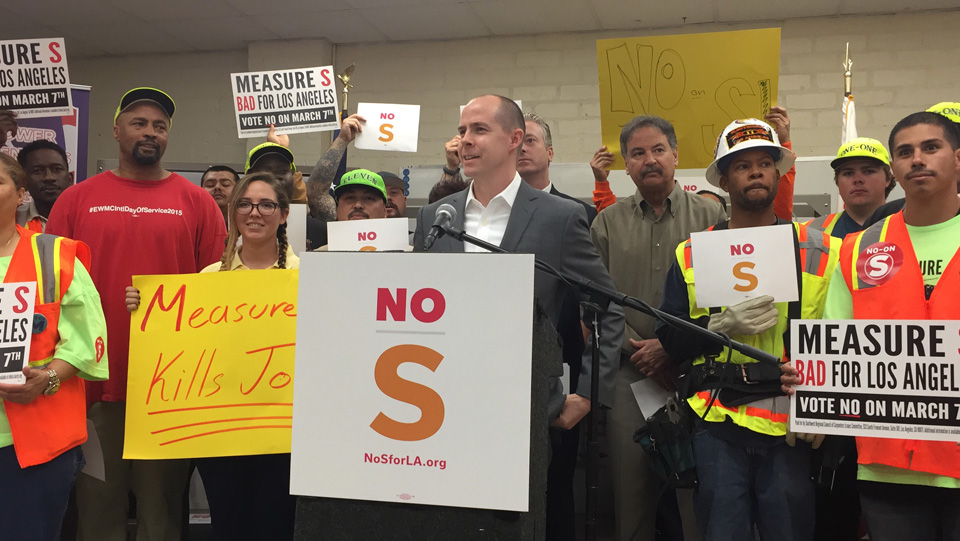 LOS ANGELES — There is a ballot measure being voted on March 7 here in Los Angeles which proponents would have voters believe will "save your neighborhood" (as has been posted on the many billboards throughout the Los Angeles area). In these decisive times where voters are misled with appealing slogans, one needs to be well informed before voting. Measure S would halt the development of all new housing, including affordable housing, in the city for two years. Working class Angelenos cannot afford to wait that long for new housing.
Slogans and sound bites are an easy way to convey a message, but they can also mislead voters into voting against their best interests.
So we must ask the questions, what is measure S going to save us from? What in our neighborhood is not safe? As a long time and consistent voter, I have received all the propaganda urging me to vote for this measure. In the 5 mailers I have received, nowhere do they explain how exactly it will save our neighborhood.
A nice booklet delivered to my home had many sound bites that on the surface seem like I would agree with but when I do a quick research I realize this measure will not save my neighborhood but would make matters worse.
The booklet and the propaganda sent to me, highlights that this measure will end backroom deals at City Hall and requires a 5-year of planning phase before any construction can begin. A quick internet search tells me that this framing of the message fails to tell me that this measure will halt all construction for 2 years and that it would in fact stop the building of hospitals, fire stations, public transit and recently approved affordable housing and homeless housing. It also fails to inform that Measure S will destroy more than 12,000 jobs and cost workers more than $640 million in lost wages each year plus it will cost taxpayers over $70 million each year in lost revenue needed for police, firefighters, and other vital city services.
The booklet especially, contains quotes from the Los Angeles Times giving the impression that the Times has endorsed the measure but when we verify this, the Los Angeles Times actually said "Measure S isn't a solution to LA's housing woes, it is a childish middle finger to City Hall, Vote NO" The LA Times calls Measure S "a recipe for higher housing costs, more homelessness and greater inequality." With vacancy rates at an extreme low, our city cannot afford this damaging ban on housing.
One leaflet circulated by the proponents of Measure S, states that the measure "encourages" new construction of affordable housing. The word "encourages" does not carry any weight, mandate or guarantee that new construction of affordable housing will be assured. Once again, framing is key: if I as a voter were to just skim through this leaflet and see "affordable housing" I would be inclined to vote yes. But a longer look allows me to see that it will do nothing to assure more affordable housing.
I caution all voters to watch for messages that seem to speak to your concerns but do not offer real and tangible solutions.
This voter will be voting NO on S. Quick research clarifies that this measure will not only halt all construction, but will also put people out of work, cost taxpayers millions of dollars, increase our homeless population and do nothing to save my neighborhood.