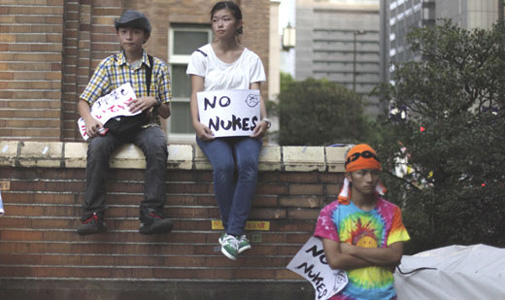 Just one week after announcing intentions to end nuclear power in Japan by 2040, the Japanese government has now withdrawn those plans, ignoring public outcry and once again demonstrating the level of influence the nuclear industry has on the political atmosphere there.
Despite an initial plan to slowly wean the country off nuclear power over the next two decades, Japanese Cabinet ministers began to dial back public discussion on the matter after outrage by TEPCO, the fourth largest electric utility worldwide, which has been tremendously influential on Big Business and administrative policies in Japan. Now, ministers have said they would still take the proposed policy "into consideration" at a later point, acknowledging the public's repulsion toward nuclear energy. But the Cabinet maintained that those plans were essentially scrapped at this current time.
This outcome was largely seen as a move by Prime Minister Yoshihiko Noda's Democratic Party of Japan to court business interests and secure corporate and industry support for the party. This is evident by the fact that business leader Masahiro Yonekura threatened to quit a government panel he was representing if the anti-nuclear plan was pursued.
Yonekura is chairman of the Japan Business Federation (often called 'Keidanren') and Sumitomo Chemical, a major Japanese chemical and pharmaceutical corporation. Keidanren is a pro-corporate economic organization considered to be "the voice of big business" in Japan. In addition to being aggressively pro-nuclear, Keidanren has also made substantial donations to political parties.
That latter fact may be important for Noda, who currently has an approval rating of about 30 percent, and who nevertheless hopes to get re-elected during the parliamentary elections in August 2013. It is expected that without Noda's re-election, the Democratic Party of Japan will lose power, as the Liberal Democratic Party (which Keidanren has always primarily championed) takes control.
Yonekura was among those who praised the government's decision to not abandon nuclear energy, remarking that the phase-out plan had been "totally unacceptable."
The public, meanwhile, continues to protest the pro-nuclear agenda. Backing their voices is the Japanese Communist Party, whose chair, Shii Kazuo, strongly urged the government to "immediately realize zero power plants in Japan." By ignoring demands for a speedy departure from atomic power, he noted, the government is turning its back on the people.
These would be a particularly ill-advised time for the government to do so, given that Japan has been left reeling from the Fukushima disaster and its aftermath, which prompted the anti-nuclear outcry in the first place.
Strengthening the anti-nuclear argument is a recent study by European researchers, published in the journal Natural Hazards, which determined that 23 nuclear plants around the world – including Fukushima – are susceptible to tsunami waves. In total, 74 nuclear reactors might be at risk, the study found, with East and Southeast Asia being the most vulnerable areas. Experts have urged energy officials to not only reconsider where nuclear plants are built and operated, but also the danger present in merely having them in the first place.
"The location of nuclear installations does not only have implications for their host countries, but also for the areas which could be affected by radioactive leaks," said Joaquin Rodriguez-Vidal, a researcher at the University of Huelva.
But if the Japanese government continues to cater to corporate interests, critics fear, it will accommodate neither public demand nor scientific fact.
After all, said Hideyuki Ban, secretary general of nuclear watchdog Citizens' Nuclear Information Center, in the past "we've only seen the government strike compromise after compromise with the business community." Why should now be any different?
Photo: Japanese youth protest nuclear energy in central Tokyo. Greg Baker/AP