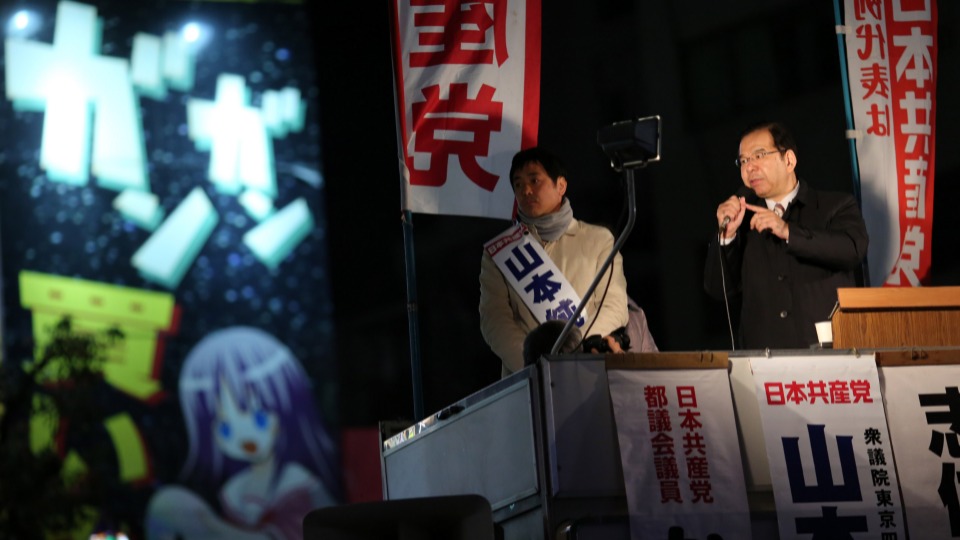 TOKYO—At a street rally held near Tokyo's JR Ikebukuro Station on Oct. 14, Japanese Communist Party Chair Shii Kazuo appealed to a large audience, "Let's put an end to the Liberal Democratic-Komei coalition government and establish a pro-people government!" Video of the rally was broadcast live on YouTube to an online audience of at least 10,000 more.
Earlier that day, Prime Minister Fumio Kishida—who's only been in office since Oct. 4—dissolved the House of Representatives and sent Japan into an election. All political parties immediately started political campaigns that will last just 17 days before a general election will be held on the last day of this month.
In his speech, Shii explained that in its election platform, the JCP proposes to transform neoliberal policies into ones that value people's lives and livelihoods. The party is proposing measures to tackle the climate crisis, realize a gender equal Japan, and realize a pro-peace approach to diplomacy that makes the best use of Article 9 of Japan's constitution, which outlaws war.
Shii stressed that the JCP will work hard for victory in single-seat constituencies where the party will field candidates jointly with the Constitutional Democratic Party of Japan. In addition, emphasizing the importance of a major JCP advance in order to establish a coalition government of opposition parties, Shii expressed his determination to increase voters' support for the JCP in proportional representation blocs as well.
Among the audience, a 26-year-old woman who took part in a JCP street speech rally for the first time said, "I got a good impression of the JCP from the campaign posters focusing on promoting gender equality and the elimination of discrimination. I also agree with the JCP call for introducing a selective dual surname system. From the viewpoint of gender equality, the JCP is most reliable as it has many women Diet members."
Under a 19th-century law, Japanese couples are required to have the same surname. The United Nations Committee for the Elimination of Discrimination against Women has recommended that Japan change the system. Earlier this summer, however, the Supreme Court denied challenges that sought to overturn the law. It left any changes up to the members of the Diet, Japan's parliament. But the Kishida's governing Liberal Democratic Party is split on the matter, with its more right-wing members refusing to take up the question.
Two high school boys from Kanagawa Prefecture video recorded the JCP's campaign kick-off rally on their smartphones. They said, "Regarding COVID countermeasures, our demands closely match the JCP's proposal to increase the number of workers at public health centers and expand the PCR testing capacity. As for measures to address climate change, we agree with the JCP call to reduce CO2 emissions by ending coal-fired thermal power generation. We also support the JCP's stance to withdraw from nuclear power generation."
Furthermore, they said, "We are interested in socialism. We think the JCP's suggestion regarding the need for a distribution of wealth is right on target."
There is an effort among many of the opposition parties to wage a coordinated campaign to deny the Liberal Democrats another governing mandate. JCP Secretariat Head Koike Akira on Oct. 18 said, "I think the Liberal Democratic Party feels pressured by the unity of opposition parties. Opposition parties' efforts to strengthen electoral collaboration prove to be extremely effective."
He made the remark at a press conference in the Diet building when asked by reporters about ruling LDP executives' remarks at recent debates, including TV debates, that question opposition parties' collaboration, such as the agreement between the JCP and the Constitutional Democratic Party of Japan on a non-cabinet alliance.
Furthermore, Koike referred to a Yomiuri Shimbun opinion poll showing that more than 50% of respondents are in favor of the fielding of joint candidates by opposition parties. He said, "The electorate welcomes opposition parties' electoral cooperation and recognizes it as an acceptable alternative to the LDP-led government. This is very encouraging."
According to Koike, in the general election slated for Oct. 31, opposition parties will field a joint candidate in 213 of 289 single-seat constituencies.
The 213 joint opposition candidates contain 34 JCP candidates, 161 Constitutional Democratic Party candidates, seven Democratic Party for the People candidates, six Social Democratic Party candidates, one Reiwa "Shinsengumi" party candidate, and four independents.