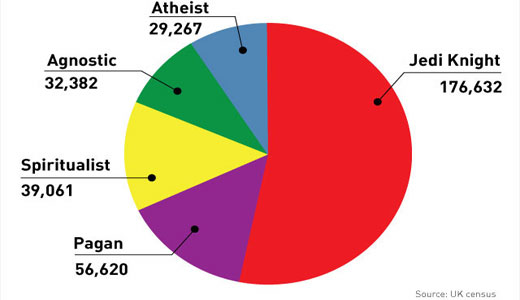 Popular sci-fi and fantasy have certainly become an important part of world culture over the years: Star Trek fans actually learn and speak the Klingon language, while Harry Potter fans saw the word "muggle" officially enter the Oxford English Dictionary in 2003. But it seems that the full extent of popular fiction's influence has been underestimated: 'Jedi' is now the most popular faith in the 'Other Religions' category in England and Wales. The Star Wars creed now takes seventh place among all major world religions. And right behind adherents to "the Force" are Pagans and "spiritualists."
This information was gleaned from the results of the 2011 Census for England and Wales, conducted by the Office for National Statistics and based on data from 26 million households. According to the statistics, there are 176,632 English "Jedi Knights." The faith is seventh behind Christianity, Islam, Hinduism, Sikhism, Judaism, and Buddhism. This development speaks volumes about the influence of the space opera series, which, after being purchased from Lucasfilm by Disney this year, will have at least three new film installments beginning in 2015.
Some 56,620 people, meanwhile, identified as Pagans, which may be related to the promotion of Paganistic outlooks by fantasy fiction and alternative genres of music. More than 39,000 people considered themselves to be spiritualists, and there were 2,418 Scientologists. The uptick in the popularity of metal music in the UK was also evident, as there were 6,242 people who identified with a "heavy metal religion," which was devised in 2010 by the magazine Metal Hammer as a spiritual way to celebrate the connectedness of the metal community.
Perhaps more importantly, the 2011 census revealed a major shift, in that people seem to be moving away from religion at breakneck speed. 13.8 million opted not to identify with any religion whatsoever, and 29,267 identified openly as atheists. Meanwhile, there were also 32,382 agnostics.
The branching out of other faiths, and the increase in people who choose to abstain from religion, could be seen as an example of growing diversity in the UK. At the very least, it shows that Star Wars fans are deeply committed to the film series. "The Force," apparently, is with England and Wales.
Photo: UK Census