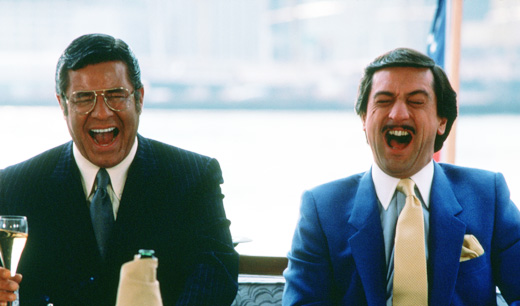 Some larger than life names immediately conjure up memories of simpler times and pop culture in the 20th century. Jerry Lewis was one of America's most popular entertainers in every decade since World War II. Very few iconic performers from that era still appear in front of audiences. Jerry Lewis, born in Newark, N.J., in 1926, continues working with no sign of slowing down. Many fans love him unconditionally, labeling him a cinematic genius. Others have criticized his signature brand of slapstick humor as silly and repetitive. Beyond show business, his occasional offensive remarks toward women and "lifestyles" have drawn criticism as a holdout from an earlier era. Regardless of this, his humanitarian work has been a noble effort.
Lewis always seems to have unlimited energy. Despite numerous health problems over the years, he continues to carry as an entertainer. I was lucky to attend two of his recent East Coast shows, April 4 at the Bergen PAC Center in Englewood, N.J., and April 5 at the Mayo Performing Arts Center in Morristown, N.J. As I was driving to these shows, I thought to myself how much has changed in the world, yet Jerry Lewis is still headlining.
His live appearances have always been a blend of jokes, song, comedy, and film clips. Recently turning 87 on March 16, he still looks good, albeit a little slower. He performs most of his stage show from a tall stool nowadays. Lewis is no stranger to live comedy, going back to his beginnings as a duo with Dean Martin in the famous nightclubs of post-World-War-II America. Lewis relies heavily on vintage clips, interspersed with his personal recollections. He always seems to introduce the same few scenes from his long running Muscular Dystrophy Association Telethons. I'm not sure if they are the only ones readily available, or the few he prefers to share time and again. A touching moment was a rare clip from a 1957 episode of "The Jerry Lewis Show" involving his father, Danny Lewis, and son, Gary Lewis, all singing "Sonny Boy"
Jerry Lewis was one of the biggest stars in cinema during his heyday, and that makes up a large portion of his recent shows. At the ones I attended, classic scenes were presented on a large screen from such films as The Bellboy (1960). His specialty has always been visual humor. Of course, at 87, the visual humor is restricted to the big screen behind him, coupled with some of his well-known facial gestures. It appears Lewis is more at home nowadays reflecting on his career, specifically in cinema. This was well represented by a lengthy Q & A session with the audience. Microphones were set up in the aisles on both sides of the theatre, and many attendees were given a chance to speak personally to Lewis. It gave him a chance to mix some very funny adlib humor (mostly aimed at the throwaway comments by people who somehow think he can remember certain nightspots and locales of 60 years ago), with some very insightful thoughts on his career responding to more serious questions about his work and career.
Lewis told the audience he always looked forward to performing live on stage, and continues to enjoy it. He mentioned the upcoming Broadway version of The Nutty Professor and a film he recently completed which he was very proud of entitled Max Rose. As I exited the theatre after the two shows I attended, I heard nothing but praise from the audience. Happy faces all around!
Once there was a time when theaters all across America displayed the names of celebrity icons that all seemed larger than life. Seeing Jerry Lewis spelled out across two New Jersey theatre marquees this April gave me a good feeling. Once again, spring was in the air, and Jerry Lewis was still saying "Hey Laaady!" after all those years. Yes…he did say it for the audience when a fan asked him! Jerry Lewis has always been politically ambiguous. He has never used his position in show business to criticize domestic or foreign leaders. His stated philosophy has always been to serve the everyday people who are in need. Besides his support for the Muscular Dystrophy Association that has spanned a half-century, he has also worked with the March of Dimes and the World Smile Foundation. No matter what you may think of Jerry Lewis in the entertainment spotlight, his charitable work speaks for itself. It's nice knowing, in this day and age, he is still out there … and thriving.
Photo: Jerry Lewis, left, and Robert De Niro in a scene from the 1983 dark comedy movie "The King of Comedy," directed by Martin Scorsese. The 2013 Tribeca Film Festival closed with a 30th anniversary restoration of the film. This year's festival thus bowed out on April 27 with a classic from one of its founders, Robert De Niro. 20th Century Fox/AP