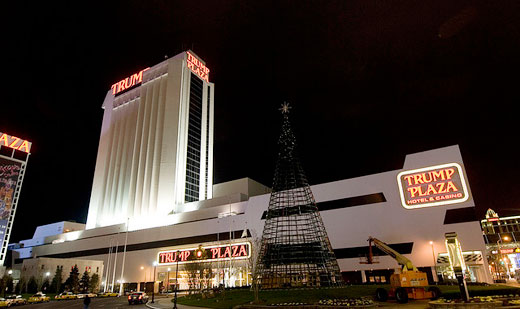 ATLANTIC CITY, N.J. – The big casino Donald Trump built in Atlantic City – which he doesn't control any more-is taking on the National Labor Relations Board.
And the board is replying, in a brief to U.S. Circuit Court of Appeals for D.C., that, in so many words, the Trump Plaza holds a losing hand.
At issue is the hotel's court challenge to NLRB's certification of the United Auto Workers to represent the casino's full and part-time dealers. The union's 2010 win at Trump Plaza, by 324-149 among a 530-member unit, was part of UAW's wide-ranging campaign to unionize dealers at many Atlantic City casinos.
As part of that drive, the union convinced politicians – everyone from the Atlantic City Council on up to Reps. Chris Smith and Frank LoBiondo, both R-N.J. – to write letters of support for the workers' right to vote on whether to unionize or not. The letters, prepared before a prior union recognition vote at Caesar's Atlantic City, did not specifically mention Trump Plaza, but were generic letters of backing.
Trump Plaza took the case to court, arguing the letters so influenced the election that its results should be thrown out. The NLRB's legal brief replies that Trump Plaza managers should in essence (though not those words) throw in their cards, because it'll lose its bet. For the record, the hotel management told PAI "the bank and shareholders" own 90 percent of Trump Plaza, while Donald Trump owns the other 10 percent.
"The board did not abuse its discretion in overruling Trump Plaza's election objections and certifying the union," NLRB attorneys Julie Broido and Renee McKinney argued in their brief to the court.
"The board reasonably overruled Trump Plaza's objection contending the union improperly circulated letters and resolutions authored by local, state, and federal elected officials. Those officials had no connection to the board, and their statements merely expressed their personal, generalized views on unionization.
"It is settled that elected officials are not required to remain neutral in organizing campaigns, but may seek to persuade employees, provided their statements do not compromise the board's neutrality. The board reasonably found the statements here did not tend to mislead voters into believing the board endorsed the union, or that the board's neutrality was otherwise compromised. That the union disseminated multiple documents does not change this conclusion," the NLRB brief adds.
Had Trump Plaza proven the board's neutrality was compromised – and it did not – the election would have been tossed. The hotel raised other objections to the election, but the administrative law judge and the board rejected them, too.
Photo: CC 2.0