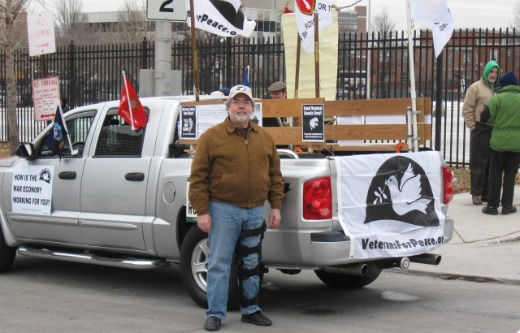 BALTIMORE – Longtime People's World supporter Jim Baldridge is retiring and wants to use the occasion to help this website, his favorite online daily newspaper!
Jim toiled for a decade as an outside machinist at Key Highway Shipyard, an active rank and filer in the Industrial Union of Marine and Shipbuilding Workers, AFL-CIO. It was the start of Jim's lifetime of labor movement activism that continues to this day.
When the shipyard closed, Jim found work at Johns Hopkins Hospital where he joined the National Union of Hospital and Healthcare Workers, Local 1199E. He was a quiet spoken and steady influence, always speaking out against racism and sexism, standing firm for unity and militant fight back against the union busting tactics of the bosses. Jim was soon elected shop steward and later to the local's executive board.
He has been a tireless activist away from his job as well. If there is a march, rally, mass meeting or picket line demanding jobs, peace and equality in Baltimore, Jim Baldridge can be counted on to be there.
A Vietnam War-era U.S. Navy veteran, Baldridge is a leading member of Veterans for Peace and Vietnam Veterans Against the War.
His Dodge pickup festooned with antiwar banners and placards can be seen every January idling along in the annual Martin Luther King Jr. parade with a contingent of peace and equality activists marching behind.
Over the years, Jim has made hundreds of friends. They hold him in such high esteem they decided to throw a big bash celebrating his retirement. It will be held Nov. 5 at Ryan's Daughter Irish Pub in Baltimore from 4 p.m. – 7 p.m.
While still stationed at Patuxent Naval Base, Jim met Margaret Harmon, a young high school French teacher. They fell in love and together joined the antiwar movement. He and Margaret were married in 1970 and moved to Baltimore where they raised two children, Mary Jean and Paul.
The Baldridges frequented the New Era Book Shop. The bookshop manager, Bob Lee, a beloved community activist in East Baltimore, recruited them to the Young Workers Liberation League and then the Communist Party. In 1987, Jim received over 3,000 votes in a run for Baltimore City Council. His campaign slogan was "Make Baltimore Work for Working People."
In 1996, Jim graduated with an associate's degree in engineering from Johns Hopkins University. Since 1997 he has been an emergency management engineer at Hopkins. He is retiring after 30 years at Hopkins.
Jim is a member of the Northeast Community Club of the CPUSA and a member of the Party's National Committee. When Jim isn't organizing he can be found under the hood of his pickup tinkering with the engine or in his favorite rocking chair picking out a tune on one of his guitars.
Tickets to the retirement party are $25, which covers two complimentary drinks and all you can eat at the sumptuous buffet. Tickets or an ad in the Jim Baldridge Program Book can be purchased by requesting an order form from mbaldridge@verizon.net by Oct.14. Subject line: Ad-Ticket Form. The deadline for receiving the ads is SOON so please act now if you want to buy an ad. Proceeds from the ad book will go towards PeoplesWorld.org.
Les Bayless, treasurer of the Jim Baldridge Retirement Committee, Jim's buddy since they worked together in Local 1199E, said, "Come join the celebration. We will have good food, good drink, and great company. They don't come much better than Jim Baldridge. He is salt of the earth."
Photo of Jim Baldridge courtesy of Margaret Baldridge.