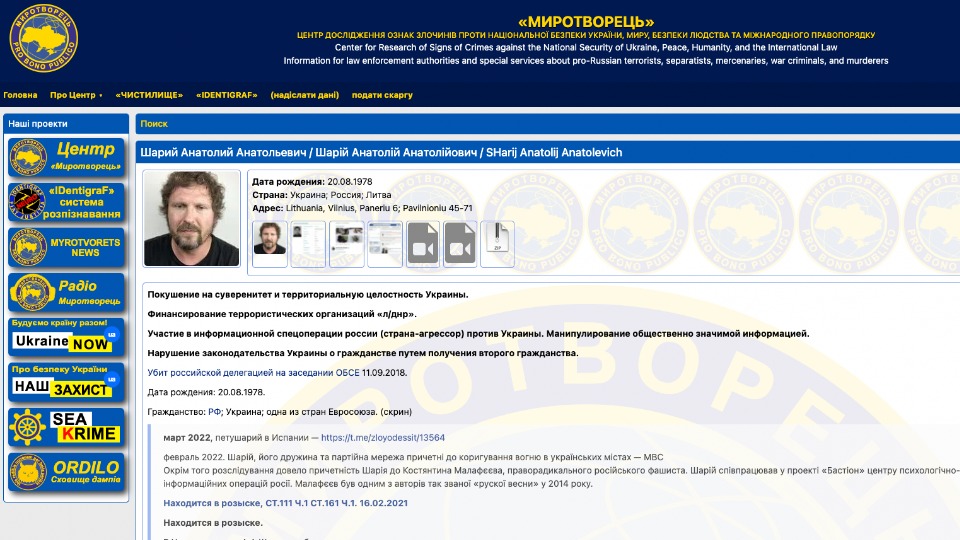 A list of "undesirables" has been published in Ukraine encouraging citizens to become informers for the security forces targeting leftists accused of supporting the Russian invasion of the country.
The anonymous authors of the so-called "Brown List" claim to be progressives, but it has been compared to the notorious Myrotvorets (Peacemaker) website launched by the former governor of Lugansk oblast, George Tuka, in December 2014.
The Myrotvorets website was allegedly backed by the Security Service of Ukraine (SBU) and published the personal data of those deemed to be "enemies of Ukraine" on several occasions. In May 2016, it published the personal data of 4,508 journalists and other media members from all over the world who had worked or had received accreditation to work in the eastern Donbass region.
Opposition politician Oleg Kalashnikov and journalist Oles Burzina were killed by neo-Nazi forces days after their names appeared on the list, while many other journalists were subjected to death threats.
Nearly 200,000 names were believed to be on the Myrotvorets list, including residents of Crimea. Syrian President Bashar al-Assad's name was added in 2018 while U.S. actor Steven Seagal and French film star Gerard Depardieu are also included.
Italian journalist Andrea Rocchelli was added to the list following the Maidan coup in 2014. He was killed by the Ukrainian army the same year, and a file was found in the Myrotvorets Centre with the word "liquidated" written over his photograph. Rocchelli was accused of collaborating with "pro-Russian terrorist organizations."
The Brown List has been condemned as a new attack on civil and social rights, which critics say were being systematically suppressed in Ukraine even before the Russian invasion. The list names a large number of Communists, journalists, academics, and leftist politicians and invites people to submit names for inclusion.
Earlier this month, opposition politician and journalist Anatoly Shariy was detained in Spain in a joint operation between authorities there and the SBU.
Shariy was quickly released but has been forced to surrender his passport and remain in Spain. Fears have been raised over the risk posed to his life should he be deported.
He has lived in exile since 2012, first in Lithuania, where he was granted political asylum. However, this was revoked in 2021, and it is believed that he fled to Spain to escape a threat to his life.
Shariy has long been a target for neo-Nazi forces and also for a number of government officials, whom he has accused of corruption in his journalism. His Shariy Party was one of the 11 opposition organizations banned by presidential decree in March.
Initially a supporter of Ukrainian President Volodymyr Zelensky, Shariy soon became disillusioned, believing that his Servant of the People Party had reneged on its promises.
A war of words between them intensified when Shariy claimed in July 2020 that Zelensky had ordered his assassination. He based this assertion on the testimony of former Azov Battalion soldier Alexander Zoloytkhin, who allegedly told Catalan police during interrogation that top figures in the Zelensky government had instructed him to murder Shariy.
This article features reporting from multiple Morning Star articles by the author.