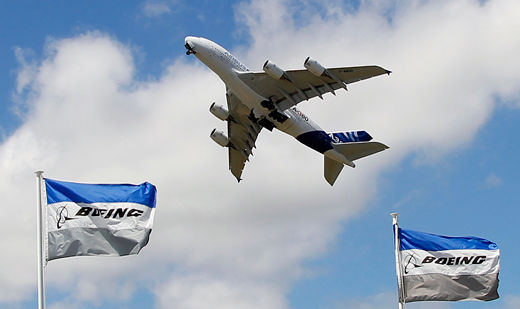 A federal judge threw out a motion by Boeing to dismiss a National Labor Relations Board lawsuit that charged the company with illegally punishing union workers in the state of Washington by moving a new production line to South Carolina.
Administrative Law Judge Clifford Anderson is permitting the case against Boeing to go to trial. The NLRB suit says Boeing's move to South Carolina is in retaliation against Washington workers for striking. Such retaliation is illegal under federal labor law.
Republicans are using the case to attack the Obama administration as "anti-business."
President Obama, in his first reactions to the controversy, has said he won't comment directly on the case because the NLRB is an independent agency but that, in principle, he supports the right of companies to do business where they choose, provided they follow the law. He also called upon labor and management to compromise for the sake of saving jobs.
The International Association of Machinists, the union that brought the complaint against Boeing to the NLRB, has actually proposed a settlement that would allow the Boeing plant to remain in South Carolina even if the company loses the suit and has to return the production line back to Washington state. The union, through its spokesperson, Connie Kelliher, has proposed that Boeing move some of its outsourced parts production from other countries to South Carolina. Boeing has rejected that suggestion.
Rather than support what many observers see as a reasonable compromise put forward by the union Sen. Lindsey Graham (R-SC) said, "Right now Boeing is stuck in what amounts to a union-controlled NLRB Star Chamber whose sole purpose is to extract an extra pound of flesh from the company."
While companies can usually move a plant anywhere they choose, federal law forbids them from doing so if a move involves retaliation against workers for exercising their right to unionize or strike.
Unions say the NLRB had no choice but to sue Boeing after a Boeing executive told the Seattle Times that the "overriding factor" in the decision to move to South Carolina was "we can't afford to have a work stoppage every three years."
The case could take years to settle as it makes its way through NLRB proceedings and what are expected to be a number of court appeals. If Boeing loses it could actually be ordered to move its Dreamliner assembly line from South Carolina back to the state of Washington.
Republicans say this would be an unfair job killer in South Carolina while the union and its allies note return of outsourced jobs can maintain, if not increase, the number of jobs in South Carolina.
The original complaint by the IAM, filed a year ago, says Boeing retaliated against workers specifically for exercising their right to strike.
There were five strikes in Washington since 1977. The longest, in 2008, lasted 58 days.
"Boeing broke the law, and there are consequences when someone breaks the law," said Christopher Corson, the machinists' general counsel in statement this week.
Photo: An Airbus A380 takes off over Boeing flags during a demonstration flight at the 49th Paris Air Show at le Bourget airport, June 25. Francois Mori/AP