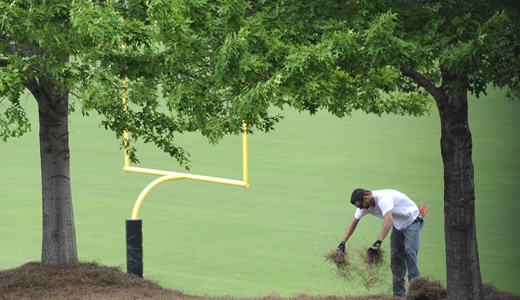 MINNEAPOLIS (PAI) – A federal judge in Minneapolis, with power over labor-management in relations in the National Football League thanks to prior court rulings, has banned the NFL's lockout of its players. But the teams defied her ruling and kept their facility gates closed.
The April 25 injunction by Judge Susan Richard Nelson said the lockout would "irreparably harm" the players by shortening their careers and their earning power.
Nelson ordered the NFL to lift the lockout, which the owners imposed when negotiations broke down March 11. The players decertified their union, the NFL Players Association, the same day, so they could sue the NFL under anti-trust laws.
The lockout affects far more people than the players: The average NFL team employs more than 3,700 people, all of whom – including the players – earn far less each than the owners. The league's 32 teams dumped those other workers, such as ticket takers, vendors and stadium ushers, too. The others were not part of the suit.
"A preliminary injunction" against the owners' lockout " is necessary to prevent irreparable harm to the players," Nelson wrote.
"The injunctive relief" the players got "does not extend to the majority of the underlying claims," she added. The players who sued, led by star New England Patriots quarterback Tom Brady and Indianapolis Colts quarterback Peyton Manning "are not asking this court to enjoin the NFL's player restrictions that are alleged to violate the Sherman Act." The players "only ask this court to enjoin the league's lockout."
"A preliminary injunction is an extraordinary remedy never awarded as a matter of right," Nelson warned. Whether to issue it, as she did, "depends upon a 'flexible' consideration of (1) the threat of irreparable harm to the moving party (the players) (2) balancing this harm with any injury an injunction would inflict on other interested parties (3) the probability that the moving party would succeed on the merits and (4) the effect on the public interest."
"The players demonstrated they are suffering, and will continue to suffer, irreparable harm. Even on the present preliminary record," the players "have shown not only they likely would suffer irreparable harm absent the preliminary injunction, but they are in fact suffering such harm now. Irreparable harm occurs when a party has no adequate remedy at law, typically because its injuries cannot be fully compensated. The irreparable injuries the players are incurring are significant and, in effect, established by previous litigation. The NFL's arguments to the contrary are legally based, not factually based… This Court finds the NFL's arguments unpersuasive."
Photo: Lone groundskeeper rearranges the mulch at the Atlanta Falcons training facility in front of the practice field which remains void of player activity. (John Amis)