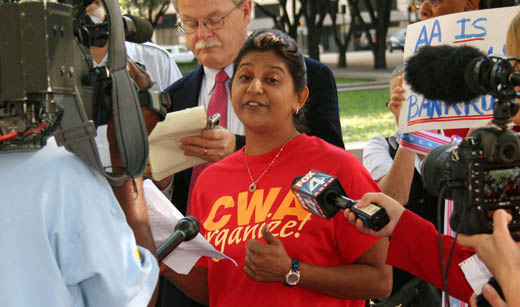 FORT WORTH, Tex. -The Communications Workers of America will continue to fight against an undemocratic anti-union ruling by a federal judge here on June 21st. The union has spent years contacting the customer service reps at American Airlines and was ready to hold a union election just as management took the company into bankruptcy.
American Airlines has demanded the right to break their union contracts with the Pilots, Flight Attendants, and the Transport Workers Union. They also blocked the Communications Workers from holding their election to further prevent their employees from organizing to defend themselves. The company insisted that a recent change in the Railway Labor Act, which governs most organizing drives in transportation, should be applied retroactively to deny employees their right to vote.
Outside the courthouse on the morning of the final presentations, airline employees and their supporters gathered for an enthusiastic rally. Representatives from the Auto Workers, American Federation of Teachers, Alliance for Retired Americans, and others heard CWA District 6 Director Claude Cummings blast the flimsy legal excuses that the company had put forward. He talked about broad support within the labor movement and specifically thanked Gary Bledsoe, the President of the Texas NAACP, and State Representative Marc Veasey for support. A written solidarity message from State Representative Lon Burnam of Fort Worth was read. Individual American Airlines employees talked about democracy and their right to organize.
After the rally, several employees went into the courtroom. They were forced to reverse their union tee shirts so that their messages could not be seen. Eventually, the judge would take another step away from American democracy. The union will appeal.
Photo: American Airlines employee Salma Kassam told reporters how much she and others needed to unionize. Jim Lane/PW