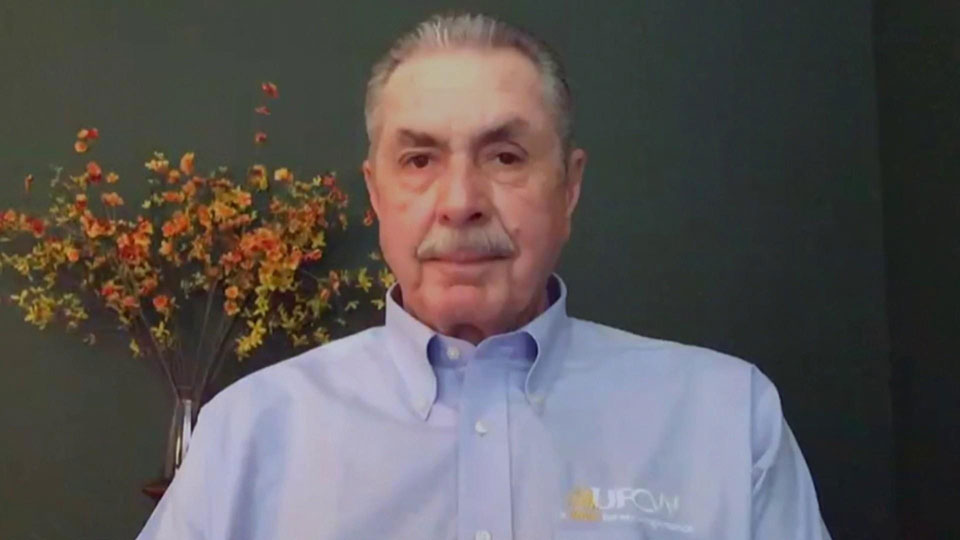 MINNEAPOLIS—In a big win in court for U.S. pork plant workers, a federal judge in Minneapolis has trumped former GOP Oval Office occupant Donald Trump's Agriculture Department's rule eliminating speed limits on pork plant processing lines.
Instead, senor District Judge Joan Ericksen bounced the issue back to USDA's Food Safety and Inspection Service for 90 days to try again to write a line speed rule—and to follow the law when it does so. Under Trump, Ericksen said, the agency didn't.
United Food and Commercial Workers President Marc Perrone, whose million-member union represents pork and poultry processing workers, called her ruling "a victory" for them.
Judge Ericksen, Perrone said, is "finally ending the dangerous Trump USDA policy that allowed pork plants to push workers," whom Perrone called "brave men and women," "to the breaking point with unsafe line speeds that increase the risk of injury and put safety of our food supply in jeopardy.
"With the success of this lawsuit, our country's essential workers sent a powerful message the safety of America's food and workers is not for sale and these companies will finally be forced to stop these dangerous practices."
But while FSIS goes back to work on a new rule, the Government Employees and Perrone's UFCW both back congressional efforts to beat USDA to the end of the finish line.
Sen. Cory Booker, D-N.J., and a group of House Democrats, led by influential Rep. Rosa DeLauro, D-Conn., wrote legislation to stop Trump's trick and impose speed limits on both meat and poultry production lines, citing worker safety during the coronavirus (Covid-19) pandemic.
Trump's rule, promulgated before the virus hit, gave selected plants waivers from already high line speeds. In practice, any plant that sought a waiver got it.
In her March 31 ruling, Judge Ericksen, a George H.W. Bush appointee, said that when the Trump agency—which acted after lobbying from pork producers—cut out the line speed limits and allowed the waivers it did so illegally, violating federal notice-and-comment rules.
"When FSIS proposed the New Swine Inspection System," which the unions said could raise already fast line speeds by at least 25%, "It expressly identified worker safety as an important consideration and requested public comment on whether increasing line speeds would harm workers," the judge wrote.
"Then, after receiving many comments raising worker safety concerns, FSIS rejected the comments and eliminated line speed limits without considering worker safety.
"In doing so, the agency failed to satisfy the Administrative Procedure Act's requirement of reasoned decision-making. Therefore, the court will vacate the final rule's elimination of line speed limits under the NSIS."
Before Judge Swensen's ban, the two unions said the practical impact of the Trump USDA's rule is to put the workers in even more danger, from the threat of Covid-19 than they already were in the crowded conditions and high line speeds in pork and poultry plants.
Swensen left in place a smaller part of the Trump rule. She said UFCW and its allies, including Public Citizen's litigation group—whose lawyers argued the case on behalf of UFCW and its Locals 2, 440 and 663—weren't affected by that section, which reduced the number of FSIS inspectors at the pork plants.
An Obama-era cut in inspectors at chicken plants, again pushed by the poultry producers lobby in the name of profits, sent the Government Employees (AFGE), whose members include the inspectors, out on an informational picket line in front of USDA.
Booker, DeLauro, and their allies are trying to solve the whole mess on Capitol Hill. Their Safe Line Speeds During Covid-19 Act (S713, HR1815) would cover poultry plant line speeds, too. UFCW represents workers at both and AFGE represents inspectors at both. That led AFGE President Everett Kelley to endorse it.
"The COVID-19 pandemic has made the already dangerous job of working in meat and poultry processing plants even more dangerous," Kelley said March 29. Their bills will "protect the health and safety of federal meat and poultry inspectors, plant workers, and consumers."
AFGE and Public Citizen reported "more than 57,000 meat and poultry processing workers have contracted Covid-19" in the year since the coronavirus was declared. "At least 284 have died." The virus sickened 200 FSIS inspectors as of last May and killed seven. And then FSIS stopped providing the numbers, AFGE noted.
Trump's USDA "approved more than 20 requests from meatpacking plants to exceed regulatory limits on line speeds despite the risks posed to the safety of workers and consumers," Booker said in a statement.
"The Biden administration has taken an important first step in withdrawing the previous administration's proposed rule to increase line speeds in poultry plants, but it is critically important we continue to prioritize the safety of frontline workers and consumers over the profits of large multinational meatpacking corporations."