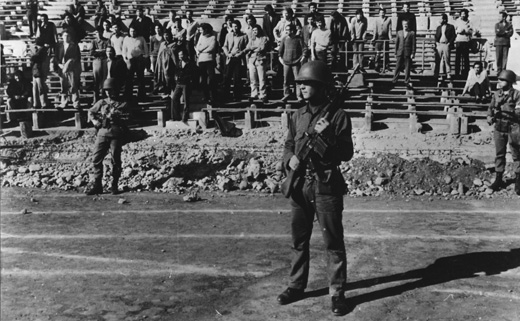 A Chilean judge recently issued a ruling that United States officials were complicit in the 1973 murders of two young Americans, Charles Horman and Frank Teruggi.
Judge Jorge Zepeda's ruling specifically named a U.S. military officer, Naval Captain Ray Davis, for having practically delivered the two young Americans to officials of the military dictatorship of General Agosto Pinochet, who had both of them executed. Judge Zepeda also ruled that court cases against two Chilean officials, Colonel Pedro Espinoza and counterintelligence agent Rafael Gonzalez, can proceed. Davis, Espinoza and Gonzalez were indicted in Chile in 2011 for their role in the repression.
In Judge Zepeda's words "Military intelligence services of the United States played a fundamental role in the murder of two U.S. citizens in 1973, providing Chilean officers with the information that led to their execution".
Horman, a journalist and filmmaker, and Teruggi, a student had gone to Chile to do freelance journalistic work because they were interested in the social experiment being carried out by the left-wing government of President Salvador Allende Gossens. The Nixon administration, and specifically Nixon's national security advisor, Henry Kissinger, had been working hard to undermine Allende by various methods of destabilization and sabotage.
On September 11, 1973, a clique of senior military officers carried out a bloody coup in which Allende died.
General Pinochet and his colleagues, with the full U.S. backing, established a military dictatorship which carried out a campaign of terrorism that reached right into Embassy Row in Washington D.C. where, on September 21, 1976, a car bombing killed former Chilean Foreign Minister Orlando Letelier and his U.S. assistant, Ronni Moffitt.
The coup took place while Horman was visiting the coastal city of Viña del Mar. Horman witnessed things which strongly suggested U.S. involvement, such as U.S. warships in the port and U.S. military personnel very evident in the town, being waved through checkpoints by Chilean troops. Horman was offered a ride back to Santiago, Chile's capital, by Captain Davis, who plied him with intrusive questions and then turned over the information to the Chilean military.
Davis was in Chile with a mission to spy on people who expressed "subversive" ideas; Horman and Teruggi fitted the profile because of their friendly attitude toward the Allende government. So Davis fingered the two young Americans as subversives, and the Chilean fascist military rounded them up, briefly detained them in the Santiago stadium where many others, including noted folk singer Victor Jara were murdered, and then executed them.
For a long time U.S. officials in Washington and embassy personnel in Chile stonewalled Harmon's widow, Joyce Harmon, and others who were trying to find out what happened. In 1982, the noted Greek filmmaker Costa Gavras produced "Missing", a historically accurate, Oscar winning film about the incident, starring Jack Lemon and Sissy Spacek, the latter as Joyce Horman.
The U.S. ambassador in Chile at the time of the murders, Nathanial Davis, and two others sued Costa Gavras for defamation of character and demanded $150,000, but lost. The National Security Archive at George Washington University in Washington D.C. has doggedly pursued truth and justice for Horman and other victims of the Pinochet coup, and has amassed a treasure trove of incriminating documents.
Horman's widow, Joyce, has been true to her husband's memory by trying year after year to seek justice in American courts (unsuccessfully due to government sandbagging) and now, successfully, in Chilean courts.
General Pinochet left office in 1990 and died while under house arrest in 2006. In 1999, the Clinton administration finally released key classified documents that strongly supported the belief that U.S. officials had played a role in the murders. Mrs. Harmon also started a U.S. court case against a Chilean officer in 2011. Chilean judiciary officials, thinking that Captain Davis was living in the United States, had called for his extradition; ironically, he was living secretly in Chile where he died of natural causes last year.
Henry Kissinger, a key mover in the coup, is still alive at 91 and is treated as a revered elder statesman by both Republican and Democratic politicians. However he dares not travel much overseas, as he is wanted for questioning in several countries, and Uruguay has asked for his extradition for his role in these brutal events.
Photo: Heavily armed military oversee political prisoners at the football stadium of Santiago de Chile, November 14, 1973. Two young Americans, Charles Horman and Frank Teruggi, were executed here. The total number killed is unknown, over-all, the Pinochet regime left over 3,000 dead or missing and forced 200,000 Chileans into exile. (AP-Photo/str/ADN-Zentralbild)