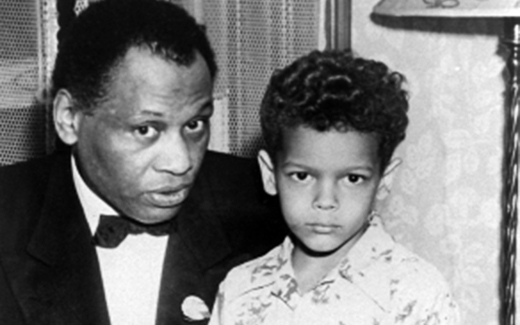 This past June, Julian Bond told me he was deeply inspired by the new wave of community organizing sweeping the country. He was in awe of students at Appalachian State University in North Carolina who were mounting an effective campaign against racism.
What he didn't get was that he had played a key role in inspiring the App State students. I had met with them about six months after he did. They pegged the birth of their movement to Julian's visit to their campus.
Julian had faith in the courage of everyday people to fight for justice and equality. As for himself: well, he was pleased to do his bit, but he never saw himself as a great leader.
That made him one.
As a professor at several colleges and universities, Julian dispelled the myth that the civil rights movement consisted of "Rosa Parks sitting down and Martin Luther King getting up." He detailed for his students how thousands of "ordinary" people had risked their lives for decades and were eventually able to force the government to act.
He told his students not to wait for a charismatic leader before they took action to overcome the injustices we face today. "If you, yourselves, take leadership," he said, "eventually the leaders will follow."
Julian Bond was looking forward to next year's celebration of the modern Black Power movement's 50th anniversary, which is being organized by the SNCC Legacy Project. Julian had been a key figure early on. Shortly after the Voting Rights Act was passed in 1965, African Americans in Atlanta exercised their "power" by electing Julian to the Georgia House of Representatives. But that body refused to seat him because he was an outspoken opponent of the Vietnam War and a supporter of those who refused to be drafted. He was seated only after the Supreme Court ordered the state of Georgia to seat him.
He continued to oppose the war.
If Julian believed strongly in something, he took a stand no matter what.
As chairperson of the NAACP, he championed gay rights even though it put him at loggerheads with some of the clergy who were key leaders in the organization.
In 2013, he tied himself to the White House fence to protest the Keystone pipeline even though it put him at loggerheads with his many friends in the Democratic Party leadership.
The Movement was his career
With his stunning good looks, resonating voice and quick intelligence, Julian could have become a Hollywood star. As a teenager, RC Cola hired him as a model. Over the years, he acted in plays, narrated documentary films, was the host of television's "America's Black Forum" and once hosted "Saturday Night Live."
However, he never made a career out of his celebrity. His career was the Movement.
He was born into the struggle for equality. His father, Horace Mann Bond, was a college president in Georgia and Pennsylvania. Paul Robeson and W. E. B. Du Bois were frequent guests of the Bonds. Julian followed in their footsteps.
Like them, he understood that the fight for equality for African Americans is inextricably intertwined with the fight for economic justice for all. Like them, he saw beyond the racial divide of U.S. society into its class division and saw within its class division the role that racial inequality plays.
Like them, he transcended the civil rights movement and fought for justice on a variety of fronts.
He used humor to build unity
In 1960, Julian helped establish the Student Nonviolent Coordinating Committee (SNCC). SNCC organizers moved to communities across the South to support African Americans who were risking their lives by trying to register to vote. Most organizers were long on courage and short on organizational know-how.
Julian was part of the small group that filled the void. They created an organization based on participatory democracy that most often worked awkwardly, but worked.
Julian became the communications director. He helped the media and public outside the South understand the Movement.
Most leaders of SNCC were people who constantly "let it all hang out." Julian did not feel the need to be like that. He drew strength from his calm, Quaker-like inner core.
Many white staff members had never before worked for black leaders and most of the black leaders in SNCC had never before worked with Northern "liberal" young white people. Julian was one of the very few SNCC leaders who took the time to defuse the inevitable tensions and misunderstandings.
He used humor.
For example, he wrote a memo to new white staff members called "How to be SNCCY." He wrote, "There are several auxiliary habits one should pick up … like hand-clapping. A note to the wise: when in a mass meeting, watch some Negro staff member and try to make your hands come together at the same time his do. Under no circumstances should you watch James Forman or Julian Bond!"
He built lasting organizations
Aside from helping to establish SNCC, Julian was the co-founder of the Southern Poverty Law Center, which today does heroic work in the face of growing attacks.
Furthermore, in 1998 he rescued the National Association for the Advancement of Colored People (NAACP) from the oblivion many had predicted. The organization was scandal-ridden, broke and dysfunctional. As chairperson, Julian helped put it back on its feet to once again become a nationally respected treasure. He also worked to expand NAACP programs because, he said, "everybody is one color or another."
More recently he helped found the SNCC Legacy Project, dedicated to helping today's youth build a strong movement for social change.
At the 50th anniversary of the 1963 March on Washington, Julian said: "Still we march. … We still have work to do. None of it is easy, but we have never wished our way to freedom; instead, we have always worked our way."
Julian always said, "I am a hopeless optimist; I always believe things will work out."
We lost Julian Bond on Aug. 15 to a vascular disease.
He would say, "The Movement can go on without me. No one is irreplaceable." He would be correct about the former, but as it applies to him, wrong about the latter.
Photo: Paul Robeson, left, with Julian Bond, aged 9, in 1949. Photo by John W. Mosley. Mosley (1907-1969) was a Philadelphia-area African American photographer whose images appeared in African American newspapers. Charles L. Blockson Collection, Temple University Libraries.