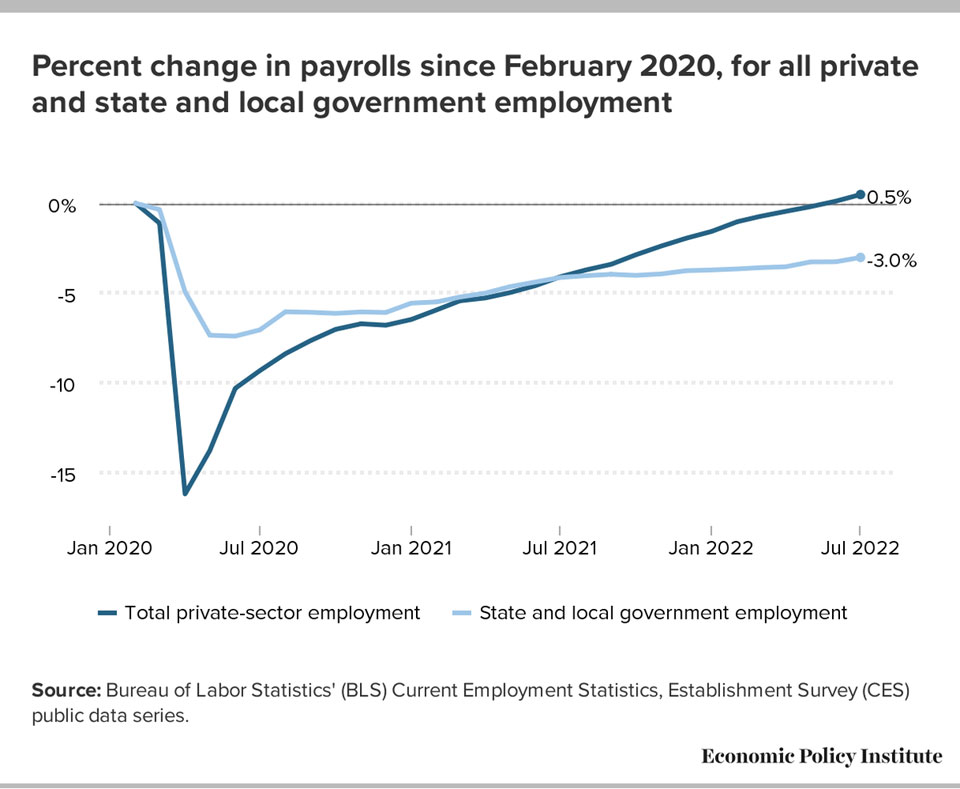 WASHINGTON —The big news in the employment data for July can be summed up in one phrase: Jobs are all the way back from the coronavirus-caused crash.
And it recovered quickly, compared to other recessions. That's even though this drop starting in March 2020 was so steep, with official joblessness in the mid-teens percentage-wise and with one-fifth of the country collecting unemployment checks at its depths, turning it into a depression.
The Bureau of Labor Statistics reported the official unemployment rate in July was 3.5%, tying the pre-pandemic low which the former Republican Trump regime touted—before that Oval Office occupant did little to stop the widespread closures due to the pandemic.
BLS reported 5.67 million people were jobless in July, 242,000 fewer than in June. In February 2020, the last full month before the crash hit, 5.717 million people were unemployed. How steep was the slide? In March 2020, 7.165 million people were jobless—and that figure more than tripled that April, to 23.04 million.
There were a few numbers this July where BLS's data fell short of February 2020: The total number employed (158.87 million in February 2020; 158.29 million this July), the number of state and local government workers (597,000 fewer than in 2020), leisure and hospitality workers (still down 1.2 million, or 7.1%).
There were a few other negative notes, including one big one not in the jobs report: Two weeks before, BLS reported inflation was running at a 9.1% annual rate through June, the latest data available. In this report, average weekly earnings rose at half that rate.
Bill Spriggs, the AFL-CIO's Policy Director and chief economist, seconded one other point witnesses tell Congress: The coronavirus-caused depression was a "she-cession." "More women who were unemployed in June dropped out of the labor force in July than found jobs. It was the reverse for men. That's a mixed signal," he said.
"Private sector employment is now 0.5% above pre-pandemic levels while state and local jobs remain stubbornly 3% below its February 2020 level with little improvement in recent months," Economic Policy Institute senior analyst Elise Gould added.
And wage growth is slowing down, she said: "The latest quarterly change (annualized) shows an increase in July, but it may be a blip in an otherwise downward trend and is almost surely still pulling down, not pushing up, inflation."
Factories added 30,000 jobs in July, a separate survey showed, to 12.826 million. The biggest July gainer was fabricated metal plants (+4.200). Construction firms added 32,000 jobs, to 7.71 million, with two-thirds of the new jobs at specialty trade contractors.