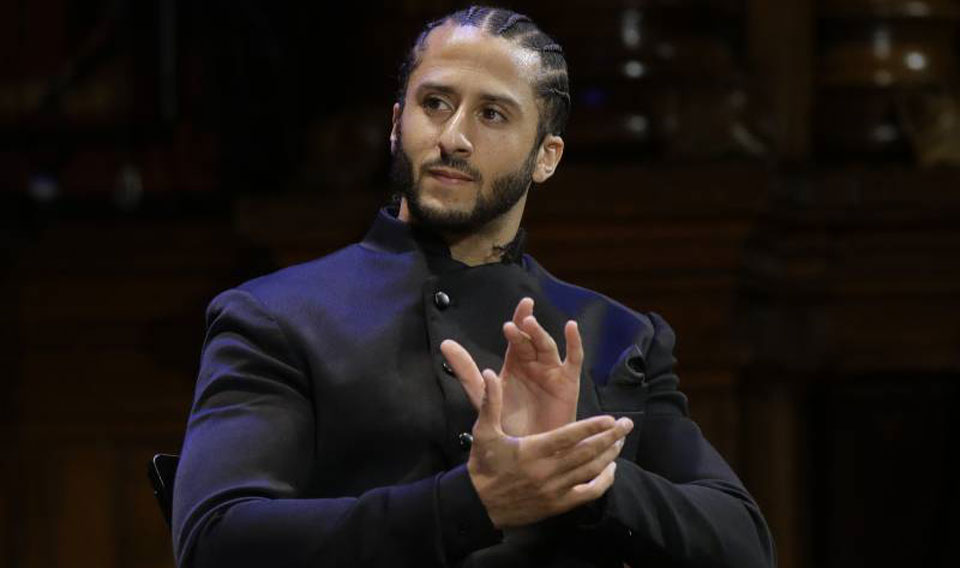 Blacklisted NFL quarterback and civil rights activist Colin Kaepernick was among eight people today to receive Harvard University's "highest honor in the field of African and African-American studies."
The W.E.B. Du Bois medal, Harvard explains, is "awarded to individuals in the U.S. and around the globe in recognition of their contributions to African and African-American culture and the life of the mind."
The award bears the name of African-American civil rights and peace activist, sociologist, author, Harvard alumnus, and Communist William Edward Burghardt Du Bois (1868-1963).
Du Bois campaigned tirelessly for the human rights of Black people in the United States and published several groundbreaking studies on the experiences of Black Americans in regards to poverty and racism. He was also one of the founders of the NAACP in 1909.
Like Kaepernick, his activism vexed the U.S. establishment and reactionary white citizens. In Du Bois' case, it was his vocal support for communism which, during the McCarthy era, saw him persecuted, blacklisted and ostracized.
Kaepernick began to draw international attention to the institutional brutality African Americans face from the police by kneeling during the national anthem before NFL games in August 2016.
"I am not going to stand up to show pride in a flag for a country that oppresses Black people and people of color," Kaepernick told the media when he first knelt during the anthem.
"To me, this is bigger than football, and it would be selfish on my part to look the other way. There are bodies in the street, and people getting paid leave and getting away with murder."
Black people in the United States make up around 13 percent of the population. However, according to a 2018 study by the Washington Post, they "make up 23 percent of those fatally shot by police since 2015." The same study found 36 percent of unarmed people killed by the police since 2015 were black. In most cases of police killings of unarmed black men, officers face no charges.
President Donald Trump is perhaps Kaepernick's most prolific critic. In a recent television interview, Trump said: "You have to stand proudly for the national anthem, or you shouldn't be playing, you shouldn't be there. Maybe you shouldn't be in the country."
Earlier this year, Kaepernick's image appeared in an advertisement for clothing company Nike. Kaepernick's critics, mainly white men, decided to flood social media with images of themselves burning Nike gear.
"Due to your support of [Kaepernick] in your coming adds," one person tweeted, "I as an American can no longer support your company."
Another posted: "My name is Mustard and I stand for the flag and to honer [sic] the Prresident [sic] I am going to burn my Nike shoes," which he did while still wearing them.
Yesterday, a journalist and activist collated the mugshots of 12 people arrested in Union County, Arkansas. All of them are pictured wearing Nike T-shirts, some of whom have a Nike shirt on top of another one.
"The Sheriff in Union County, Arkansas, is putting Nike T-shirts on people they arrest and making them wear them during mugshots," Shaun King wrote beneath the pictures. "Source says it is to mock Nike and Colin Kaepernick. Disgusting."
The sheriff has denied this, saying he is "not influenced by current political and social debates in the media."
Since 2016, when his contract at the San Francisco 49ers expired, Kaepernick has remained a free agent, despite many players believing him strong enough to play.
In November 2017, he filed a grievance against the NFL, alleging the owners have blacklisted him. The NFL tried to get the case dismissed, however, an arbitrator rejected it, meaning there is sufficient evidence for the case to continue.
Past recipients of W.E.B. Du Bois medal include boxer Muhammad Ali, author Maya Angelou, rapper LL Cool J, activist Marian Wright Edelman, and many more.
Morning Star