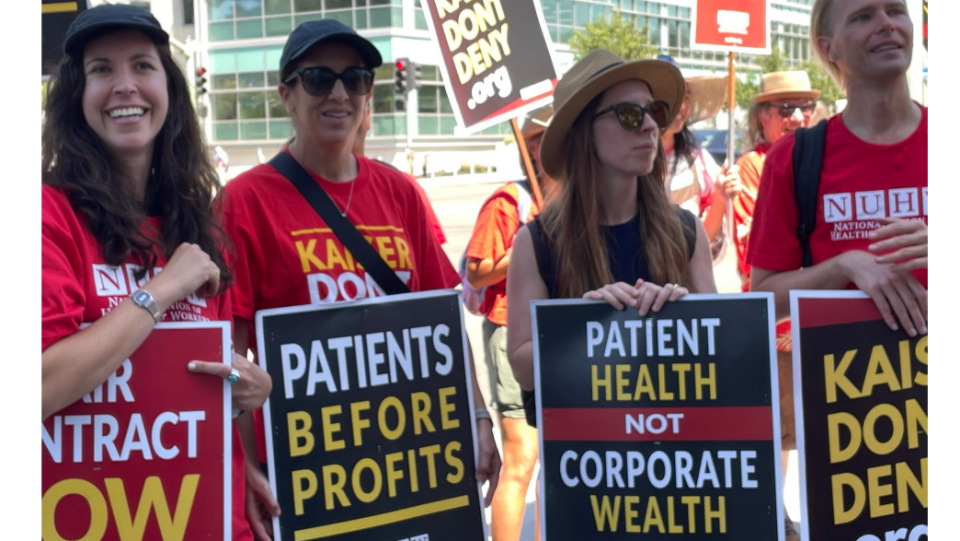 OAKLAND, Calif.—At dawn Aug. 15, Kaiser Permanente mental health clinicians launched picket lines across northern California and the Central Valley, starting an open-ended strike to demand the nation's largest nonprofit HMO add staff to provide its millions of enrolled patients access to the timely, quality mental health care they need and deserve.
In the days since, over 2,000 mental health therapists, social workers, psychologists, and chemical dependency counselors, members of the National Union of Healthcare Workers, have deployed at locations ranging from San Francisco and Oakland to Sacramento, Fresno, Stockton, and Modesto. Picket times and locations of NUHW picket lines through Aug. 26 are posted here.
The NUHW clinicians have been in contract negotiations with Kaiser since July of last year, and their contract expired in September.
Last weekend, Kaiser broke off bargaining talks after rejecting a comprehensive settlement proposal. The therapists had accepted the HMO's offer on wages but continue to insist that Kaiser must increase staffing and reduce wait times, which now can stretch to four to eight weeks or even longer between appointments. Their demands include having up to 30 additional minutes per day for patient care tasks outside of their face-to-face appointments and the ability to stop taking new patients when they cannot see their current patients within time standards set by state law.
California law requires that health insurers and HMOs, including Kaiser, provide return mental health therapy appointments within 10 business days of the previous appointment unless the therapist determines that a longer wait will not harm the patient. Currently in northern California, Kaiser provides just one mental health clinician for every 2,600 patients.
In a conversation Tuesday as clinicians were gathering for a noontime rally outside the Oakland Medical Center, Anjahni Davi, a therapist who works with patients experiencing chronic pain, told of the difficulties she faces in referring her patients who need mental health services.
"More often than not," she said, "I send the referral over, it takes weeks to be seen in triage, and then it takes more weeks to be sent to another therapist, and patients are being seen maybe six to eight to ten weeks out. If they have anxiety or depression or untreated trauma, that makes their pain symptoms worse, and it's much harder to manage their pain symptoms."
Davi, who is on NUHW's Bargaining Committee, said that while she is working to manage patients' pain symptoms, she is also navigating their care with other clinics including mental health, and spends many hours each week "trying to get people seen … It's very hard, and very stressful.
"We call it 'direct patient care' and 'indirect patient care," she said. Indirect care, including consulting with other clinicians and dealing with referrals, takes substantial time, "and in bargaining we're asking for an increase of that time so we can better serve our patients. And they're declining that."
Addressing the rally, clinical social worker and Bargaining Committee member Ilana Marcucci-Morris said that when bargaining began, the committee had made clear that union members wanted their patients "to have the opportunity to get better. No standard of care says patients get better if they see their therapist every two months."
She said Kaiser's system "favors the advantaged," driving people who can afford it to seek care outside Kaiser even while they continue to pay their Kaiser premiums, while those who can't pay for outside treatment are left to wait while their condition worsens.
Fellow clinical social worker Kathy Ray deflated Kaiser's claims that it has been hiring many more clinicians, noting that while Kaiser says it has hired some 200 therapists since January 2021, during that same period 377 clinicians had left.
The union points out that as clinicians across California have been struggling with unmanageable caseloads, departures doubled during June 2021-May 2022 compared with the previous 12-month period, with departing clinicians motivated by unsustainable workloads, inadequate time, and inability to treat patients in line with standards of care and medical necessity.
NUHW President Sal Rosselli thanked Bargaining Committee members for the many hours they have put in since negotiations began.
"This has been a 12-year fight," he said, "and we have now gotten to a point where the stars are lining up for us to finally win and beat Kaiser Permanente – and I define 'win' as fundamentally changing their relationship with all of you, so you have a real voice to fix the behavioral health system. Twelve years!"
Rosselli credited the union's work to educate state leaders in the state on mental health care with the legislature's passage of two new laws, Senate Bills 855 and 221, requiring insurers to cover medically necessary treatment for all mental health and substance abuse disorders, and mandating that therapy be provided within 10 business days unless providers state that is not necessary. Both bills were introduced by state Senator Scott Wiener, D-San Francisco with Republican co-sponsorship and passed nearly unanimously.
He cited the message state Senate President Pro Tem Toni Atkins, D-San Diego and Assembly Speaker Anthony Rendon, D-Lakewood, posted on Twitter Aug. 15, commending NUHW for "standing up for themselves and the well-being of their patients," crediting the clinicians across Kaiser's Northern California branches with "a central role in caring for patients, saving lives and supporting our communities."
The statement by the two leaders concluded, "We trust Kaiser will rise to the moment with NUHW, to work diligently to come to an agreement that avoids destructing the mental health care system, hurting patients and alienating essential health care workers."
Late last week, after it became known that Kaiser was cancelling thousands of mental health appointments, NUHW filed a complaint with the state Department of Managed Health Care, calling for "urgent action" to enforce California law and protect the rights of Northern California Kaiser patients to continued and timely mental health care even during the strike. HMOs like Kaiser are legally bound to pay for out-of-network services for patients even during a strike, if they cannot provide mandated services in-house. Nonetheless, since the strike began Kaiser has canceled thousands of therapy appointments
In a separate statement the same day, DMHC Director Mary Watanabe announced the agency is "closely monitoring Kaiser Permanente's compliance with the law during the strike and urged patients not receiving appropriate access to care to call DMHC at 1-888-466-2219.
On Aug. 15, 10 leading state and national health advocacy organizations, including the Kennedy Forum, California Council of Community Behavioral Health Agencies, and California State Association of Psychiatrists, signed a letter to the DMHC, calling on the agency to "take action to ensure that Kaiser is arranging out-of-network coverage" for enrollees during the strike.
Though Kaiser has over $54 billion in reserves and recorded an $8.1 billion profit in 2021, it has a long record of violating state and federal mental health parity laws. In 2013, it was fined $4 million by the DMHC for failing to provide timely mental health care and was later required to submit to outside monitoring of its mental health system. In May, DMHC announced it was launching a special investigation of the mental health system after patient complaints rose 20% in 2021 compared to 2020.