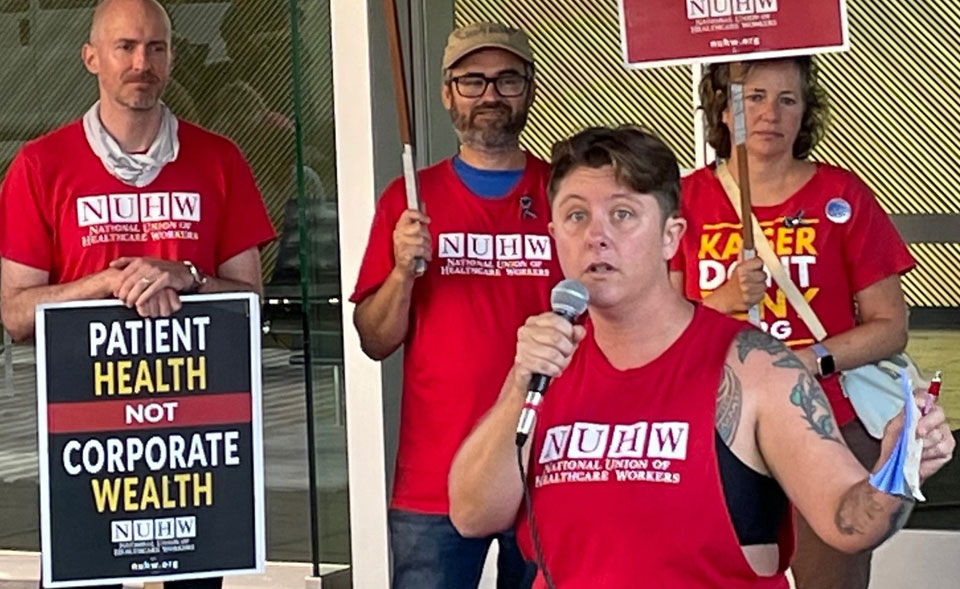 OAKLAND, Calif. – Kaiser mental health therapists in northern California and the Central Valley, now entering Week 7 of an open-ended strike to win adequate access to mental healthcare for the 4.6 million Kaiser Permanente members they serve, have overwhelmingly voted to turn down the giant HMO's latest contract offer.
The clinicians' union, the National Union of Healthcare Workers, said Kaiser's latest proposal was almost identical with what the corporation offered the clinicians before the strike started on Aug. 15. The contract included wage increases the clinicians had already accepted but left out the clinicians' proposals aimed at providing therapists more time to see returning patients and perform all their patient care duties.
The final tally after voting ended Sept. 24 showed therapists voting by 1,349 to 222 to reject the proposal.
"We presented Kaiser officials detailed proposals to increase staffing and improve access to care in the first negotiating session 14 months ago," licensed clinical social worker and bargaining committee member Ilana Marcucci-Morris said in a statement. "And we won't accept a contract that ignores those issues … We're ready to negotiate around the clock to get an agreement signed as quickly as possible. It's time for Kaiser to return to the bargaining table and end this strike."
The Kaiser clinicians and the NUHW have been waging a 12-year-long struggle to get the giant healthcare corporation to provide the same level of care for mental health as it does for medical services. Their efforts have brought results. Kaiser has been fined by state regulators for denying members timely access to care, and the state legislature passed Senate Bill 221, which requires health insurers to provide mental health therapy appointments within 10 business days unless the treating therapist determines a longer wait will not harm the patient's health. But while SB 221 took effect July 1, Kaiser continues to make patients wait months for therapy sessions.
On Friday, as colleagues continued to picket outside Kaiser Permanente hospitals throughout northern California and the Central Valley, clinicians, patients, family members and community supporters gathered outside Kaiser's corporate headquarters in downtown Oakland's Ordway Building for a noontime rally demanding the giant HMO staff up so they can provide adequate care.
Held up a portrait of her son
April Jorden held a portrait of her son, Basil, who had repeatedly sought mental health care at Kaiser before his death at age 24. She described how a week before he died, her son and his girlfriend went to Kaiser and waited in the lobby for two hours without being seen, and were then sent home with a phone number.
"My son needed care," Jorden said. "Nobody just walks into the mental health department because they're a little bit sad. He was at the end of his rope, there was nothing more he could do, and Kaiser failed him. I am determined we are going to fix this problem."
Barbara McDonald told of her struggle to get mental health care through Kaiser for her two daughters, describing her younger daughter's struggles with borderline personality disorder involving repeated visits to the Emergency Room.
"Sadly, on her release, Kaiser did not have a plan to prevent her from being a repeat customer in the ER," McDonald said. "With their marketing focus on prevention, one would think they would allocate something for therapy resources, but no one followed up on psychiatric medications that had been prescribed, no therapy sessions with a borderline personality disorder specialist even existed, and even the DBT (dialectical behavior theory) classes we were promised, and waited several months to attend, ended up getting cancelled."
McDonald said she had found care for her daughter outside Kaiser, at a cost of around $50,000 during just the past year. Expressing great appreciation for the work of the Kaiser therapists who had tried to help, she told the strikers, "I'm so grateful to all the mental health care workers for taking a bold stand, and I'll stand with you anywhere I can, because mental health care is health care!"
To cheers and shouts of "Let them in!" Jorden and McDonald then sought unsuccessfully to enter the building to deliver a letter addressed to top Kaiser officials and signed by dozens of current and former Kaiser members who said care they or their family members needed had been delayed or denied. Citing Kaiser's legal obligation to provide mental health care on a par with its medical care, the letter called the HMO's current care "unethical, immoral and illegal," and expressed solidarity with the strikers.
Meanwhile, clinicians were joined by Queen Adu-Poku of the National Association of Social Workers, who shared a statement of solidarity from NASW California's board of directors pledging to stand with the Kaiser behavioral care providers and calling on the corporation to "bring resolution to these severe acts of blatant negligence and harm."
Marcucci-Morris, who joined the rally with her year-old son, said she wanted to "honor the moms" who spoke, because "as a mom, I wouldn't survive what you survived, and I am so grateful that you are putting your pain to our community's use, so we can stop all the suffering."
Calling Kaiser's contract offer "regressive," Marcucci-Morris declared she was going to vote No, "because I don't want April to have to relive anything like that, or for anyone else to have to go through what April went through. I want our patients to have the chance to get better … and I know you all care very much!"
As the strikers wrapped up their rally, their voices rang out across the plaza: "One Day Longer, One Day Stronger!"