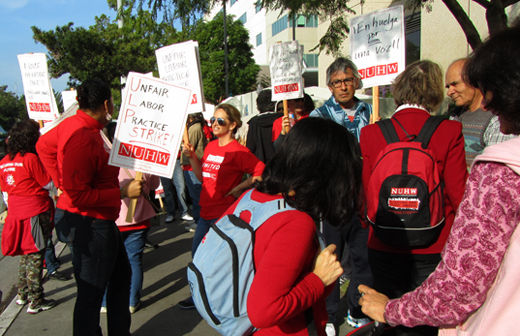 LOS ANGELES – For the next week, expect to see union demonstrators picketing out in front of 35 Kaiser Permanente locations throughout the state of California. The action on behalf of some 2,600 mental health clinicians – psychologists, therapists, and social workers represented by the National Union of Healthcare Workers (NUHW) – launched on Monday, January 12, and continues through Friday, January 16. The union also represents optical workers, medical social workers, psychiatric nurses, speech pathologists, audiologists, health educators, and registered dietitians. Click here for local contacts and information on 35 strike locations and 65 picket lines.
Well over 100 Kaiser workers marched up and down Monday morning in front of the Kaiser West Los Angeles Cadillac center, carrying signs and making speeches at a rally outlining their reasons for going out. First and foremost, the union critiques Kaiser for its chronic failure to provide its members with timely, quality mental health care. With 7.5 million members, Kaiser is by far the largest HMO in the state, and is also well established in a number of other states.
The one-week strike was timed to lead up to Martin Luther King, Jr. Day. Speakers at the rally quoted Dr. King's famous statement, "Of all the forms of inequality, injustice in health care is the most shocking and inhumane." Maureen Cruise, speaking for Labor United for Universal Health Care, advocated "taking the profit out of people's health care." She continued by affirming that mental care is part of the health of the whole person. People are not mere "income-generating units."
Over the last year Kaiser nationwide has enrolled some 422,000 new members (some 250,000 in California alone) owing to the Affordable Care Act. The year 2014 has commensurably seen record profits for the HMO, up 40 percent (more than $3 billion) over last year. Although Kaiser is technically a non-profit, it is run very much like a business, with super-sized salaries and bonuses for its top officers. Staffing, however, has not kept up with the needs of providing for so many new patients seeking mental health care.
Kaiser's systemic understaffing forces patients to endure lengthy waits for treatment – weeks and even months – in violation of California law and industry standards. Last year Kaiser was fined $4 million by California's Department of Managed Health Care (DMHC) for imposing lengthy and illegal appointment delays on mental health patients. Kaiser chose to pay the fine rather than endure public hearings with testimony by patients and employees which would have revealed the HMO lapses.
"For patients suffering from depression, anxiety, and other debilitating mental conditions, these delays can be insurmountable obstacles, sometimes leading to tragic outcomes," said Clement Papazian, a clinical social worker at Kaiser in Oakland and president of NUHW's Northern California chapter of mental health clinicians. "We don't want to see patients being ignored. Kaiser's actions are doing real harm. Even suicides have been linked to Kaiser's delays and denial of care." One such tragic outcome was a Kaiser patient named Peter Kingston, the husband of a Sonoma County supervisor, who committed suicide in 2011 while waiting for treatment.
David Mellinger, a social worker in psychiatry and behavioral health care who has worked at Kaiser for 18 years, specializes in anxiety treatment. His unit had five staff members in 2013 and because of retirement, now has only three. More patients are being shifted away from individual treatment into group therapy. Statistics on the age of employees in the mental health field at Kaiser show that almost a third are within a few years of retirement. NUHW is concerned that attrition will further diminish their ranks.
The problem, Mellinger says, is that since paying the fine, Kaiser has addressed the "access" problem, that is, a first-time patient can get an initial intake interview. But it's "a solution by appearance, not by reality," because after that point it is almost impossible to get to a therapist. Patients frequently endure waits of between four and twelve weeks for a return appointment, making effective, ongoing treatment nearly impossible. Kaiser seems unwilling to acknowledge the problems caused by its lengthy delays, much less fix them. One not infrequent outcome is that patients frustrated with the long delays get discouraged and then appeal to the public sector for help.
Having exhausted all other means, Kaiser's mental health clinicians are fulfilling their ethical responsibility to advocate for their patients by conducting a strike aimed at forcing the HMO to uphold its contractual obligations to its patients. "We want Kaiser to do well," said Elizabeth White at the rally. "But we didn't walk out on negotiations. They blame us for going on strike when they are to blame. Treat your workers with respect!"
One of NUHW's demands is the formation of professional practice committees whereby clinicians together with management in each facility review correct protocols for patient care, determine adequate staffing levels, and consider outsourcing needs to other facilities. If agreement eludes the labor/management team, NUHW proposes, the decision would go to a neutral arbitrator. This system is already in place with other health care providers, but Kaiser has not acted.
NUHW has been working without a contract since 2011. Many of the picket signs on view Monday went far beyond the ethical treatments of patients to point out that the weeklong strike is also over unfair labor practices at Kaiser. Unilaterally Kaiser has instituted a new co-pay policy which as of the first of the year multiplied several times over the cost of drugs and treatment fees, reduced employer contributions to retirement plans, and failed to give a cost of living pay increase. As one sign read: "Insane: A healthcare org that takes healthcare from its health providers." Another sign read: "I help patients thrive. Help me survive."
Kaiser responds that it has productive relationships with some 30 different unions representing 120,000 workers (out of 175,000), and that only NUHW lacks a contract with the HMO. One reason for that may be that as a feisty breakaway from SEIU in 2009, NUHW refuses to sign a "silence" agreement with Kaiser, as other unions have done, limiting workers' ability to speak out about conditions that need addressing.
Elizabeth White, coordinator of the strike for UAHW, spoke eloquently about Kaiser Permanente's history. Kaiser was founded as a non-profit about 70 years ago by doctors during the Red Scare following World War II. They rejected the American Medical Association's model of medicine for profit, and invited unions to share in the work of progressive health care. "But the Kaiser plan has gone in the wrong direction," White says. "We know Kaiser can do better." The strike shows that "people are ready for a change."
"With soaring profits and a $30 billion reserve, Kaiser needs to step up and lead the way in finally making mental health care a priority in this country," says NUHW President Sal Rosselli. "The law requires it and Kaiser's ethical obligations as a health care provider demand it."
Interested readers are encouraged to review NUHW's ten-page summary, which provides a history of the crisis, its impact on patients, and evidence of ongoing violations. You can also sign on to tell Kaiser's millionaire executives that their striking workers are not alone and that you stand with them.
Photo: Eric A. Gordon/People's World