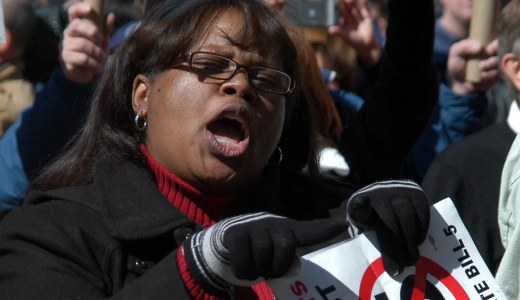 CLEVELAND – Ohio Gov. John Kasich escalated his radical program of open class warfare last week with a new two-year budget that slashes billions from schools, libraries, nursing homes, local governments and needed social services, puts valuable state assets on the auction block and provides lavish new subsidies and tax benefits for the rich and big business.
Already, major layoffs and service cuts have begun throughout the state. Public employee unions estimate that city, town and county governments and school districts, hard hit by the recession and prior cuts in revenue, will be forced to eliminate 50,000 jobs. The indirect effect due to reduced consumer buying power will be far greater.
Kasich crooned about his extremist program, saying it required "courage," and planned a state speaking tour to tout "the most comprehensive state budget in Ohio history."
Many local governments and school districts are being forced to put levies on the ballot to make up for the sudden massive cuts in state funding.
Kasich advised these bodies to compensate for their losses by cutting wages and benefits of public employees by using his new law that eliminates collective bargaining.
This law, known as SB 5, however, is currently on hold because of the repeal effort of a coalition of labor and community allies. Last Wednesday, as the legislature finished adopting the budget, the coalition submitted 1.3 million signatures on petitions to the Secretary of State to force a referendum on SB 5 on the November ballot.
Fearing the possibility of a successful repeal, Republican legislators (with only one exception) included a major attack on the rights of teachers' unions in the budget. This set up an undefined system of merit pay for teachers and eliminated seniority as the basis for lay-offs and recall.
Other extraneous sections of the budget restricted abortions, curtailed the Office of Consumers Counsel (which advocates for utility customers) and barred cities from regulating use of trans fats in fast food restaurants.
Following Kasich's policy that "if it's in the Yellow Pages, outsource it," the budget provides for sale or lease of six state prisons as well as the Ohio Turnpike and the distribution of liquor, both longstanding sources of valuable revenue.
Similarly, while slashing public education, the budget increased funds for private school vouchers and privately run charter schools. However, wealthier public school districts, generally represented by Republicans, got a new benefit of $17 per student because of higher performance on state report cards.
The Republicans rejected appeals from even conservative groups to review $7 billion in annual tax giveaways, exemptions, loopholes and deductions, mainly benefiting big business, which have accumulated over decades. Also off the table were massive tax breaks given to the wealthy and big business in 2005 under Republican Gov. Robert Taft, amounting to two-thirds of the supposed $6 billion deficit.
Instead, in this period of alleged fiscal crisis, the Kasich budget eliminates the estate tax imposed on the wealthiest 7 percent of the population, adds a new tax break for wealthy investors and speeds up the elimination of property taxes on utilities and commercial equipment that had provided major funding for schools and local governments.
In an editorial July 3, the Toledo Blade decried the budget's "pernicious effects" and said it represented "a regressive vision of Ohio's future."
Ohio AFL-CIO President Tim Burga and Secretary-Treasurer Pierrette Talley said in a statement Thursday that efforts by organized labor and others had blocked even more extreme measures as the Kasich gang sought to dismantle public education, defund Medicaid, destroy minimum and prevailing wage standards and privatize the Ohio lottery.
"Make no mistake," the labor leaders said, "this budget is still a disaster for working people … Kasich and his political allies have made it clear they are willing to enrich their corporate CEO friends at any cost – even if that means forcing mass layoffs, attacking worker rights and cutting education and other vital services for our children and seniors."
But with the effort to repeal SB 5, they continued, "Working people are fighting back." The referendum will "give voters the chance to say 'no' to Governor Kasich's power grab."
Photo: A local woman protests Gov. Kasich's SB 5 law. Jason Perlman, Ohio AFL-CIO // CC 2.0