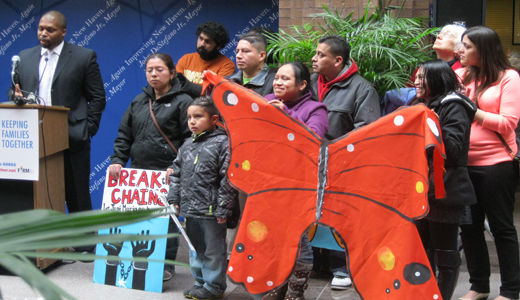 NEW HAVEN, Conn. – Josemaria Islas and his family are living in fear, yet speaking out with courage, as his deportation order draws closer day by day. City and state elected officials, union leaders, and the immigrant rights community have all called upon immigration authorities to halt deportation proceedings against Islas, who has lived in New Haven for eight years.
A factory worker who was mistakenly arrested due to racial profiling while out on lunch break last July, Islas spent four months in jail for a crime he did not commit. When the charges were dropped, he was detained by immigration authorities and now faces deportation, although he has no felony.
Speaking during the Keeping Families Together bus tour which traveled from New Hampshire to New Haven, Islas ended his story with a tearful appeal to "stop deportations and separation of families!" He thanked Unidad Latina en Accion for all their efforts which won his release.
New Haven is one of 90 cities in 19 states where the bus tour will travel to make the stories of immigrant families and the impact of deportations on them known. "We are telling stories of heartbreak and hope, working to see immigration reform and citizenship for 11 million in our country," said Kica Matos, Director of Immigrant Rights & Racial Justice at the Center for Community Change.
Immigrants from Honduras, Brazil and Ecuador traveling with the New England bus tour told stories similar to that of Islas at a press conference in City Hall, standing next to large butterfly cutouts, Unite Here union signs and a banner which proclaimed, "1. stop the deportations 2. include all 11 million 3. protect workers rights."
The national tour is leading up to a rally and lobby day in Washington D.C. on April 10. Local marches will also be held that weekend. In Connecticut marches are being organized in New Haven, Bridgeport and Danbury on April 9 and in Hartford, Stamford and Washington DC on April 10.
In addition to demanding an end to deportations, speakers at City Hall called upon the Connecticut Congressional delegation to take leadership for passage of immigration reform this year.
Also on the agenda was building support for two bills before the state legislature. One would allow everyone regardless of status to apply for drivers' licenses. The other would prevent the courts from turning those who are not convicted of felonies over to immigration for detention and deportation.
Speaking at the state capitol a week earlier when the formation of a state-wide coalition Connecticut Immigration Reform Alliance (CIRA) was announced, Juan Hernandez of SEIU 32 BJ said, "voters sent a clear message for a path to citizenship for all immigrants."
Hernandez, whose union represents 4,000 immigrant workers, exclaimed, "We pay taxes and work hard for this country. This is an issue of human rights." He quoted President Obama that the time for immigration reform is now.
Legislators, labor leaders and immigrant workers called for a change of state and national policy that would protect family unity.
Addressing the Islas case, Michael Lawlor, undersecretary to Governor Malloy for criminal justice policy, agreed the deportation is not warranted. He said the state changed its policy last year and except for serious offenders, does not honor ICE detainers issued under Secure Communities.
"Secure Communities has made communities less secure," said Rep. Gary Holder-Winfield who is preparing legislation that would close loopholes like the one that allowed Islas to be detained.
The Connecticut AFL-CIO, which represents 200,000 workers adopted a resolution last month similar to the resolution by the national AFL-CIO calling on Congress to pass common-sense immigration reform that includes a practical and inclusive road map to citizenship and reflects core American values such as fairness, equality and family unity.
"The creation of a road map to citizenship would not only stop employers from continuing to take advantage of our failed immigration policies; it would improve wages and labor standards for all workers by giving immigrant workers a voice on the job." said president John Olsen.
Like other families on the Keeping Families Together tour, the Islas family is not sitting still and waiting to see what will happen. They, and hundreds of thousands of immigrants without documents across this country, are stepping forward.
Samantha, who was born in Brazil 29 years ago and who came to the United States at age 16 and a half with her mother, fell six months short of qualifying for President Obama's Deferred Action for Childhood Arrivals program (DACA). "We are here to help America grow," she said. "The only difference is that we don't have Social Security numbers. We are also Americans."
Jane Kennity who works at Yale New Haven Hospital, came to this country as a refugee from Kenya. She is now a leader in the grass roots group New Haven Rising. "We must join hand in hand. There is no need for migrants to have to hide. They should have papers," she said to applause at the farewell luncheon.
The Keeping Families Together tour is accepting stories on its website. telling the experiences of families separated by "broken immigration policy."
Photo: Keeping Families Together press conference at New Haven City Hall attended by nearly 200 immigrants, union members, and allies on Sunday, March 3. Art Perlo/PW