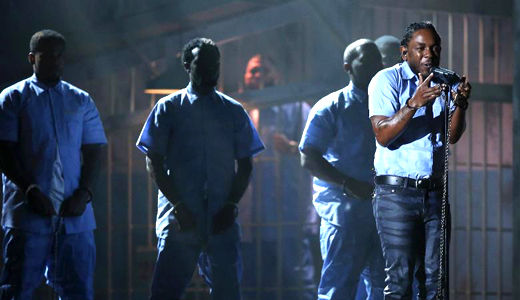 Watched the Grammys last night. Most of it. A lot of it dragged but a few terrific performances and notable speeches/awards punctuated the slow-mo show. Here are my top moments:
Kendrick Lamar's performance of "The Blacker the Berry" and "Alright" was like watching a Langston Hughes poem come to life. Powerful. Beautiful. Truthful. Prideful. Biting. Layered. Artistic. Lamar won the top number of Grammys this year, taking home four, including (of course) Best Rap Album for "To Pimp a Butterfly." Tupac must have been smiling…
Stevie Wonder and Pentatonix a cappella tribute to Earth Wind and Fire's Maurice White. They held that song ("That's the Way of the World") together with probably very little time to practice as Wonder was asked at the last minute. Great musicians.
Stevie Wonder holding up the envelope with the Song of the Year winner written in Braille and teasing the audience: ha ha, you can't read it! Followed by his disability rights advocacy that everything should be accessible to every single person with a disability.
"Thinking Out Loud" Song of the Year winner Ed Sheeran thanking his parents who came to the Grammys for the last four years and finally saw their son win instead of having to say: Maybe next year.
Hamilton – both the performance and acceptance speech/poem/rap by Lin Manuel-Miranda with the Puerto Rican flag held up by a cast member behind him. What a story about the making of a musical blockbuster. Who'd have thunk it?
Lady Gaga's tribute to David Bowie. She wows us with her National Anthem during the Super Bowl and then does it again during the Grammys. What reach, versatility and musicianship. Great collaboration with Nile Rodgers.
Taylor Swift's acceptance speech for Album of the Year. I was rooting for Lamar to win it but this industry powerhouse made history by being the first woman to win it twice. She gave an empowering message to girls and young women: Own your accomplishments.
Phillip Riggs. Who? The 2016 Grammy Music Educator of the Year. I'm so glad they started such an important award in 2014 and that's not because my son is a music educator! I love that they mention the winner during the broadcast. I just wish they gave the teacher a few minutes to say something. The more advocacy of music and arts in the schools the better!
Meghan Trainor who won Best New Artist and was genuinely moved by being considered an "artist" and not just a "songwriter."
Wondering what Lionel Ritchie was thinking while he watched the tribute to The Commodores.
Bruno Mars and Mark Ronson won Record of the Year for Uptown Funk and George Clinton got a well deserved shout out from Ronson: "I see George Clinton over there, a man who has done more for the word funk than we could ever hope to dream of in our entire lives. So I want to thank James Brown, George Clinton…Prince, Earth Wind and Fire, of course."
I never saw the Apple commercial before with Mary J. Blige, Kerry Washington and Taraji Henson. Brilliant.
B.B. King tribute with Chris Stapleton, Bonnie Raitt and Gary Clark. The thrill was there.
What were your highlights – or lowlights – this year?
Photo: Kendrick Lamar performs at the 58th annual Grammy Awards on Feb. 15, in Los Angeles. Matt Sayles | Invision | AP