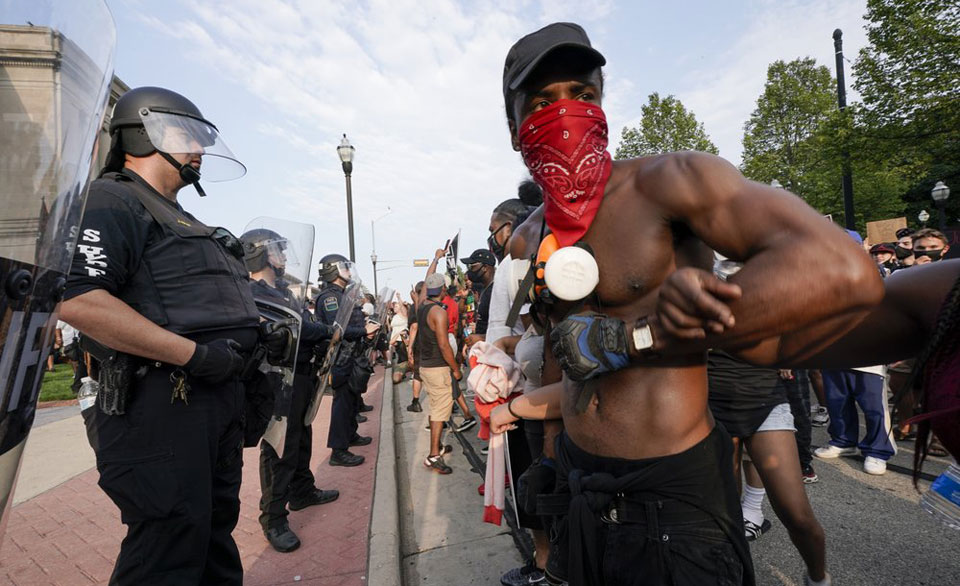 It is another day in Trump's sycophantic "law and order" view of the United States of America, and another Black American was shot, in a calculated manner, by police. Their name will grace the headlines—honored by some, vilified by others. The public's outrage will spill into the streets, and the viscous blood of lost innocence will stain the hands of elected officials unwilling to see the truth: injustice and racism still reign supreme.
Jacob Blake was shot eight times in broad daylight, Sunday, Aug. 23, by police in Kenosha, Wisconsin. The shooting was captured on cellphone video, and showed Blake walking away from several police officers, opening the door, and leaning into his SUV before police grabbed him by the shirt and shot him several times in the back—his three children were sitting inside the vehicle.
As of Monday, Blake was in serious condition at a Milwaukee hospital. The state Department of Justice said officers were responding to a domestic incident call before the shooting.
Civil rights attorney Ben Crump, now representing Blake's family, said Blake was "simply trying to do the right thing by intervening in a domestic incident."
"That man (officer) just literally grabbed him by his shirt and looked the other way and was just shooting him. With the kids in the back screaming. Screaming," said Laquisha Booker, Blake's partner.
Immediately following the shooting, social media posts showed neighbors gathering in the surrounding streets and hurling comments at police. Some could be heard chanting, "No justice, no peace."
Later that Sunday evening, in a scene identical to the months of protest following the police killing of George Floyd in Minneapolis, Minnesota, protestors took to the streets, marched to the Kenosha County Public Safety Building, which had been blocked off by law enforcement. Outside the station, protesters faced off with officers dressed in riot gear, including plastic facemasks and plastic shields and batons that they occasionally used to shove people back.
Democratic Gov. Tony Evers released a statement Sunday night via Twitter condemning the shooting by police.
"While we do not have all of the details yet, what we know for certain is that he is not the first Black man or person to have been shot or injured or mercilessly killed at the hands of individuals in law enforcement in our state or our country," Evers said. "We stand with all those who have and continue to demand justice, equity, and accountability for Black lives in our country …
"And we stand against excessive use of force and immediate escalation when engaging with Black Wisconsinites. I have said all along that although we must offer our empathy, equally important is our action. In the coming days, we will demand just that of elected officials in our state who have failed to recognize the racism in our state and our country for far too long."
In contrast, and showing the deep partisan divide regarding issues of racism and policing, Pete Deates, president of the Kenosha police union, called the governor's statement "wholly irresponsible."
"As always, the video currently circulating does not capture all the intricacies of a highly dynamic incident," Deates said in a statement. "We ask that you withhold from passing judgment until all the facts are known and released."
No mention was made of the reprehensible conduct of the officer responsible for the shooting.
Meanwhile, Wisconsin Republicans parroted the "law and order" theme Trump has been using ever more frequently on the campaign trail, and called for peaceful demonstrators to go home, urged patience, and asked them to let the investigation take its course.
On Monday, Evers called a special session of the Republican-controlled legislature beginning Aug. 31 to pass a package of police reform bills he introduced back in June, following Floyd's murder. The bills would ban the use of chokeholds by Wisconsin police officers, as well as limit other uses of force, but it is unlikely that the legislature will take any action on the bill package, and can't be forced to vote on them during a special session.
Republican Assembly Speaker Robin Vos said Monday he was creating a task force to examine police policies and standards, racial disparities, educational opportunities, and public safety. Vos said by calling for a special session, the governor "is choosing to turn to politics again by dictating liberal policies that will only deepen the divisions in our state."
In a story published Tuesday morning by the Chicago-Sun Times, Blake's father, Jacob Blake, Sr., said he didn't know if his 29-year-old son's paralysis would be permanent. His father said there are "now eight holes" in his son's body, and paralysis from the waist down. Doctors are also unsure if the injury will be permanent.
"I want to put my hand on my son's cheek and kiss him on his forehead, and then I'll be OK," his father told the newspaper. "I'll kiss him with my mask. The first thing I want to do is touch my son."
The officers were placed on administrative leave, and authorities released no details about the officers and did not immediately respond to requests for their service records.