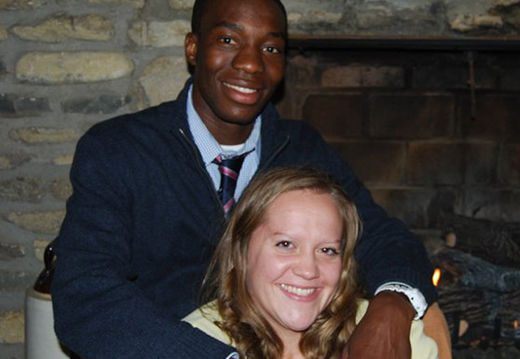 In Pike County, Kentucky, the Gulnare Free Will Baptist Church has become an example of religious hypocrisy and racism: it first voted to ban interracial couples from joining its congregation and now, after an uproar, it has rescinded that decision.
The abrupt vote came in response to an action involving a congregation member whose husband was born in Zimbabwe.
Stella Harville and her fiancé Ticha Chikuni had visited the church in June, when Chikuni sang a song for the congregation. Dean Harville, Stella's father and the church secretary, said church member Melvin Thompson told him his daughter and her fiancé were no longer allowed to sing at the church.
Thompson, a former pastor of the church, maintained that he "is not racist. I am not prejudiced against any race of people. I have never in my lifetime spoken evil about a race."
Harville responded with the question, "If he's not racist, what is this?"
Whatever it was, nine of eighteen church members voted against interracial couples last week.
Their resolution was that interracial members were still allowed in the church – how generous! – but could not become members or be "used in worship services or other church functions."
A recommendation put forth by Thompson elaborated, "The Gulnare Freewill Baptist Church does not condone interracial marriage. Parties of such marriages will not be received as members or allowed to participate in worship services and other church functions, with the exception being funerals. … This recommendation is not intended to judge the salvation of anyone, but is intended to promote greater unity among the church body and the community we serve."
Unity, one might think, is a curious goal for a church that seems to have prejudice and racial segregation in its mind and heart.
Stella, a 24 year-old graduate student at Indiana's Rose-Hulman Institute of Technology, found the vote "hurtful." She added, "I think part of me is still in shock, and trying to process what's been going on the past few days."
After the move spiked outrage throughout the country, the current church pastor, Stacy Stepp, said the decision is now null and void.
The reason, apparently, was not because the church second-guessed its prejudiced behavior. Rather, Gulnare is a member of the Sandy Valley Conference of Free Will Baptists, a coalition of churches in the area. According to a decree, bylaws of Gulnare cannot run in contradiction with local, state, or national laws, reported Black Entertainment Network.
Keith Burden, executive secretary of Tennessee's National Association of Free Will Baptists, said they had no official position on interracial marriage, and that Gulnare had acted of its own accord. Gulnare was threatened with being stripped of its association with the national denomination if the issue was not resolved.
Fortunately, it seems, for the church's reputation, the ban has since been overturned.
And unlike the church, the popular feeling in the U.S. is not to cause or advocate racial segregation. According to a report by the American Psychological Association, roughly one out of seven couples today come from different racial or ethnic backgrounds. This is a six-fold uptick from 1960, according to recent data from the Pew Research Center.
Stepp, who was against the church's resolution to attack interracial couples, noted that churchgoers have now opted to welcome "believers into our fellowship regardless of race, creed, or color."
Photo: Stella Harville and her fiancé, Ticha Chikuni. (AP Images/Stella Harville)