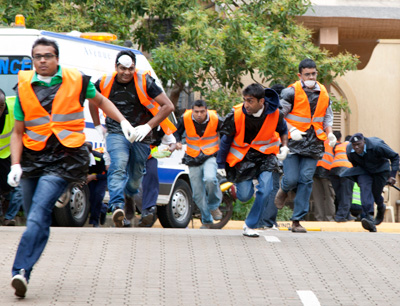 PRETORIA, South Africa – Officials in Kenya reported the release of all hostages and other civilians trapped in Nairobi's Westgate Mall following the terrorist assault that left scores of shoppers dead and at least 180 injured.
The Kenya Defense Force said early Tuesday that "one or two" of the terrorists, linked to the Somalia-based al'Shabaab, remained holed up in the building. A fierce gun battle had been raging since Sunday, punctuated by loud explosions, as troops tried to take control of the mall.
About a dozen militants had stormed the mall on Saturday. Eyewitnesses who escaped the carnage said that they shot people at random or executed those believed not to be Muslims. Six are confirmed dead, and some have been caught.
Details have still to emerge about the precise identity of the attackers, the course of the assault, and the total number of civilians murdered.
The killings come after al'Shabaab made several threats against Kenya for its intervention in Somalia in October 2011.
About 4000 Kenyan troops remain in Somalia, part of an African Union (AU) force working with Somali government forces to counter an estimated 5000 al'Shabaab fighters, now mainly confined to rural areas of the country.
Before the Westgate attack, Kenya had successfully thwarted a number of terrorist plots.
Kenya's strong support for the AU's mission, which aims to stabilize the situation in Somalia, was prompted after of a spate of cross-border hostage taking, and small-scale attacks on restaurants and Christian churches on Kenyan soil by al'Shabaab.
The Westgate attack has sparked concerted condemnation by governments and civil society across Africa. The coming days and weeks are likely to see more beefed up, continent-wide efforts to counter terrorism.
African countries and the continent as a whole generally lack the sophisticated anti-terrorism capacity of richer regions of the world.
Their sense of shared vulnerability is underscored by their common concern to tackle terrorism in unison, and to do so in ways that do not incite spirals of violence or outside intervention.
The South African-based Institute of Security Studies (ISS), which runs counter-terrorism training Kenya, has stressed the need to prosecute the Westgate attackers, al'Shabaab and other such transnational groups through criminal justice systems.
Also, the International Criminal Court, to which Kenya is a signatory, has said that those behind Westgate attack could be prosecuted by the ICC, as attacks on civilians by armed groups violate international law.
"It is essential to guard against emotional retaliation, as that would play directly into the hands of al'Shabaab," said Anneli Botha, senior researcher at the ISS Transnational Threats and International Crime Division.
Photo: Paramedics and police officers run outside the Westgate Mall in Nairobi after heavy shooting started Sept. 23. Sayyid Azim/AP