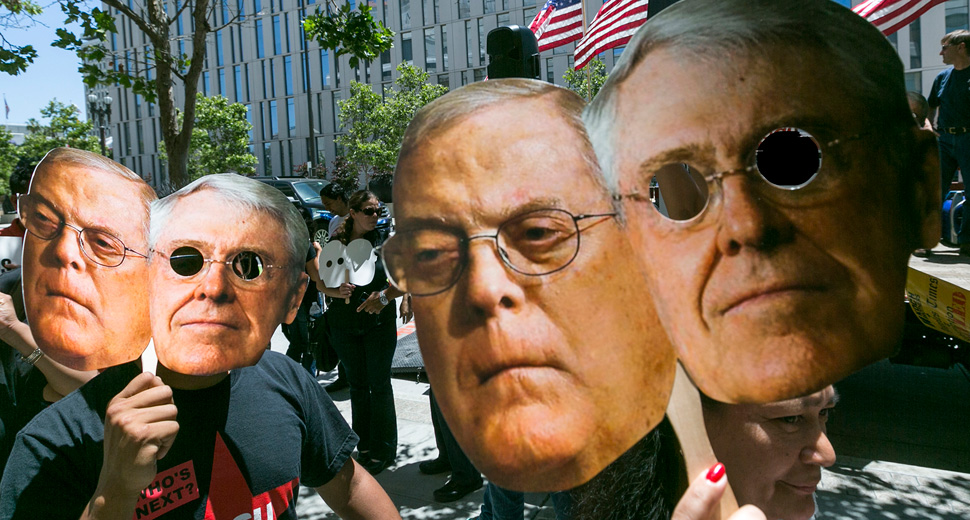 WASHINGTON — The Congressional Budget Office yesterday released a report saying that if the so-called "healthcare" bill now before the Senate becomes law, some 22 million people would be stripped of Medicaid benefits.
This number is not high enough to satisfy Charles and David Koch, the billionaire oil magnates.
They are now using the power and money of Americans For Prosperity (AFP), and the Freedom Partners network, to pressure Senators into ending Medicaid altogether and using the money that's saved to give tax breaks to the richest people in the country; people like themselves.
Americans for Prosperity is the Koch brothers' PAC and Freedom Partners is a network of many right wing organizations controlled by the Koches.
Like the bill that passed the House this past Spring, the Senate bill is not really a healthcare bill at all. It is a bill to give huge tax breaks to the super wealthy. For example, the plan does away with a provision of the Affordable Care Act that requires insurance company executives earning more than $500,000 a year to pay a tax that helps finance healthcare. The shortfall to be made up by cutting Medicaid benefits for the poor.
But this is not enough for the Koches.
At a retreat in Colorado Springs Saturday, Tim Phillips, the Koch brothers' head political operative, said that the Senate's plans for Medicaid is just "a slight nip and tuck."
The retreat was restricted to donors who give at least $100,000 a year to Koch political enterprises.
According to the Denver Post, Koch spokesman James Davis said at the retreat that the Koch organization would continue to push for changes to the Senate health care bill over the coming week.
Charles Koch said he was "very optimistic" about getting his way.
He has a right to be optimistic. Along with big money donors, at the retreat were several Republican senators, including Ted Cruz of Texas and Mike Lee of Utah, both of whom have pledged to fight tooth and nail to completely gut Medicaid. Senators. Rand Paul of Kentucky, and Ron Johnson of Wisconsin have pledged the same thing.
Meanwhile, other billionaire-backed PACs have targeted Republican senators who have expressed opposition to the Senate bill because, they say, thousands of their constituents would lose healthcare benefits they depend upon.
Nevada Senator Dean Heller has been particularly outspoken. According to A CNN online report, "Heller has said it is a 'lie' that the Senate Republican health care bill would lower premiums. 'There isn't anything in this bill that would lower premiums,' he said."
The same day Senators Cruz and Lee were attending the Koch Brothers retreat with billionaire donors, Heller held a press conference in Las Vegas with Nevada Governor Brian Sandoval, also a Republican.
According to CNN, "Sandoval specifically pointed to people who were making a little more than $16,000 per year," as people who would be victimized by the Senate bill. "These are our friends, these are our families, and these are our neighbors," Sandoval said.
CNN reporter Eric Bradner wrote that "Almost immediately, the pro-Trump group America First Policies decided to launch what a source with the group says will be a major television, radio and digital ad buy against Heller — a remarkable attack on a member of Trump's own party whose seat is endangered in 2018."
Nevertheless, despite the Trumpites and the Koch Brothers, as reported in the People's World. millions of people across the U.S, are organizing to defeat Republican plans to dismantle the Affordable Care Act and Medicaid.
One group, the Community Catalyst Action Fund has raised enough money to launch a TV and radio ad campaign urging senators to vote against the Senate bill.
The Washington Post reports that one ad "begins with a scene of a young boy wheezing in his bedroom and his mother rushing to get his asthma medication from a bathroom drawer.
"'When this happens, she isn't thinking about the health-care bill in Congress,'" the narrator says. '"She isn't thinking that it'll force her to choose between filling his prescriptions or paying their mortgage.
"'But our senators should,'" the narrator later concludes. "'So when they vote on the new health-care bill, tell them to think about what's right for our families and vote no. '"